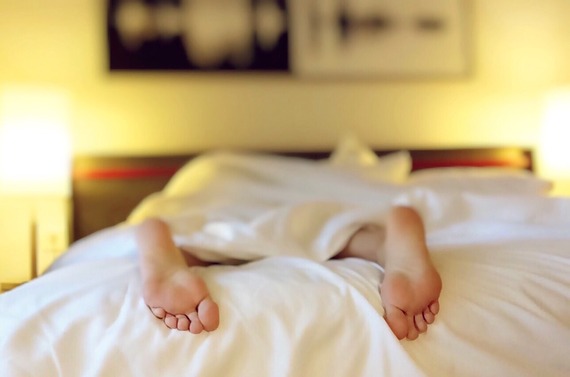 I used to stay up pretty late. Not absurdly late -- probably average for a 20-something. Falling asleep in front of my laptop to Netflix was a nightly occurrence, and a standard day involved a struggle to keep my eyes open accompanied by varying levels of crankiness. Yet I still wondered why I was always tired.
Years later I started working as a research assistant with a sleep lab -- it wasn't until I'd been exposed to the science of sleep that I began to take my sleep schedule a little more seriously.
It's no big surprise to hear that there are a whole host of negative consequences caused by sleep loss. Fatigue and moodiness are more obvious, but what stuck with me was the effect on our immune system. While there aren't a significant number of studies that have looked at this yet, the results that have been found so far are striking. One of the more publicized studies exposed subjects to a common cold virus and found that those who slept less than 6 hours a night during the prior week were 4 times more likely to get a cold.
A few other studies have looked at the body's reaction to vaccines and sleep loss. They've found that when the body is sleep deprived the immune system doesn't always respond strongly enough. For example, one study using the Hepatitis B vaccine showed that after six months, 14.6 percent of people with mild sleep loss at the time of vaccination didn't develop antigen titer levels high enough for clinical protection from Hepatitis B. While results like this can't prove that lack of sleep made the vaccine ineffective, it does suggest that lack of sleep could make the body more susceptible to infectious disease.

Another study using the Hepatitis A vaccine deprived subjects of sleep for a full night after they were vaccinated. Those who slept after vaccination showed double the amount of T helper cells (immune cells essential for creating antibodies for protection) than the sleep deprived group. While it's not likely that many of us would choose to go get a shot after pulling an all-nighter, these results definitely point to the importance of healthy sleep to maintain a healthy body.
If you've ever spent more than 24 hours in a hospital or emergency room you're probably aware that the sleep deprivation patients go through is a serious issue. Given what we know about sleep loss weakening the immune system, we may putting patients in recovery environments that could make them more vulnerable and even slow the recovery process. This article does a great job talking in depth about this issue and addressing simple ways hospitals could prioritize sleep over unnecessary interruptions. There is clearly a long way to go before sleep loss is taken seriously enough to make drastic changes in these types of environments.

A strong immune system is an undeniable basic need, and while some of us can handle the occasional cranky day where periodically chugging coffee is necessary, illness is another story. Getting sufficient sleep is a struggle for a lot of us, but it is becoming more and more clear that it also strengthens our ability to ward off disease and could help build physical resilience.
After two years of working in the sleep field, I've noticed that I'm much more conscious of the time I hit the pillow at night. After I began getting more sleep, I saw obvious daily improvements in my energy level and mood, and coincidence or not, I haven't been seriously ill since then either. It may be common knowledge that sleep is important, but for me, and for those willing to dive into it, exposure to current sleep science might shift our views on sleep, and our bedtime.