As an interfaith minister and wedding officiant I coach, counsel, and marry diverse couples, from so many different backgrounds and points of view. I am often called to create ceremonies that weave together two or more different cultures, traditions, faiths, personal values and families.
The common denominator with all my couples boils down to a four letter word: LOVE. They love one another, therefore, they willing to rise up against the odds, or ignore them, and build a life together.
Interfaith, inter-ethnic and interracial marriage is so prevalent these days that many couples simply go about it with a sense of ease about blending their lives. There are many couples who seek creative ideas, rituals, and language to include in their ceremony.
Then there are those who who need a lot of help with tricky religious issues and family challenges before they get to the wedding altar. They need support, information, insights, blessings and prayers that appease their parents, smooth out issues between relatives and cultures and fully bless their marriage. They need to learn more about each other's faiths, and understand the mindset and protocol. Some need spiritual counseling to help them see through.
I have seen and been part of some extraordinary healing moments and I share some of the stories and amazing experiences of couples of differing faiths who have made their weddings a great celebration for all.
And I have seen moments where couples have been rejected by family or criticized for wanting to marry a mate who happens to be from another culture, religion, race or social sphere. Sadly, there are times when family members simply cannot get past the differences. We try to work on these challenges, and prepare for them, way before the wedding day.
Creative spiritual ideas, emotional support and clear information can go a long way to help couples navigate this start of their life together. So will prayers, blessings, wedding wisdom and great ceremony concepts.
My philosophy is that love between two people adds a dimension of holiness to our world that cannot be categorized by religion or culture and that a temple can be created wherever there is love.
Hope Your Interfaith Wedding helps clear up some of the mysteries of interfaith ceremonies and gives you many ideas for yours. More ideas for your wedding here.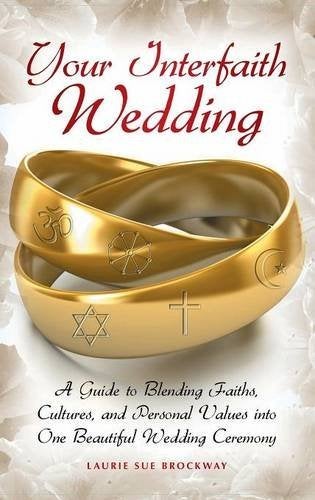 Calling all HuffPost superfans!
Sign up for membership to become a founding member and help shape HuffPost's next chapter
This post was published on the now-closed HuffPost Contributor platform. Contributors control their own work and posted freely to our site. If you need to flag this entry as abusive,
send us an email
.