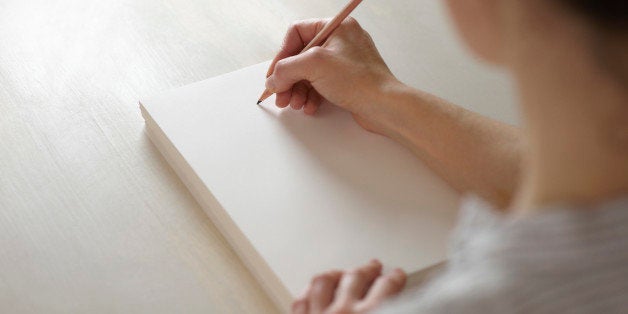 I remember the first time author Brenda Peterson told me that I should consider writing a memoir. "I don't think so," I said.
My father was a Baptist minister, and I have a terrible memory. I figured those two facts of life would form some kind of emotional nitrogen that might potentially blow up any effort to write a memoir. Brenda, my very first hero in life, kept poking at me. Verbally. She's actually an encourager and rarely physically pokes people.
Brenda expertly guided me through my first book. She's a phenomenal teacher who always enveloped my spirit and urged me forward.
I've read a lot of books on writing. In fact, I've read more books on writing than I will ever write. Yes, I am the woman who prepares for a diet with new notebooks and recipes. Actually putting the diet into action has always been questionable, at best.
I'm very biblical about it all. If I don't achieve any goal within three days, then to hell with it.
I have read books on memoir by the intuitive Stephen King, the honest Anne Lamott and the instructive Natalie Goldberg. While I adored all of the writers, I tended to walk away in such admiration of their writing abilities that I gave up on my own.
Plus, I repeatedly determined that writing a memoir was fairly impossible for a woman who owns 15 diaries, all of which include entries that stop at January 3rd.
Your Life is a Book comes across as more about the reader than the authors. While I love the information they share, and they both write beautifully, I find this book to be like a personal note passed to me in class from the smartest guy in the room. Who also loves me.
The relationship begins with the first line: "A memoir is like a love story, with all the ecstasies, disappointments, and turning points of any relationship. And, at the end, you might be surprised to discover that the love your life is -- your life."
And just when I get all starry-eyed, the authors present techniques Brenda has taught in the classroom that help me move forward. The idea of quilting a story together has set me free. I no longer feel a need to start my memoir with, "My earliest memory of life is..." You know, one of those sentences that cause people to slam the book shut as if a spider were sitting on the page.
Sara Jane Freyman, the co-author and a successful agent from New York, offers publishing tips along the way that are invaluable. I love this: "All good books open with a question, which, in one way or another, must be answered by the end of the book. This is the sacred contract an author makes with a reader."
In Your Life is a Book: How to Craft & Publish Your Memoir, I am provided the company of two guides for the journey. The expertise of these guides cover a practical and intuitive spectrum, everything from finding a room in which to write, to developing concepts, to getting published. It's like putting Picasso and Frank Lloyd Wright in the same room and saying, "Tell us about the art of building."
Thanks to this book, I'm starting to write my stories, one at a time. I am beginning to realize that memoir doesn't mean a boring detailing of my life starting at birth. Memoir means telling the truth; memoir means sharing a part of your journey that changed you. It is weaving together stories that form a path to new understanding about who you are and a road to new discoveries for your reader.
In a few months my copy of Your Life is a Book will be dog-eared and tired. But, like the Velveteen Rabbit, it will be loved and appreciated.
Because Your Life is a Book is a guide to being you, flaws and all. And as the authors say, Writing a memoir is embarking on a journey--whether you leave home or not.
Here are the links one more time:
Calling all HuffPost superfans!
Sign up for membership to become a founding member and help shape HuffPost's next chapter