This story is part of a collaboration between HuffPost's Girls In STEM Mentorship Program and The Intel Foundation. Inspiring Girls is a podcast series highlighting the innovative thinking and work of extraordinary girls, presented by The Intel Foundation in honor of their 25th Anniversary and the work they do to foster education, especially among girls and women in STEM.
Sara Volz is an expert in biofuels, specifically algae as a biofuel source. She initially became interested in biofuels when she saw her neighbors fueling their car with cooking oil. Believing in the importance of our planet and its sustainability, she wanted to explore other fuel avenues and she fell upon algae. She was so fascinated by it that she convinced her parents to allow her to build a lab in their closet and later the kitchen.
"My parents have always been very supportive of my interest in science and algae. They put up with me having this photo bioreactor in their closet because it was the only place in the house that was temperature controlled."
Ultimately, she got the lab even closer: right under her bed.
"I had to grow my algae at home because there wasn't a place nearby where I would be able to grow my cultures and monitor them on a regular enough basis. So I needed them really close to where I was so I figured you couldn't get closer than under the bed."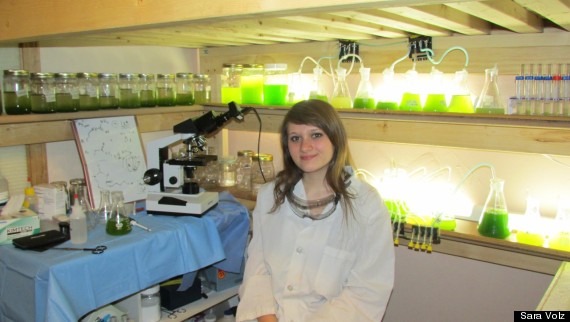 Visually, the lab is compelling. Dozens of beakers, glowing with a fluorescent green, smelling like freshly cut grass. But what is even more startling is just how successful Sara's experiments have been. She has been competing in science fairs since the 7th Grade and last year, she won first place in the prestigious Intel Science Talent Search, earning her $100,000 and giving her some of the support she needs as she enters MIT.
Sara's work has garnered remarkable results, a eureka of sorts, which, according to Professor Anastasios Melis of UC Berkeley, is quite unique. She has been very clever, becoming an important figure in the algae as biofuel community. She managed to manipulate the cells in the algae in such a way that they yielded an amazing amount of oil. When Sara saw the results, she was sure something was wrong but there wasn't.
Sara remains humble and believes that while she is passionate about biofuel, her ultimate goal is to drive awareness of the health and sustainability of our planet.
In Inspiring Girls, you will hear from Sara, speaking about the discoveries she has made with algae, alongside Professor Melis who has been working with algae as a biofuel for decades, and has garnered countless awards and recognition, including from the US Department of Energy.
Please click the play button to learn more and hear from the girls themselves. To explore more about the Intel Foundation's 25th Anniversary program click here.
REAL LIFE. REAL NEWS. REAL VOICES.
Help us tell more of the stories that matter from voices that too often remain unheard.