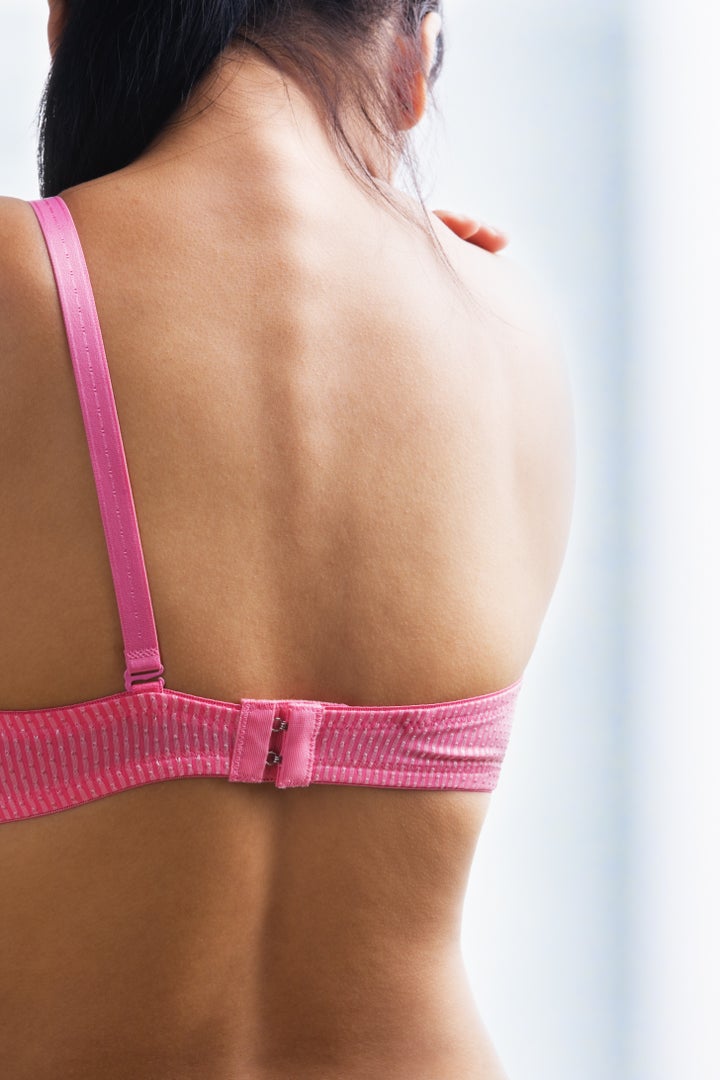 By Jessica Ashley
This article first appeared on GalTime.com

I am afraid of my breasts. I haven't always been and I don't want to be. But over time and by finding my way through several major life crises, anxiety has rooted in the center of my chest.
I am afraid of breast cancer. And worse, I am afraid, as a single mom, of dying of breast cancer and leaving my child to be raised by someone else. Feel free to judge: I am a therapist's dream with this issue. I am quite sure my own therapist has taken several cruises on the co-pays for sessions I've spent breathing my way through this fear. You can also feel free to nod along: I know many of us who know we should be doing monthly breast exams or just consider an annual mammogram to be one of the things we have to do, but are scared to touch our bodies because a lump may already be there.
I do faithfully follow through with mammograms. I also have a deal with my gynecologist that she will perform more breast exams for me than normal throughout the year to allay some of that fear. I also send emails and hugs and prayers to my many friends who've been diagnosed and treated and survived and succumbed to breast cancer. So the cycle continues on.
My fear peaked last week, in the midst of lots of other unrelated stress and on the day when I had my mammo appointment, when I read this article in the "Huffington Post" by one of The Ricki Lake Show's Executive Editors Jackie Morgan MacDougall ( a longtime friend to GalTime). MacDougall -- who flashes her strategically covered upper-half with a bouquet of red roses, crown and sash that claims the title Miss Tectomy -- tells all who can see her almost-bared prophylactic breasts how losing her boobs made her love her body.
MacDougall, one of 11 children, lost her mother to breast cancer when she was three years old. At 30, her older sister tested positive for the BRCA gene and opted for an elective mastectomy to "kill the risk of cancer before cancer killed her." MacDougall didn't get it, until four years later, as a wife and new mom, she also tested positive. The result carried startling statistics - am 87% lifetime chance of breast caner, 50% odds of ovarian cancer.
Then came the lump, and with that, consultations and research and the decision to have surgery to remove both breasts and her own elevated risks of cancer.
As the surgery approached, MacDougall, clearly a whipsmart and funny woman, turned raw and emotional. She writes:
I had two weeks to get our affairs in order, arrange childcare and reflect on my very scary circumstances. Anyone looking at my life from the outside -- or who happened to be driving next to me on the road -- would have thought they were watching a badly acted soap opera, with me playing the role of the melodramatic mother. One minute, I'd have it all together... the next, I'd be sobbing and shaking like Julia Roberts in "Steel Magnolias". I drowned my sorrows in ridiculous amounts of sappy lost love songs (see: James Blunt) as I pictured myself saying goodbye to my husband and kids in an emotional, dramatic scene (think Debra Winger in "Terms of Endearment").
But as my surgery date loomed near, being the "sick" girl was getting to me, especially since we didn't even know if I had cancer or not. While I appreciated the outpouring of love and support from my family, friends and even acquaintances, all the attention for Jackie "the cancer patient" made me extremely uncomfortable.
She called on friends to lighten the load -- and mood -- and together, they laughed, prepared and ate double-Bundt cakes fashioned to look like "perky, sugar-filled breasts". The surgery and recovery and feel of newly placed implants were all hard for MacDougall. But time, and more laughing, she says, helped her to be more comfortable in her own skin.
I remember being asked shortly after my double mastectomy, "How does it feel losing everything that makes you a woman?" Funny, I didn't know I had.
My breasts didn't define me before they were removed. My breasts don't define me now. But every scar and imperfection does serve as a daily reminder of the strong, unstoppable force I am; ready, willing and able to do whatever it takes for the people I love. If that doesn't make me a woman, I don't know what does.
The world might watch as other women glide across a stage in a swimsuit or evening gown. But in this show, the photo unveils MacDougall as a very different contestant. Doesn't she look like she's run out on stage, snatched the crown and won over everyone on the other side of the camera with confidence and centeredness and scars?
FORGET HOMECOMING QUEEN OR PROM PRINCESS -- I WANT TO BE ON THAT BRAVE, SELF-LOVING COURT.
Who wants to hate their breasts or to be afraid of them? No woman wants that. And very few of us (maybe all) would also prefer not to be defined by them. We are more complex and dynamic and deeper than the cells or silicone or fatty tissue or genetic mutations or fear buried inside that part of our bodies.
Jessica Ashley is a senior editor and single mama of a Lego-loving Star Wars-fanatic kid. She wears inappropriately high heels to the playground and is author of the blog Sassafrass, recently named one of Babble's Top 100 Mom Blogs. Jessica was formerly a senior editor at Yahoo! Shine and she's written for AOL, ParentsConnect, CarePages, TakePart.com, Mom.me and many other stops along the internet.