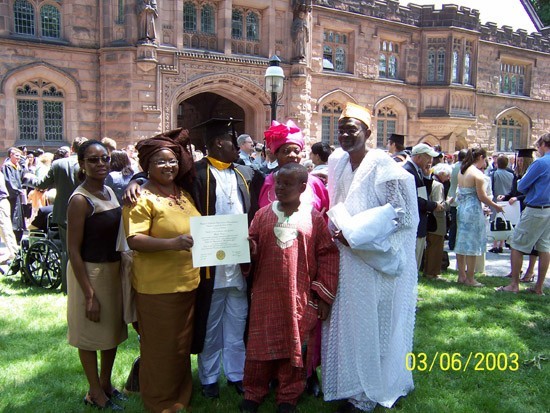 On the plus side, being an entrepreneur allows me to do fun stuff like drive home to Brooklyn to spend time with my family whenever I please... exactly what I decided to do yesterday, leading to great times with the family on Mother's Day, as well as perhaps my most epic interview to date in which I learned things like deep dark family secrets, the fact that my Mom is aware of Beyonce's lemonade, and of course a healthy dose of ancient Yoruba wisdom & philosophy.
On the minus side, the combination of the driving, lack of sleep this weekend, and perhaps some other carelessness on my part seems to have me feeling a little under the weather right now.
But because I want to share this interview with you so badly, rather than delay it and try to write something witty myself, I am going to cheat and share just five of the many awesome reactions the video has been getting from friends on my personal Facebook page as well as the Daily Spark Entrepreneur community.
We had a great time filming this. So grateful to be able to share with the world a glimpse of the wisdom and humor I am privileged to experience on a regular basis. Hope you enjoy!
"What an absolutely delightful, wisdom packed, inspiring, fun, and love-filled conversation. I cannot wait to listen to the next one, and the next one. Mom, you make us African Moms so proud of you!! Muoyo, thank you very much for this wonderful interview. As we say in Ghana, "Ayikoo!" Well done! :)"
"Awesome and loaded interview! Thanks for sharing!"
"This was the best thing I watched today!"
"The last answer was the BEST! Trusting you to know what you need to best connect to the essence of your true self... Muoyo your mom is awesome and in the few short minutes of listening to you speak my heart is filled with love and gratitude for the life she has lived and how she has shared it with those around her. Give her another hug for me please :)"
"This was great. Your mom is awesome. She should be a motivational speaker."
Tempted to share another personal life video that people have really been enjoying, but perhaps we should save something for a later date :)
Muoyo Okome is the founder of Daily Spark Media & the Daily Spark Entrepreneur Community, a fast-growing online community dedicated to the empowerment, education & support of entrepreneurs. He has previously started, grown, and sold a mobile gaming company and runs several businesses in the mobile, online & e-commerce spaces.
A career-long technology professional and alumnus of the Princeton University (BA) and The Wharton School (MBA), his prior experience includes software engineering, consulting, and business management roles at companies such as Microsoft & IBM.
Follow Daily Spark Media online:
Calling all HuffPost superfans!
Sign up for membership to become a founding member and help shape HuffPost's next chapter