Salted Caramel Brown Butter Blondie Ice Cream
Ooey gooey blondies are smothered in caramel, sprinkled in sea salt flakes and then heavily interspersed throughout homemade vanilla ice cream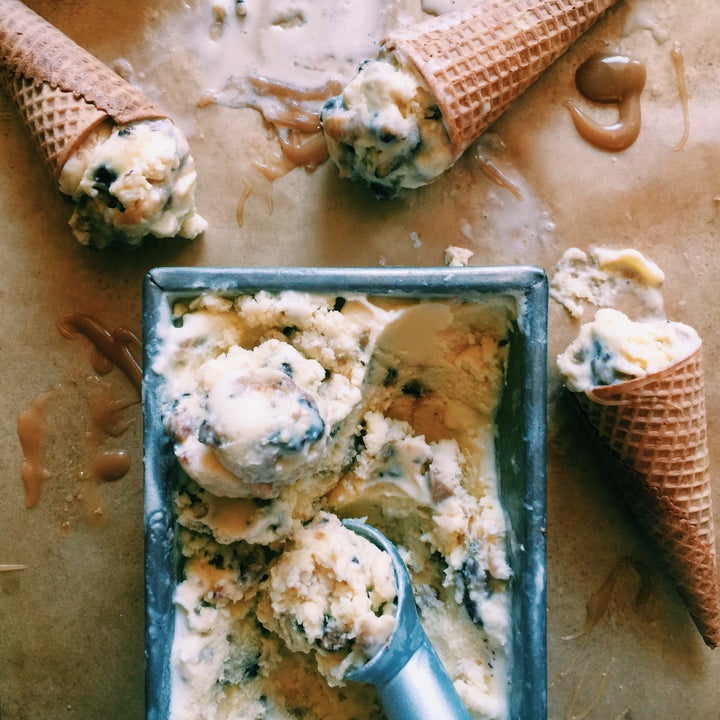 This ice cream is rich, delicious and loaded. Everything an ice cream should be. Once you make it you'll be asking yourself the same question I keep asking: why hasn't this been done before?
Make Ahead. Sometimes, you want to devote time to making something delicious. Other times, life is busy. For these latter times, make the blondies the day before. They don't take long to put together or bake, but they need time to cool completely and then freeze into small bites. You could also make your ice cream base the day ahead and chill in the fridge until ready to make the actual ice cream.
Salted Caramel. I included my recipe for salted caramel here, if you're so incline to make it from scratch. If not, I highly recommend

Fran's caramel sauce

or just pick up your favorite brand.
Ice Cream Technique. I include three different ways to make the ice cream below: one with an ice cream maker, one with an immersion blender and lastly, with a food processor. If you have other methods, please leave them in the notes below for others to follow.
Blondies. When you're making the blondies for this ice cream, it's best to undercook them a touch. You want them to be ooey gooey…they'll taste better in the ice cream this way. If there are any hard parts around the edges, leave them out of the ice cream. Additionally, you'll only use half of the blondies in the ice cream. Yay, more for snacking!
Milk. I have made ice cream with all cream and mostly cream. This one I did with half cream and half non-fat milk. It was so dang rich with the majority cream, that I decided to cut back and I'm glad I did. The result was just right.
Chill. When making the ice cream, have your ingredients very cold. If there is any time lapse between mixing the ice cream together and putting it in your ice cream maker, be sure to keep it in the fridge.
Credits. This blondie recipe was inspired by a Phyllis Grant (Dash & Bella) recipe + Martha Stewart. The ice cream recipe is adapted from Ben & Jerry's. This latter

ice cream cookbook

is fantastic, if you're in the market.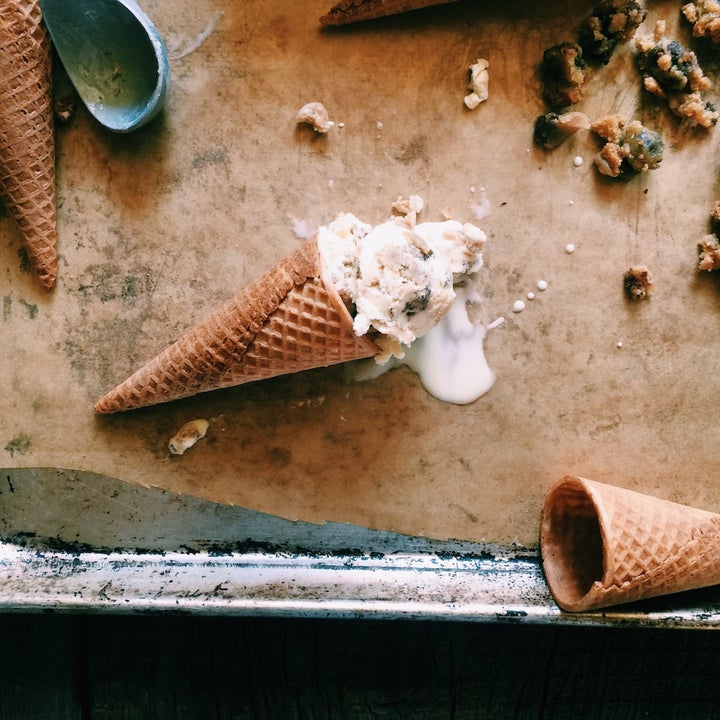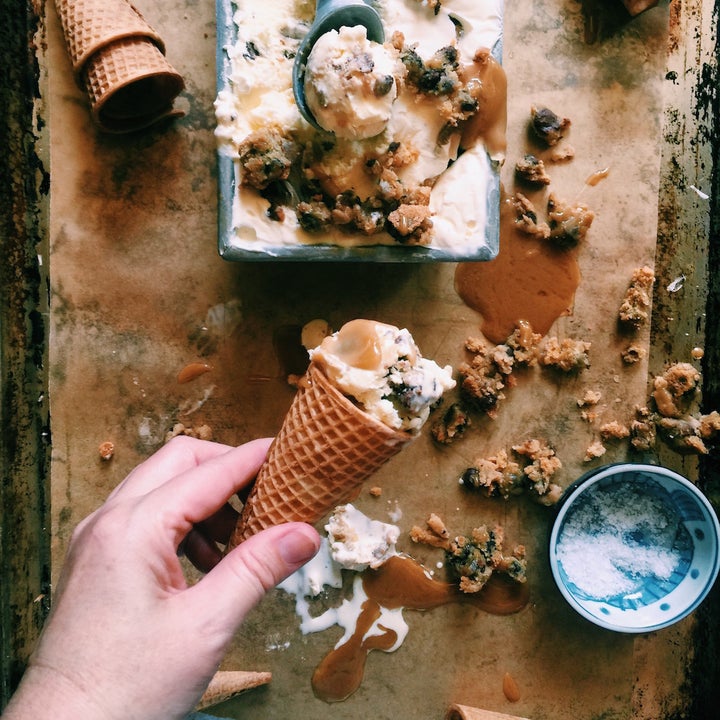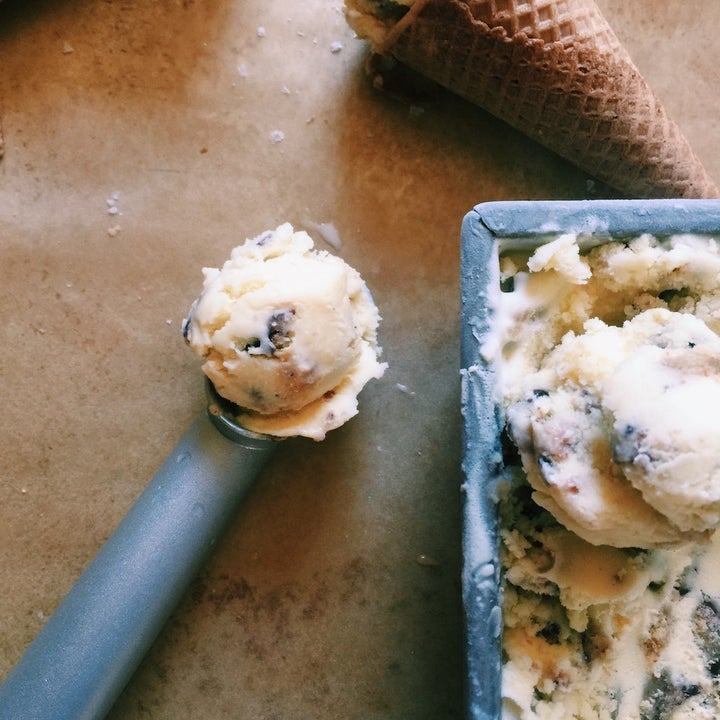 Salted Caramel Brown Butter Blondie Ice Cream
2 sticks of unsalted butter (16 tablespoons)

1 tablespoon fresh-brewed espresso or coffee (you could cut this back if you don't like a coffee flavor in your sweets…I love it when chocolate is involved)

2 cups plus 2 tablespoons all-purpose flour

1 ½ teaspoon sea salt

1 teaspoon baking powder

1 1/2 cups packed brown sugar (can also use dark muscovado sugar)

¼ cup granulated sugar

3 teaspoons real vanilla extract

2 large eggs

1 ½ cup semi-sweet chocolate chips

½ cup caramel sauce (I like Fran's) or you can make your own, recipe here

1 teaspoon coarse sea salt to sprinkle on top
2 large eggs

¾ cup granulated sugar

1 ½ cups heavy whipping cream

1 ½ cups milk (I used nonfat, you can use any fat percentage that you'd like)

1 teaspoon real vanilla extract
Preheat oven to 350. Butter or spray a 8-inch square baking pan (you can also use a 8-inch springform) with nonstick.

Put the two sticks of butter in a sauce pan and melt. Once melted, crank up the heat to medium high. Stand by, stirring and watching. This isn't the time to go and put your dry ingredients together. Once you start seeing golden bits settling at the bottom of the pot, take it off of the heat and pour into a medium, heat-safe bowl to cool a bit.

Add the espresso to the browned butter and mix together.

Whisk together the flour, salt and baking powder in a small bowl.

Once the butter has cooled a bit, whisk in the sugars, vanilla and eggs.

Pour the flour mixture into the brown butter mixture. Use as few strokes as possible to just combine. Add the chocolate chips and stir until evenly distributed. Make sure there aren't any pockets of flour…this is thick batter and they could hide in there.

Pour the batter into your prepared pan. Gently smooth it out so that it's even.

Bake for about 30 minutes. I prefer them a bit underbaked for this recipe. The blondies should have a slight tan around the edges with only a tiny jiggle in the center. Cook until the major jiggle wiggle is gone. These will be ooey gooey.

Cool the blondies completely in the pan and then chop up half of the pan into very small, I'm talking 1 cm square, pieces.* You'll like them in the ice cream better if they are smaller and there are more of them. Additionally, if there are any hard edges, don't include them in the ice cream. You can snack on those now. Go ahead.

Cover a baking sheet with parchment paper, sprinkle the blondie pieces on top. Then drizzle lightly with the caramel sauce and sprinkle with the sea salt flakes. Shove into the freezer until frozen solid. If you don't have a large enough freezer to accommodate a full baking sheet, use dinner plates or something smaller that will fit.
*You will only need half of the blondies for the ice cream. You have my permission to eat one now while the rest freeze.
While your blondie bites are chilling, put together your ice cream.

Put the eggs into a blender and blend on medium until they are light and fluffy (you could also use a whisk to blend your ice cream). About 2-3 minutes.

Slowly add the sugar and blend until well incorporated. About 1 minute.

With the blender running add the cream, milk and vanilla. Blend for about 1 minute on medium.

I'm going to give you three options for making the ice cream...
Option 1: Ice Cream Maker
I have a Cuisinart Ice Cream Maker that makes 1.5 QTS at a time. I split the ice cream base in half and do it it two batches. Otherwise, my maker overflows a bit.
I put half of the ice cream mixture in my maker (see note above) and then run it for about 15-20 minutes. When it starts to firm up, I add in the frozen caramel-covered blondie bites and let the machine run to distribute them evenly through the mixture.

Put the ice cream in a sealed container in the freezer for at least an hour before serving.

I have two ice cream-maker bowls to freeze, so this is easy for me to split it up. If you only have one base, make sure you re-freeze the ice cream bowl for a full 24-hours before making the second batch.
Option 2: Immersion Blender
Put the ice cream mixture in a tall, narrow container with a lid. Cover and place in the freezer for 30 minutes. After 30 minutes, use your immersion blender to break up the ice crystals that are forming and place back in the freezer. Repeat this process, every 30-40 minutes, over the next 4-5 hours until the mixture is frozen and creamy. Boom. Done.
Put your ice cream base in a resealable, freezer-safe plastic bag and seal tightly (maybe double bag?). Place in the freezer until it is frozen solid.

Let the frozen ice cream soften a touch and then put it in your food processor. Pulse until the mixture is nice and creamy. Place in a covered container and freeze until ready to eat.
Related
Popular in the Community