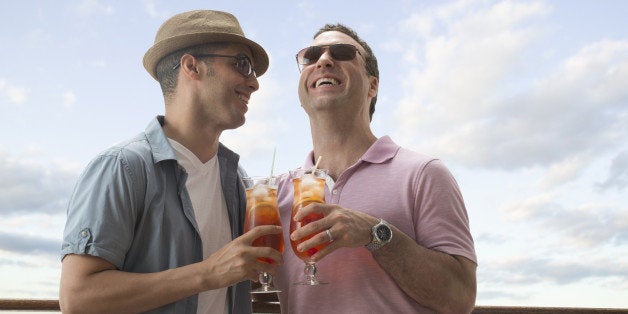 So, the other day when booking a hotel stay in Philadelphia, I noticed they had a "gaycation" package offer for LGBT guests. There was no cost to the package and it included a donation for each night stayed to the Trevor Project, late checkout, a gay staff guide to what to do in the city, as well as a free bottle of sparkling. How could I not select it? The free booze alone made it worth it, but do I really deserve a free bottle accompanied by two rainbow striped rubber duckies just because I'm gay? Maybe in a city like Philadelphia, located in a state now with legal same-sex marriage, it's a way to reach out to the LGBT market and let them know they are welcome. But do we really need that welcome, or are we as a community possibly taking advantage of the extra attention?
Don't get me wrong, it's a nice gesture and lets LGBT guests know their dollars are welcomed at the hotel, but I am curious as to how straight guests feel about another guest getting special treatment just because they are gay. There are plenty of straight allies who are just as deserving of some bubbles and duckies. And I can almost guarantee that some guests would be offended that they aren't receiving the same treatment. What makes us better than any other paying guest? Or are some of us expecting some type of reciprocity?
Am I looking too much into this? Maybe brands like Kimpton are just trying to be friendly. I could see the special welcome package working in places like Wyoming or Montana, both states which are not overtly in the news for waving pride flags. And what about gay wedding packages? I recently was tasked to write an article highlighting hotels with "gay wedding" packages. It wasn't until I had a phone call with a representative of Four Seasons brand that I began to question what I was questioning them about. The luxury hotel brand wasn't having any part of a "gay package" when it came to weddings. Instead, they wanted to emphasize that any wedding package they offer are for any couples wishing to wed at their properties.
That conversation led to an initial meeting with Grand Wailea, a Waldorf Astoria Resort, and their in-house team. They were concerned over how to address the wedding package dilemma on their website. This was a resort that for the last 10 years has had an exclusive "civil unions" tab on their website, since Hawaii was ahead of the trend with same-sex love. But now that same-sex marriage was legal in Hawaii, Grand Wailea recognized that they didn't need a separate tab. An updated site is being launched at the end of this month. But what do same-sex couples require when looking into potential hotel venues?
This again leads us right back to the special treatment issue. Does a gay wedding constitute a free couples massage and suite upgrade? How would a straight couple getting married on the same weekend feel, knowing that they were getting left out of a free rub down and room upgrade, just because they were straight? Personally, language on the website in addition to photos of same-sex couples would alert me that my potential pick is welcoming to all, and although I would appreciate some free champagne, I don't need it, because I am the same as everyone else, and don't need to be singled out because of my sexual orientation.
So have we reached that level of acceptance yet, or do we still need that something extra aside from language and photos on a website, to reassure us that we are welcome? Working in the travel industry, I am personally torn. For smaller cities, I can see "gay guides" and a little extra special welcome helping in reassuring guests. When it comes to same-sex weddings, I stand pretty firm in my beliefs that a wedding is a wedding and anytime the word "wedding" is proceeded with the word, "gay", and followed by the word "package", I cringe.
Calling all HuffPost superfans!
Sign up for membership to become a founding member and help shape HuffPost's next chapter