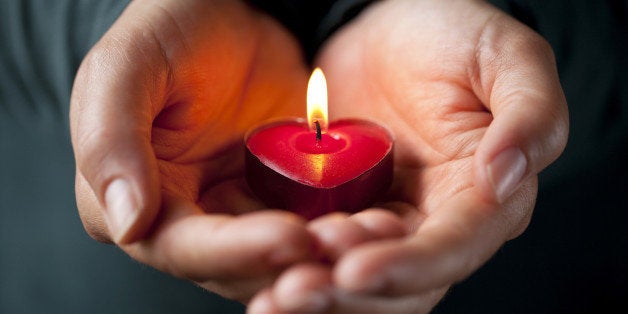 When we think about gratitude, we think of phrases such as "generosity of spirit" or having a "compassionate heart." Interestingly, we sometimes take for granted the actual organ in our bodies, which we deem responsible for keeping us alive and vital to share the love we feel. I became acutely aware of my own heart, what I wanted for it and for the world; there was a moment in time, I was challenged by its fragile nature and the brevity of its every beat.
A few years ago, while working out at the gym, I felt some discomfort in my left arm, and as quick as a lightning bolt, I was unconscious. When I came around, all I could make out were the blurry faces of paramedics working around me and the shrill sound of an ambulance siren and a paramedic repeatedly telling the driver to go faster.
Later at the emergency room, a young doctor approached me and asked me if I knew what was happening. I told him, judging by the tone of the paramedics in the ambulance, all I knew was that it was something serious, not much more. The doctor matter-of-factly said, "You are having a heart attack. You are a very lucky man because the gym staff called for help immediately. Now you are in good hands."
Within a short time, the nurses changed my clothes, transferred me onto a stretcher and had me moved to a pre-op room in preparation for a coronary angiography and insertion of stents into my arteries. This time, when I regained consciousness, I noticed three monitors faithfully flashing my vital signs with silent beeps and bright waves of light across their screens. In the intensive care ward, my reality revolved around the bed, the light green curtains drawn around me, the monitors, my weak body and not much more.
All I knew was that I wanted to live, and that if I did, I would be committed to making sure my life counted, that I would leave a legacy of goodness behind, and that I would live a meaningful and beneficial life. I was so grateful that I had survived this freak medical emergency. The fact I was going to Italy next day made it even more significant. What if this had happened on my flight to Italy or while I was there as a tourist? Not a day goes by without me thinking what if this heart attack had come a day later while I was traveling. My mind conjectures all kinds of scenarios and I am filled with a higher sense of gratitude for having received a second chance at life.
This moment of my life will live with me forever. I now look at it as a gift that allowed me to look at life differently. It has allowed me to live with an attitude of gratitude at all times. A life of gratitude comes from living in connection with your heart and expressing love and appreciation for all of life, from little to grand things. A life full of gratitude is a healthy and a happy way to live. We are wise to be awake and vigilant to the inner voice of guidance in each moment and being grateful and expressing our gratitude is "not just an emotional response" to an event or situation. It is truly a committed choice we make in any given context to experience greater wellness and vitality in our lives.
Being grateful is certainly a vital part of being awake, feeling alive and having fun. Truly, a grateful heart makes each passing moment precious, valuable and full. We can't take our own health or life for granted, nor that of our friends or loved ones. Nothing in the realm of form is permanent, and so we are wise to cherish each opportunity and express our gratitude as it arises. The gift we have been given is life. Celebrate it with joy and appreciation. Count your blessings; love your life; treasure your family and friends and all that you are thankful for. Accept where you are in this moment and be grateful for your health.
It is vital for us to express what is deep in our hearts without hesitation and delay. We all have a choice on how to live our lives. Take a moment to acknowledge all you have been blessed with and live each day with a sense of gratitude and a grateful heart.

This blog post is part of a series for HuffPost Gratitude, entitled 'The Moment Gratitude Changed My Perspective.' To see all the other posts in the series, click here.
Calling all HuffPost superfans!
Sign up for membership to become a founding member and help shape HuffPost's next chapter