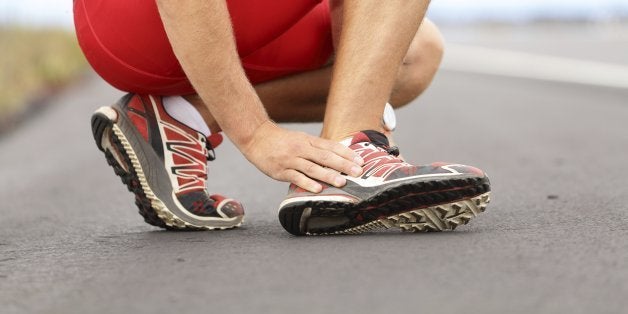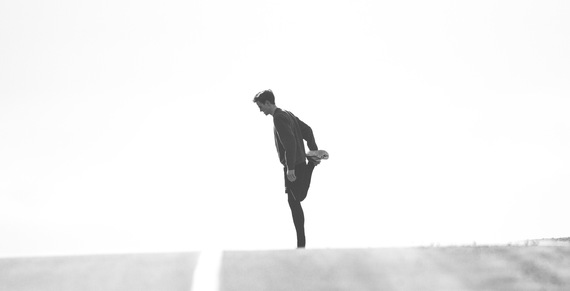 The latest running shoe model is out. The price tag is $150. Professional athletes around the world say it's like running on air. It's a bestseller. With tag lines like, Just Do It and Evolve from the Inside Out, they promote better performance, better materials and better style.
What they don't tell you, is that this shoe is precisely what's hurting your ability to run.
Despite billion-dollar revenues and decades of industry leadership, the athletic footwear giants--Nike, Adidas, Reebok and all the rest -- haven't publicized conclusive, independent evidence that their running shoes provide any form of injury reduction. Meanwhile, these shoes force us to walk and run on top of two separate, inclined planes that do real damage to our muscles and tendons.
Many don't know this, but our feet represent the perfect tools for distance running. The arched sole and Achilles tendon combine to provide nature's greatest suspension system. But athletic shoe design ignores this. Most athletic footwear was designed to introduce a forward-rocking movement, with their high, cushioned heels and upward-arched toes. Designers thought this would make the human gait more energy efficient. But this shifts the point of impact to the heel, bypassing the natural shock absorption provided by the foot arch and Achilles tendon. This leads to a greater prevalence of knee and back injuries.
Over the past few hundred years, we've seen a rise in the popularity of the heel strike (feet hitting the ground heel-first), brought upon by the evolution of modern shoe design. Consider examples of native runners from Kenya and the Tarahumara of Mexico. Both groups avoid modern footwear and prefer mid-foot or forefoot strikes when running. When provided modern athletic shoes, they both shifted toward heel-strike running, showing a clear connection between their footwear and style of running.
Our shift toward heel striking has led to two misuses for the Achilles tendon: longer strides, which overstretch the Achilles tendon, and a reliance on knees to absorb the impact, leading to atrophy of the tendon. This causes the Achilles tendon to be susceptible to injury.
It's time we take a hard look at the stated or implied benefits of traditional athletic shoes. Too often we look to fashion, trends, advertisements and celebrity endorsements for information on what shoes are good for our bodies. Instead, we should be looking at ourselves, letting our bodies tell us what works best. And that conversation starts with the way we walk.
Alex Charfen is a serial entrepreneur helping tens of thousands of other entrepreneurs grow their small businesses and reach peak levels of personal and business performance. He is co-founder and CEO of CHARFEN, a training, education and consulting company landing on the Inc. list of fastest growing companies in America three years in a row. In 2011, Alex was named Fittest Entrepreneur in Austin, Texas.