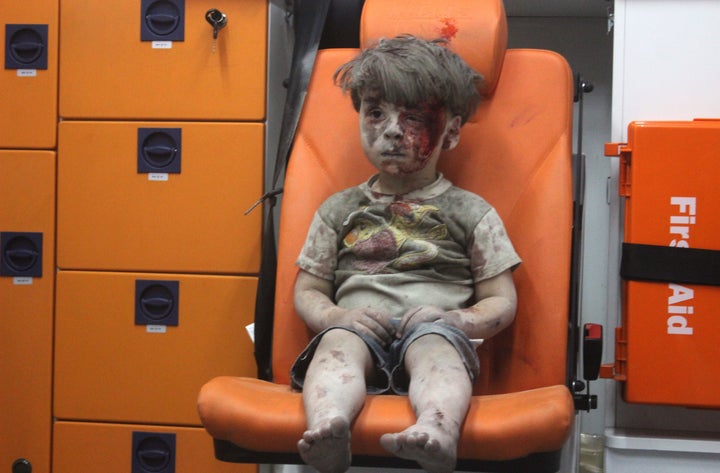 It's getting predictable. A journalist captures that perfect still frame of a traumatized, sometimes dead, Syrian child that's not too gruesome or too offensive for Western eyes, but perfectly sums up the horrors of what's going on in Syria. It captures the West's attention and they are suddenly reawakened to the tragedy in the faraway land called Syria. They become obsessed with every little detail about this small human and everyone lunges to their social media soapbox. Lather. Rinse. Repeat.
As soon as I saw the photo of five-year-old Omran Daqneesh, I thought to myself, this is an image they will pick up, it's like he's staring into your soul, sitting there innocently, drowning you with guilt. Surely enough, a mere few hours later as more airstrikes rain down on Syria and several more people die, the image of Omran starts to scatter across the internet. Western media outlets scramble to get the newest details about the dazed boy propped up on the orange ambulance seat.
I feel a knot in the pit of my stomach as yet another horrifying image of an innocent Syrian child goes viral. I feel this knot, not because I am shocked by the image of Omran, powdered in the ashes from his home and leaking blood from his head, as he sits stupefied with an inscrutable stare on his face, too young to comprehend that he was just a victim of the latest Russian airstrike. Rather, much like Omran, I feel confused.
Syrians don't have the leisure of being disturbed by images of Syria's dead and injured just once a year.
Should I feel excited that finally, another powerful image has gripped the West's attention and thrust Syria into the spotlight, or should I feel resentful knowing that this is only fleeting attention? It will not amount to sustained action, nor will it result in any significant policy shift.
Against my better judgment, I continue to feel bouts of hope when stories like this take Western media by storm. I, like many Syrians I know, have lost my faith in the international community and the current U.S. Administration to change course and redeem themselves for abandoning Syria. Yet, pleas like those made by the last remaining medics in Aleppo asking President Obama to intervene, reveal the Syrian's desperate cling to a popularized Western idiom, "hope for the best, but expect the worst."
Our desperation leaves us unable to give up on the former, hoping for an intervention that can spare Syrian lives. Yet, we remain tormented by the latter, expecting that there will be more throwing up of arms and shrugging off Syria's atrocities as just too complex and complicated to get involved.
Omran is a cherry-picked sympathy case for the West. Of the hundreds of photos that are shared daily by Syrians of children trapped under the rubble, this one captivated social media. Perhaps it was his boyish haircut and cartoon t-shirt that reminded people of the toddlers in their own lives, perhaps it was his stoic stare straight into the camera, or perhaps it was just that this picture struck the right balance of familiarity and horror that tugged on the heartstrings enough to earn the West's mercurial sympathy.
Regardless of what it was that won over sympathy, the duration of that sympathy may last for the next 24-72 hours, or even an entire week if we're lucky. To the West, Omran is nothing but a trending hashtag that will soon fade away from social media's collective conscience just as easily as he came into it. It all depends on when someone captures the next adorable animal video that manages to out-trend #AleppoBoy.
For Syrians, he is not just "Aleppo boy." The image is not a mere "reminder" of the "bloody civil war" in Syria, as media outlets plaster across their homepages. He is Omran Daqneesh, and in his traumatized pupils we see the millions of Syrian children who have been affected by Assad and Co.'s airstrikes and barrel bombs. Syrians don't have the leisure of being disturbed by images of Syria's dead and injured just once a year. We are confronted daily by images like Omran's. We wake up and go to sleep with them. Every day Syrians wake up to the news that more children have died to Assad's atrocities. 
[The West's] sexy stories, trendy hashtags and selective sympathy won't save Syria.
We are constantly aware of the more than 19,000 innocent children and 450,000 civilians that have been lost, and we ask daily, How Many More? How many more Omran Daqneesh's have to be piled under rubble, how many more Aylan Kurdi's have to wash ashore, how many more Hamza al-Khatib's have to die before Syria deserves real attention? How many more before Syrians deserve humanitarian intervention? How many more before we deserve to have our innocents recognized as targeted victims of a criminal regime's mass atrocity, not as mere casualties and collateral damage of a "civil war?"
Omran and millions of other innocent children, women, and civilians are not "caught in a war," they are caught in the bloodied fists of a brutal dictator-cum-mass murderer. They are victims systematically targeted by a full-scale massacre being carried out by the Assad regime and fueled by his unwavering allies, Russia and Iran. They are victims of Assad's campaign to wipe out each and every Syrian remaining in Syria. So long as there are no forces to stop them, the regime and its allies will not stop short of sacrificing each and every civilian's life in exchange for preserving one man, one regime, one institution, that of al-Assad's.
Until the West is ready to recognize and take the necessary action to deal with the situation in Syria for what it really is— a systematic massacre of Syrian civilians— then your sexy stories, trendy hashtags and selective sympathy won't save Syria.
Calling all HuffPost superfans!
Sign up for membership to become a founding member and help shape HuffPost's next chapter
BEFORE YOU GO
PHOTO GALLERY
Syrian Refugees Resettled in New Jersey Meet For The First Time