Co-authored by Carly Alaimo, content manager at Avelist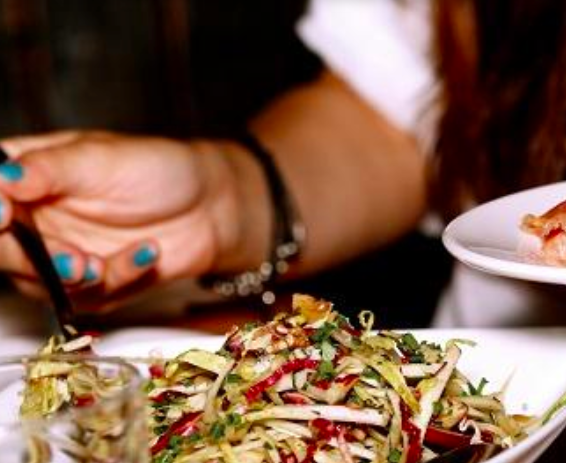 Make this Friendsgiving one for the books.
Step 1: Create your guest list. Who's on your guest list really depends on who's in town and alone, and how many people you can fit in your apartment or house. If your place is tiny, inviting a limited group of close friends is your best option. If your space is small, we say keep it to 10 people or less to avoid having someone without a seat on the couch during the football game. If you'd rather have a bash, it doesn't really matter who's coming. The more the merrier, right? Either way, let people know you're having a thing - a Facebook event invite or group text will do the trick, or if you wanna really get fancy, send out a Paperless Post invite. AveTip: Expect uninvited guests. There are always a couple loners who get tacked on last minute. It's fine. This doesn't ruin the intimacy of the party; it just makes things more interesting!
Step 2: Decide if you're doing a traditional or themed thing. Sticking with traditional offerings for Friendsgiving gives you a selection of great staples to build on, and also provides some structure for planning a potentially overwhelming evening. A traditional Thanksgiving meal is fun, familiar, and nostalgic - seriously a crowd pleaser. Can't get excited about gravy this year? Shake it up. Have a barbecue, grill corn and caribou, make a Vietnamese feast! Do most members of your crew have insane dietary restrictions? How about a meatless Thanksgiving? A themed dinner makes room for creativity and experimentation.
Step 3: Are you kitchen queening, potlucking, or dining out? Decide whether you're cooking for everyone, asking your guests to bring a dish, or going out to eat. All choices have their pros and cons - totally depends on your personality. If you're a bit of a control freak, you'll probably want to take charge of planning the menu, making the purchases, and cooking the meal. Too much pressure? Having a potluck Friendsgiving is probably the right choice for you. Assigning each guest a different dish to bring to the party lessens the time you have to spend in the kitchen and frees up more time for mingling. If you only go in the kitchen to pour cereal, then maybe reserving a table for everyone at your favorite restaurant is the way to go. Restaurants tend to pull out all the stops for holiday dinners, and even though coursed meals can get a little pricey, the food will be delicious, hey, you'll just have to show up.
Step 4: Bring the entertainment. Drinking and eating - expected. Planning activities for your Friendsgiving will keep your posse engaged and entertained. Sure, there will be football. What about your guests who aren't into sports? Drinking games, board games, cards (Against Humanity?), and yard activities are ideal (corn hole, horseshoes, life-size Jenga) for socializing. If you have the lawn space, a bonfire is the perfect gathering point for your guests to drink, dine, roast marshmallows, and reminisce. What about getting active? A stimulating midday hike, bike ride, game of soccer or frisbee before or after dinner is an awesome option for an active crowd. (But let's be honest, you're getting drunk and watching Netflix, right?).
Step 5: Time to cost it out. Set a budget for the party. Remember, you're not just cooking stuff, you're buying drinks too, and possibly some props. Potluck Friendsgivings are great for saving cash. Guests contribute most of the food, cutting your out-of-pocket down to the price of 1-2 dishes. If you're cooking solo, tell your crew to throw in $5-$10 per person to help cover the cost of ingredients and drinks (Venmo, people!) OR just have everyone bring a bottle of something. This way, you won't have to buy any alcohol, which can sometimes be more expensive than the entire dinner. Or maybe you want to cover the whole meal as a nice gesture - totally fine. Just be realistic about how much you can spend, use some promo codes and coupons, and don't go crazy unless you absolutely can. No one is going to fault you for not having an expensive bottle of champagne or the biggest bird on the block.
Step 6: Don't overthink it. The best Friendsgivings we've attended have been relaxed, free-flowing, without too many bells and whistles. Some things to avoid that will defintely kill the chill factor: 1) A coursed out dinner. Unless you're reeeeallllyyy good at planning this kind of thing, bringing each dish out as its own course is awkward for everyone and super stressful for you. We think self-serve is the way to go for this kind of party. This includes booze! A bar cart with mixers and cooler of beer and wine for your friends to pull from gets the job done. No need to hire a bartender. 2) Making it too fancy. We know your Friendsgiving Pinterest board is cluttered with ideas for festive birchwood votives and matching flower crowns for your crew to wear at the table, but you'll find that over-investing in decor to "set the mood" is counterproductive. Keep things light and natural - a simple string of fairy lights or candles will warm the room and dress up the table without intimidating your guests. 3) Stressing out. Not a good look! Friendsgiving is truly the opposite of stressful. Don't make your guests uncomfortable. Know yourself and what you can handle as a party-planner without blowing a gasket. Pressure's off - enjoy yourself.
Happy Thanksgiving, Avelisters!
Want more great advice? Head over to Avelist. Learn from others. Adult together.
Calling all HuffPost superfans!
Sign up for membership to become a founding member and help shape HuffPost's next chapter