With today's constant news cycle and the immediacy of social media, anyone can have their reputation crushed in a matter of minutes, so it's important to do whatever you can to maintain a positive perception from the public eye.
After all, a good reputation opens the door to endless amounts of opportunities, such as sales and referrals or even new career pathways.
There is no set way to go about building your reputation, but it does require lots of time and effort to be successful. As a measurement of your trust, credibility and influence, it's important to maintain a positive outlook from the public eye for you and your brand, so the effort will be worth it in the end.
There are many tactics that business leaders and entrepreneurs use to enhance their reputation, such as using the media, blogging and online social media platforms like Facebook and Twitter. Some also stick to face-to-face networking and building relationships to build their reputation. Using these channels can provide the opportunity to share your thought leadership and expertise.
Building a stronger reputation will uncover new opportunities, so here are three tips to get it done.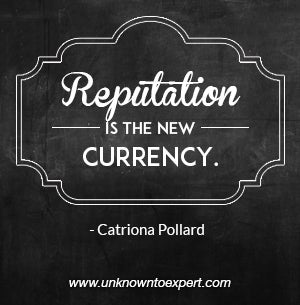 It's important to build relationships with consumers and fellow entrepreneurs, and one of the best ways to do this is by establishing an emotional connection.
Sharing a personal story doesn't need to divulge too much about yourself, but it should highlight what you've experienced in your career. No journey is easy, so it's okay to talk about your failures and struggles as well as the success that you have achieved and what you did to get there.
When people think of you, you want them to think of you in a certain way. This is your personal brand and you need to be very intentional about how it's created otherwise others will create it for you. Do some thinking about who you are, what you stand for and the value you offer.
From this, develop key messages that can form the basis of how you describe yourself, the commentary you make to media and what you post on social media. These messages allow you to deliver consistent communication and create a uniform perception of your brand in the marketplace.
Successful thought leaders will tell you sharing useful and interesting information can be powerful in building a positive reputation and solid credibility.
I genuinely believe the world would be a better place if more people shared their ideas, opinions and expertise. But this requires more people to step forward and share their stories with the purpose of helping others.
When you start telling your stories and sharing your expertise to help people and you will be amazed with the emotional connection that you start building with people. Your stories can be personal stories, professional stories or stories that let people know who you are, what you do and what you stand for.
Building a positive reputation can take an enormous amount of time and effort to implement and maintain, but the result is invaluable. If you truly want to develop a positive perception for yourself, be relentless, be of service, and above all, be genuine.
About the author Catriona Pollard is the author of From Unknown To Expert, a step by step framework designed to help entrepreneurs develop effective PR and social media strategies to become recognised as influencers in their field. www.unknowntoexpert.com
Catriona is also the director of CP Communications, which merges traditional PR tactics with cutting-edge social media strategies that engage consumers as well as business. www.cpcommunications.com.au
Related
Popular in the Community