If it's a nice summer day, you've got to take advantage of it. You can make it a pool day, take a nice walk outside, try paddle boarding, have a yoga session at the park, or my favorite--throw an awesome BBQ at the beach. Whether it's the 4th of July or a regular Saturday evening, dining outside is a great way to spend time with family and friends. Unfortunately, some traditional BBQ foods tend be high in calories and fats, and if you're not careful you can end up with a ton of waste at the end of the day from plates, forks, and cups. So why not elevate your hosting skills at your next shindig with some eco-friendly, reusable products and healthier eats?
According to the Natural Resources Defense Council, around 80 percent of marine litter originates on land, most of it being plastic. This pollution that has accumulated in our oceans and waterways over the years has serious impacts on the environment and economy. It not only affects the health of wildlife that ingests this pollution, but also human health through toxic pollutants found in the water and the marine life we come in contact with. The good news is we can help reduce the amount of waste and toxic pollutants in our environment by taking steps, no matter how small, toward minimizing our use of disposables and plastics!
I'm not saying you have to purge every disposable and plastic item in your home in one day. Instead, take things at your own pace to replace these items with more sustainable alternatives. Take the time to look around your home and lifestyle to see how you can incorporate eco-friendly practices into your everyday life. And your summer BBQ is a great place to start!
Reusable drinkware. Pass on the plastic cups this summer by investing in some durable and reusable drinkware. For cocktails, bring cute glasses nestled in a silicone sleeve to help prevent breakage. For water, why not encourage your guests to bring their own reusable bottles? Bringing their own reusable bottle is great way to continue to stay hydrated while in the hot sun and cut down on plastic waste.
Healthier marinades. Check the ingredient list of your favorite store-bought marinade before you slather it over your meats. If MSG is listed, you may want to rethink using it. MSG and other artificial food additives commonly found in sauces and marinades are constantly under fire for their potentially harmful effects on human health. To make your BBQ condiments a bit healthier, make your own! Try this clean teriyaki marinade for juicy chicken or this balsamic marinade for turkey burgers.
Homemade sides. Store-bought potato salads and macaroni are usually loaded with fattening mayonnaise and preservatives and it's time to do better than that! It's easy to provide healthy sides made from scratch with recipes like this black beans and corn salsa, rustic potatoes, or bacon Brussel sprouts.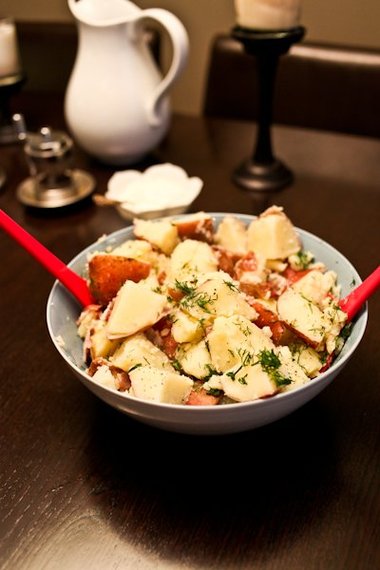 Kath Eats
Superior utensils. Does anyone actually like eating with plastic utensils? In addition to being flimsy and an instant weapon that's created when your fork snaps in half, disposable plastic utensils are incredibly wasteful. If you're having a large party and not able to provide as many reusable forks and knives as needed, you can opt for biodegradable alternatives that inflict less harm on the environment.
Healthier cocktails. There's a lot of heat coming off that grill, so you're going to want to cool down with some festive drinks. You can skip the extra sugars and artificial ingredients and still make your favorite libations by looking for homemade recipes with just a few ingredients. Have all the flavor without a high calorie mixer by making this watermelon mint martini or jalapeno and grapefruit margarita. And for a really quick thirst-quencher, make this red wine and ginger beer sangria in five minutes or less.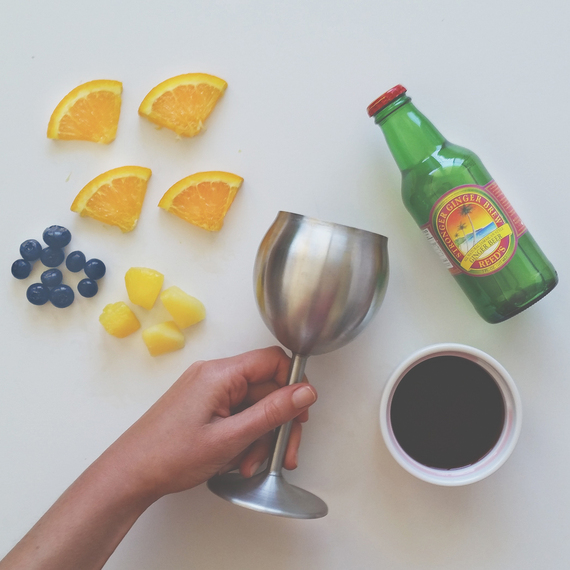 Wild Mint Instagram
Be ready for leftovers. Our eyes are usually bigger than our stomachs, and that's where a lot of waste can happen. The best way to avoid wasting food is by having plenty of food storage containers on hand! As mentioned above, disposable plastics are the least environmentally friendly option so try glass food storage containers or stainless steel containers instead. These types are made without potentially harmful chemicals used to make hard plastics so your food can stay clean and healthy!
In what other ways do you think you can reduce waste at your summer parties?
Related