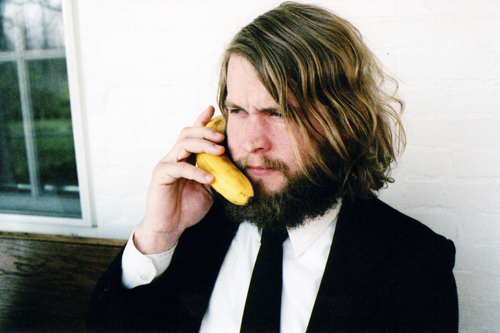 Not too many years ago, lots of people thought vinyl records were -- like rotary telephone dials and typewriters -- a thing of the past, replaced by digital recordings, CDs and MP3s, used mostly for obscure and alternative music. Then, in 2008, vinyl reestablished itself so that, today, many recordings are being simultaneously released digitally, on CD and, once again, on 45 or 33 RPM records.
Ben Blackwell (above) recalls, "My first memories of music are on vinyl. Nowadays, when so much of our culture is immediate gratification and invisible things -- MP3s, computers -- vinyl is firmly planted in the tangible world. Nobody ever says, 'Come over and let me show you my mp3 collection.' That format will never be improved upon."
And Blackwell knows whereof he speaks. He oversees vinyl production for Third Man Records, whose website trumpets the fact that "your turntable's not dead."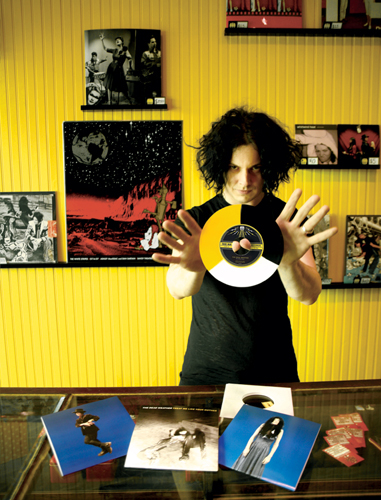 The label was started in Detroit in 2001 by multi-hyphenate (musician-songwriter-producer-actor) Jack White (photo at left holding a multi-colored vinyl 45), with its home since 2009 in Nashville. White serves as producer, recording the likes of Jerry Lee Lewis, Carl Sagan and Stephen Colbert, among many others and, of course, his own groups, the Raconteurs and Dead Weather.
The releases are available digitally, but the company's primary format, goal and mission is to keep vinyl alive and viable. Their studio uses analog equipment and the vinyl releases are in various colors, from standard black to day-glo, single and multi-colored material.
Now, Third Man has embarked on a new project to not only keep vinyl alive, but to introduce it to a new generation of musicians. It's called "School Choirs & Bands at Third Man: A Vinyl Recording Experience," a program Third Man Records is doing with Brightspark Travel.
Dirk Deyoung, a Nashville-based tour consultant for the student travel company, explains, "We do student tourism. I work primarily on performing arts tourism. Schools are less inclined to let their groups travel unless there's an educational component. I wanted to find something that was unusual that served a need for music education and, at the same time, I wanted to promote the city of Nashville, a place that was a tourism hotspot until the Opryland theme park closed [in 1997]. This seemed like a good fit."
"We connected with Brightspark and began talking about different options and ideas. At Third Man Records, we were all instantly excited about the idea," Blackwell says. "You get a much warmer sound with analog than these kids are generally used to from listening to digital recording.
"You know," Deyoung adds, "anyone with a computer can turn their bedroom or living room into a recording studio. What we're giving these students -- an analog recording experience -- cannot be duplicated with a computer."
The students will come into the studio, take a tour, and Blackwell will host a question-and-answer session. When that is all finished, the group -- band or chorus -- will record two songs. A recording engineer oversees the recording. When it is complete, it's mixed and 7-inch vinyl records will be pressed in the school's colors. Each student will get a copy.
Blackwell notes, "With funding for music education being cut every day, Third Man feels a duty to do its part. What better way to do so than to record the kids themselves, and put vinyl records in which they have a stake into their hands?"
"We're only pressing these records for the students to have as a commemorative piece. We're not selling them because the idea is not to make a profit but to give the students a unique experience," he adds.
With about 30 students in each group, Brightspark and the record company are anticipating approximately six groups each year.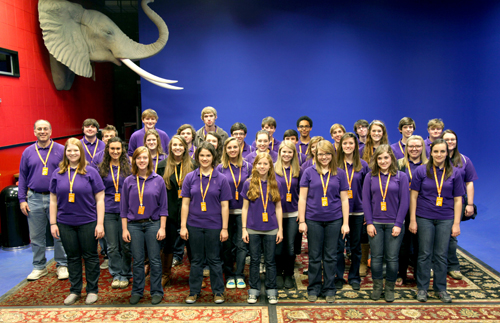 To get the project going, Brightspark approached a school it knew from earlier trips, the David Lipscomb Campus School on the grounds of Lipscomb University, a Christian prep school serving students from pre-K through grade 12.
Robert King, the school's Fine Arts Director, who also directs the school choir, says that, to thank the school, Brightspark made a donation to Amazima Ministries, a not-for-profit that educates children in Uganda. Amazima's founder, Katie Davis, is from a Nashville suburb.
As the recording was done during Christmas vacation, students were asked to volunteer to attend. King says that about 30 participated. They recorded "Ride On King Jesus" and "The Lord Bless You and Keep You."
"I thought it was a very good experience," King says. "The studio was unique."
One of the unique items there was the elephant's head -- the tusks aren't real ivory -- that White had bought from Mike and Frank on the TV show American Pickers. The episode was shown a few weeks ago and, King said, "The kids got a kick out of the elephant and I love the photo of the group under it." (King is at the left of the picture.)
He says, "I'd prepared the students for a dead acoustic space where you add presence or reverb after the recording. But that room was quite live and a very easy place to sing. The mic was very simple, one stand with two or three mic elements. It created a sound truer to the actual sound."
Although White was out of town when the session took place ([Blackwell says he will be at "some" sessions], King says, "The kids knew a lot about Jack White's music and they knew what was going to happen. The music was recorded onto magnetic tape."
"A lot of recordings," King adds, "are said to 'never leave the digital domain.' Well, this one never entered it."
School Choirs & Bands at Third Man: A Vinyl Recording Experience was announced on January 27. Dirk Deyoung reports, "The response has been very good. Over the course of just the first two days, about 120 or 130 choir directors have seen the video."
"I believe this is a good thing."
Ben Blackwell says, "Before the students came to record I was excited and nervous. It was a great experience."
You can see the video of the first students to participate here:
Related
Popular in the Community