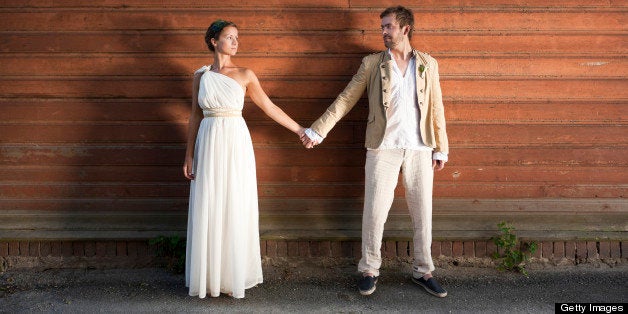 It's one of the most popular topics for a wedding blog post, "How to Have a Unique Wedding," "Five Unique Options for Your Cake (or flowers, or bridesmaids' dresses)." There are websites devoted to the idea of helping people find ideas for their "unique" and "different" weddings and then talk about how unique their wedding was after the fact.
But why all this focus on the unique? People have been getting married for thousands of years. Why do today's couples (mainly brides) feel so pressured to be unique? Most wedding planners agree that a lot of the pressure comes from our celebrity culture. We have a focus on weddings as a "wow" moment, a chance for every couple to be celebrities. Kia Martinson-Wenzel, who works for a Connecticut wedding company that rents church pews for outdoor weddings, believes that some of the pressure comes from the couples themselves. "The average bride today is older, by the time they're getting married they've been to many more weddings and want to find something different."
The Internet is also fueling the quest for originality. Sites like Pinterest thrive on brides obsessively searching for the small details that will somehow set their wedding apart from the five other weddings that year and the thousands of weddings that came before it. Because engaged couples spend so much time on wedding websites and blogs they feel like they've seen hundreds of weddings of people they don't even know. In the past, John and Sue might just have wanted to use different colors than Tim and Mary, but now John and Sue have seen every imaginable color combo online and need something else to make their wedding unique. The hard truth is though, no matter how hard you try, your wedding is not going to be unique.
Every single thing about your wedding, whether you have your rings tattooed on your fingers, or exchange vows in a Celtic Handfasting ceremony, has been done before. Yes, you will serve your drinks in mason jars instead of glasses, or maybe you will try to go further and serve your drinks in rusted tin cans instead of mason jars, but at the end of the day, you're still serving drinks to family and friends. You can use fruit or twigs or LEGOs as your centerpieces, but you're still seating your friends around tables and serving them food. That food may be fried chicken and biscuits served out of a trough or farm fresh vegetables sliced at the table by acrobats wielding swords, it's still food. It's still a celebratory meal.
I spent many years as the Editorial Director for GigMasters.com, a company that specializes in helping people find the perfect wedding entertainment for their individual weddings. I understand that couples want to be true to themselves. For some people that might mean a 1980s cover band is a better wedding band and for others a traditional wedding DJ makes more sense. But whichever you choose, you're still dancing with your spouse and your friends and family because dancing is an age-old, completely unoriginal way to show joy.
The great thing is, not being unique is OK. Weddings are a cultural tradition. Getting married makes you part of the history and tradition of your family and your community. Getting married makes you part of a tradition, and traditions are built on doing the same thing over and over again.
So, yes, absolutely, find ways within the tradition to be true to yourselves. Get married in a Quonset hut, make your dog your ring bearer, have Elvis perform your ceremony, whatever makes you feel connected to the tradition. But don't stress yourselves out trying to be unique. Don't worry if someone else has used your idea of burlap wrapped chairs, or hanging the escort cards from a tree. If it makes you happy, do it, but don't do it because it's "unique" -- because it isn't.