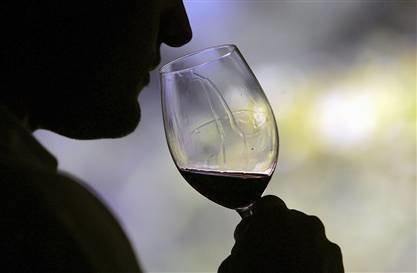 Raise a glass to our new president and his administration on January 20th with five very different, surprisingly presidential wines from around the globe. Whether you're attending an inaugural ball in D.C. or simply catching the celebration on TV, these diverse yet inspired, accessible selections will help you toast this pivotal moment in the history of our great nation in style.
Toasting President Barack Obama? Raise a glass of...
Francis Coppola Reserve Pinot Noir 2006 Magnum
Napa Valley, CA
About $75 (worth the splurge!)

President Obama captivated the country with his uniquely American life story, his calm and collected mannerisms in even the most heated debates, and his undeniable charisma. Francis Coppola's Pinot Noir Reserve blends diverse flavors, combining black cherry, cinnamon, and cola, for a strong yet not overpowering taste. This Pinot Noir is as smooth as one of the President's inspirational speeches, as likeable as his easy smile, and comes with as happy an ending as the 2008 presidential election.

Toasting First Lady Michelle Obama? Raise a glass of...
Gruet Grand Rose NV
Albuquerque, New Mexico
About $20 (reasonable)
To toast our effervescent, fresh and sophisticated First Lady, this crisp, stylish, and sexy sparkling Rose from New Mexico is a perfect fit. Like Michelle Obama, the Gruet Grand Rose is unpretentious, contemporary, classy, and feminine. Though the Gruet Grand Rose has a hint of strawberry and an appearance that is decidedly pink, the crisp, dry finish reveals an underlying strength, which we've all come to learn our First Lady has in spades.

Toasting White House Chief of Staff Rahm Emanuel? Raise a glass of...
Bodegas y Vinedos de Murcia Jumilla Mad Dogs and Englishmen 2005
Jumilla, Spain
About $9 (bargain!)

Hail to the Chief of Staff with this quirky, spicy, complex, and respectable Spanish Jumilla. A blend of 50% Monastrell, 30% Cabernet Sauvignon, 20% Shiraz, Mad Dogs and Englishmen boasts hints of leather, dark chocolate, oak, and spices, with medium-high acidity and a dry "sense of humor" for the finish -- remniscent in character (but certainly not taste!) of Rahm Emanuel's prank of mailing a dead fish to a pollster.

Toasting Vice President Joe Biden? Raise a glass of...
Domaine Monte de Luz Tannat 2007
San Jose, Uruguay
About $12 (bargain!)

True to his roots, eccentric, and rare, Vice President Biden inspires a unique yet affable Tannat from Uruguay. Like Biden, Tannats have been around in awhile, but are reinventing themselves in a new contemporary light. Initially grown in France, the Tannat grape is now most prevalent in the beautiful South American nation of Uruguay, where its big fruity taste fits nicely hand in hand with the country's abundance of quality grilled meats. A great wine to surprise your friends with or to pop open at the type of Fourth of July barbecue you can imagine Biden strolling into.

Toasting Secretary of State Hillary Clinton? Raise a glass of...
Feudo Principi di Butera Nero d'Avola Sicilia IGT 2005
Sicily, Italy
About $12 (bargain!)

Our new Secretary of State is a proud, strong, and inspirational woman who only improves with age. Hillary Clinton can come across as intense and passionate, like the persistent and spicy notes in this ruby red Sicilian wine; she is also good-humored with a sharp, dry wit. Nero D'Avola, one of Italy's most notable yet somehow overlooked grapes, stands out on its own or pairs particularly nicely with fine cheeses. The girl next door meets the modern, ambitious American woman.