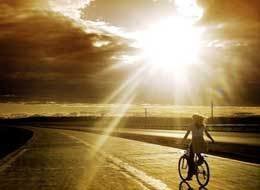 On New Year's Day, most of us wake up with a renewed sense of potential and possibility - unless of course a nasty champagne hangover keeps us from even getting out of bed. We tend to make resolutions which are usually promises to do something "more, better, or different" as our society seems to revolve around this concept. We vow to exercise more, get a better job, or find a different way to handle our stress. But does this really do us any good? Most of us start the New Year with the greatest of intentions of keeping our resolutions, yet by March we may not find ourselves so "resolved." We revert back to old patterns and our resolutions become as nostalgic as the person we kissed at midnight. Could there be a different approach to kicking off 2008 that serves us better?
Every year, I take a different approach to resolutions. I resolve not to make any. I realized by focusing on how to make myself or something in my life more, better, or different was completely judgmental and not particularly inspiring. Instead, I take a new approach to January - the month of new beginnings.
On December 31st every year, I do a "Year in Review." Month by month I reminisce about events that happened, people I met, places I visited, lessons I learned, and so on. I record them in my journal and then discuss them over New Year's Eve dinner or sometime in early January. What is so great about looking at the year in this way is I am able to notice how I have grown and express gratitude for all the year's blessings. Today, I feel a sense of completeness with 2007. What is also interesting is to think about the ways of being or habits that I'd like to leave behind. We all have our regrets and learning experiences, yet a lot of us tend to cling to them much longer than we need to. This year, I toasted to "letting go" both to the year and to unnecessary mind clutter.
So make New Year's about manifestation rather than resolutions! Here what I did to kick off 2008: I sat quietly with a candle lit and wrote down all the things I want to manifest in my life this year. I wrote down everything I could think of from health to being a featured guest on Oprah. I covered the front and back of the page. As I finished, I felt a sense of hopefulness and excitement rather than the feelings of obligation and pressure I used to feel after making those silly resolutions.
If completing 2007 and manifesting 2008 sounds more appealing to you than making a list of resolutions, I invite you to follow this process and feel free to amend it any way that inspires you. Many of these suggestions follow principles of the Law of Attraction.
1. Begin with your "Year in Review." In a journal, go through each month, beginning in January 2007, and write down anything that you remember - accomplishments, events, blessings, struggles, funny moments and so on.
2. After you have gone through the year, on a separate sheet of paper, write down what things you would like to leave in 2007. For example: being obsessed with an ex, bad eating habits, over use of a substance, consistent self-scrutiny, road rage, swearing too much and so on. When you complete this list, burn it or rip it up into tiny pieces to really get rid of it!
3. Share your year in review with someone close to you who is part of your life. See what they recall, reminisce, and share a couple laughs.
4. Make a toast or light a candle to the end of 2007. I encourage you to say a prayer of gratitude for 2007 and declare you are ready to let it go.
5. Either later today or tomorrow, begin to manifest 2008. Light a new candle, put on relaxing music, get comfortable . . . you know, set the mood.
6. Grab a blank sheet of unlined paper. As a suggestion, you may want to write at the top, "I, (your name), do lovingly manifest this or something better for the highest good of all concerned. And so it is."
7. Without thinking or analyzing, write down anything and everything that comes to mind. Be specific, be creative and think big; however, your list should be at least 90% possible and believable. Write until your brain is empty. - don't worry about being greedy! Important: write everything in present tense in the "I am" and use verbs to enthusiastically express what you want. For instance, "I am joyfully cleaning out my closet and enjoying the new organization and extra space."
8. Fold your paper up, stick it into a plain envelope that you label "2008" and put it in a safe place. I create a manifestation box every year where I include this list as well as pictures and objects that are symbolic or meaningful to me.
9. As much as you may be tempted to open it or add something to your list, do not open it again until the end of this year when you do your 2008 year in review. I encourage you to think about the list frequently and believe in the possibility of your manifestation power.
10. On or around New Year's conduct your 2008 year in review and kick off the next year with the same process!
No matter what, resolve to live your life in line with what you truly want to manifest. Rid yourself of any emotional, mental, physical, or interpersonal clutter so that you can get out of your own way. The thing about the Law of Attraction is that it takes action as well as thought and belief, so resolve this year to take steps to truly manifest your best life.
And finally, get excited about 2008! It is going to be a terrific year . . . as long as YOU make it one!
Please send me your questions by posting them in the comments section below. You can also email me at christine@huffingtonpost.com and sign up for my free monthly newsletter.