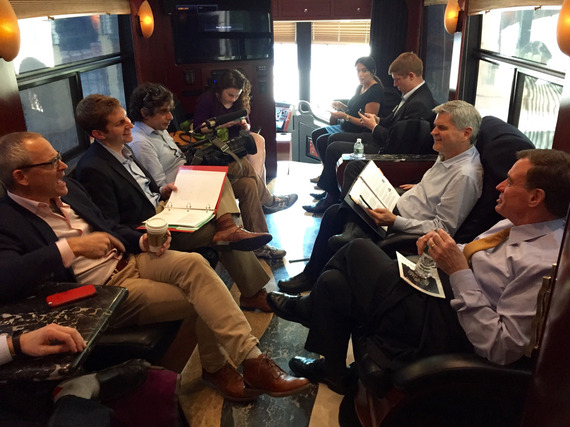 (Steve Case and others on the Rise of the Rest Bus Tour, which is supporting entrepreneurship across America)
You're either on the bus or off the bus.
-Tom Wolfe, Richmond native: The Electric Kool-Aid Acid Test
Those who dream by day are cognizant of many things that escape those who dream only at night.
-Edgar Allan Poe, Richmond native
"If you care about entrepreneurship in your community, you have a responsibility to collaborate." Steve Case challenged the Richmond community with these closing words at today's "Fireside Chat," a conversation around entrepreneurship in Richmond.
Steve Case's comments highlighted the spirit of the "Rise of the Rest" initiative. This week, a bus tour throughout the Southeast will celebrate the future potential of entrepreneurs and communities in some of America's oldest and most historic cities.
Yesterday, the first stop on the tour in Richmond highlighted the value of collaboration in entrepreneurship. As Steve pointed out to the audience, Richmond was the first entrepreneurial ecosystem in the U.S.: Jefferson, Washington and Madison were the great innovators of their day, launching the startup that today we call the United States of America. Working together, Jefferson the intellect, Washington the leader, and Madison the executor built a blueprint for the country that exists today.
The day kicked off with a breakfast featuring Virginia Senators Mark Warner and Tim Kaine; Virginia Governor Terry McAuliffe; and Richmond Mayor Dwight Jones. As my Aunt Sandy, a longtime Richmond resident, said, "It's amazing to see these four together." But what was more amazing was how collaborative they were. In gatherings of public officials, you usually see four disjointed, not-connected stump speeches, but each leader spoke about their roles and contributions to the startup world.
Perhaps the most perceptive comment was Senator Kaine, who said "in the twentieth century, talent served capital. In the twenty-first century, capital will serve talent. And we in Virginia are attracting the most talented people to places they live and work, and to businesses they care about."
We saw this in Richmond, where we looked at Plugless Power, a second-generation battery business who moved to Richmond because the state and city government were easier to work with than anywhere else. We saw Ledbery, a shirt manufacturing company started by two former investment banking professionals who moved to Richmond because they loved the lifestyle--and after apprenticing in London, make terrific shirts in Richmond. And we saw multiple financial services companies started, mentored, and supported by the offshoots of CapitalOne--one of the things we see repeatedly on these trips is that successful enterprises have kids and grandkids. All this requires collaboration.
What was perhaps more impressive was the start of New Richmond Ventures, an angel-group-meets-investment-syndicate that has put together more than $53 million in venture financing for Central Virginia companies in the past three years. Unlike most small cities, where the seed financing world feels like a bunch of competing cones of expertise and influence, New Richmond Ventures brought together three very successful co-founders who have managed to put the growth of businesses pursuing a positive impact upon society, rather than a field of fiefdoms or a short-term capture of value, and have led to the most coordinated, fastest-moving seed financing network of any city like Richmond I've seen.
This requires people to focus on the problem they are solving, rather than what their own contribution, and is rare and impressive in the startup world.
Collaboration is like riding a bus. You may not get to pick the route, food, or snacks; you may have to wait for other people; and you just might be crammed a little together. But on the bus, you have conversations you might not otherwise (we've had two ideas for new startups on this bus in the last hour alone), and you're working together for a common purpose. As the great Richmond author Tom Wolfe said in the Electric Kool-Aid Acid Test: "You're either on the bus or you're off the bus." And Richmond's startup community is on the bus.
Perhaps the best representative of Richmond's start-up scene was WealthForge, the Rise of the Rest pitch winner of $100,000 investment from Steve Case. WealthForge helps companies manage logistics, compliance, and accounting around fundraising--ever-more important now that companies can raise small dollars of funding publicly (through strategies such as crowdfunding). WealthForge takes advantage of Richmond's entrepreneurial community--leveraging the strength of the banking industry laid by CapitalOne and two hundred years of banking strength before it. They got early-stage financing from New Richmond Ventures, and are using Richmond contacts to build a national financing base--but are so solidly in Richmond that they are building out an entire floor of their downtown Richmond office for their 35 employees and counting.
As his best piece of advice to entrepreneurs, Steve Case constantly mentions the African proverb, "if you want to go fast, go alone; if you want to go far, go together." While the entrepreneurship renaissance in Richmond is early days, the obsessive level of collaboration of the city shows how they are dreaming every day of a city that will go far.
Calling all HuffPost superfans!
Sign up for membership to become a founding member and help shape HuffPost's next chapter