By Amalia Zordan
Some people pay tribute to a friend by dedicating a painting to him. Others a book. And then there are those who dedicate a 20-acre labyrinth.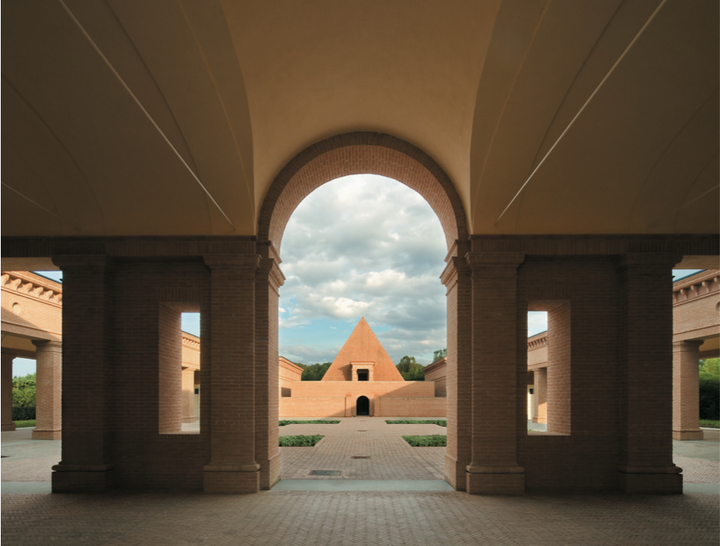 In 1977 Franco Maria Ricci, an uncommon visionary, promised his friend Jorge Luis Borges, the Argentinian writer who had always been fascinated by labyrinths as a metaphor for the human condition, that he would create the biggest one in the world in his honor. A few decades later Ricci, a publisher of deluxe books, collector, designer and bibliophile, undertook this work and kept his promise— with astonishing results. Anyone who crosses the threshold of the Labirinto della Masone, a few miles from Fontanellato (Parma), the homeland of authentic food (Parma ham, Parmigiano Reggiano cheese) and extraordinary men (Giuseppe Verdi, Arturo Toscanini and Bernardo Bertolucci, to name a few), may get the surreal impression of entering into someone's dream.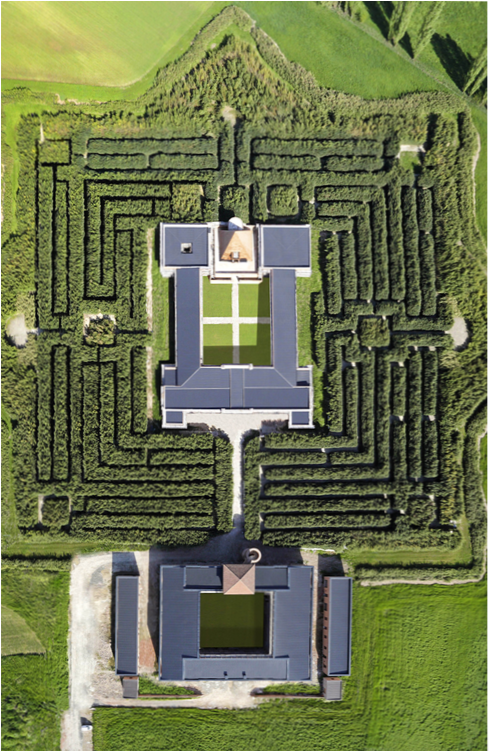 A sense of wonder washes over you immediately. As soon as you enter, you find a classical building made of traditional bricks with a large internal courtyard-garden and a restaurant under the arcade run by two award- winning chefs (the Spigaroli brothers). Across the way are the publishing house and library (with the entire collection of books published by Bodoni, over 1200), and then another courtyard lined with the buildings that house the museum (with works ranging from Bernini to Ligabue and Carracci, but there is also a Jaguar from the Sixties), two large suites, a pyramid-shaped chapel and a sighting tower. The entrance to the labyrinth is at the foot of this tower. And here you're in for another surprise: the view is blocked by vegetal walls, some of which up to 16 feet tall, made entirely of bamboo. Wherever you turn, there's bamboo, 200,000 plants of 20 varieties along a route that winds its way around, where you can get lost on nearly 2 miles of trails.
"I felt I didn't have much time left," says Franco Maria Ricci, a slight and mild- mannered fellow dressed like a dapper gent from before Italian fashion became the rage: moleskin trousers, a white shirt, a vest and a boiled-wool jacket with a faded plastic rose pinned to the lapel. "I wanted to see the labyrinth finished before I died. So I decided to plant only bamboo. It's a beautiful, vigorous, fast- growing plant. It doesn't get sick, it doesn't lose its leaves in the winter and it absorbs lots of carbon dioxide." The place is enormous and circumscribed, designed according to the dictates of the Roman maze, with right angles divided into quarters (there are four communicating labyrinths). The perimeter, which can be seen as a whole only in aerial photographs, is star-shaped.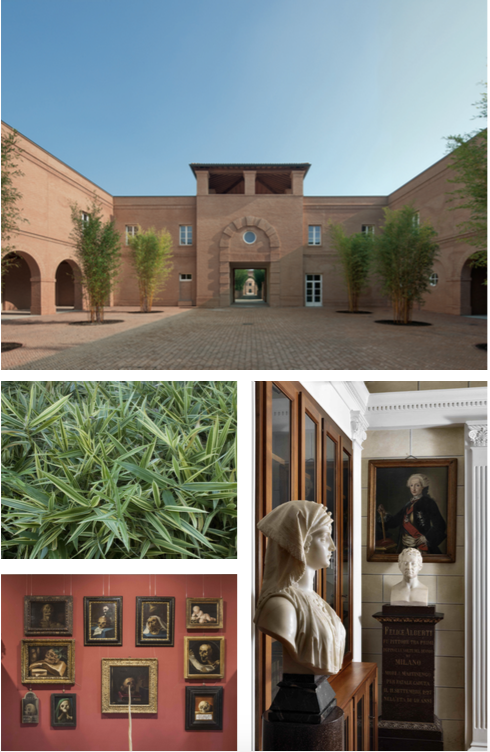 "This is the same shape first used by Filarete," Ricci explains, "and then adopted by Vespasiano Gonzaga at Sabbioneta (a utopian city built near Mantua) and by the Republic of Venice at Palmanova in Friuli." Everything here is green and terribly new: the path is not made of earth, as you would expect, but concrete (because bamboo is an invasive plant and would take over in a matter of months). And as a result, it is perhaps more metaphysical than romantic. "I fine-tuned the design with Davide Dutto," Ricci continues. "The buildings and courtyards were instead designed by Pier Carlo Bontempi."
The latter architect is so important to Franco Maria Ricci that they are portrayed together in a specially commissioned painting that hangs in one of the rooms at the museum. The labyrinth took 20 years to grow, the architecture much less to develop: the work as a whole is incredible and gigantic. On the one hand, the impossible has come true, while on the other, in a certain way it evokes the mannerist buildings of outlet malls. But it all stems from an affectionate and generous ambition. "The labyrinth is next to the estate that has been in my family for generations. It is also a legacy for Fontanellato, a town rich in history with its old center, the Sanvitale Fortress and Parmigianino's frescoes. All around, there is a rural landscape, simple and hardworking, that deserves to be celebrated in its own right." Ricci's only regret is that he was unable to have Borges here as his guest. Who knows if he would have lost or found himself on these paths?