Because we live in a youth-oriented society, many Americans need frequent reminders that most artists age like wine and cheese. Over the course of their careers, they mature, gain greater depth, more nuance, and stronger skills. While some people think of seniors as a market that only consumes art, the truth is that many people in their so-called "golden years" are still actively involved in producing art.
Now in her mid-sixties, Meredith Monk has been defying categorization for decades. "I work in between the cracks," she explains, "where the voice starts dancing, where the body starts singing, where theater becomes cinema."
Babeth M. VanLoo's documentary, Meredith Monk: Inner Voice, accomplishes the rare feat of capturing a multidisciplinary artist's creative process on film as she documents Monk futzing around with sound and movement at home, in dance studios, during rehearsals, and with friends. The sequences shot at Ann Hamilton's Tower in Geyserville, California, have a near-hypnotic beauty.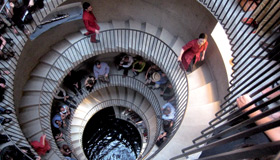 The following clip, taken from Peter Greenaway's 1983 documentary about Monk, illustrates her word-free style of musical soundscapes. As VanLoo's documentary demonstrates, Monk's artistic process has evolved to the point where her instrumental musicians must now be able to move around while playing their instruments as video offers a new set of images in the background.
Monk is an artist of multiple disciplines who seeks inspiration in everything she sees and hears. She may spend years refining a certain piece of performance art. What I particularly like about VanLoo's documentary is how it stresses the mercurial nature of her art and the inability of critics to cram Meredith Monk into any kind of disciplinary, ethnic, or national pigeonhole.
In the following clip, as Monk discusses her favorite memory of working with Charles Reinhart of the American Dance Festival, one senses the fearlessness and fluidity of an artist who is constantly heading into uncharted territory. Part of the beauty of VanLoo's documentary is that the audience is given a rare chance to witness an artist's creative growth while understanding the kind of personal growth that has fed the depth and breadth of Monk's creativity.
It's hard to believe that, at 90 years of age, one of the founders of the modern dance movement was still performing. But what quickly becomes apparent in Ruedi Gerber's moving documentary entitled Breath Made Visible is that, for Anna Halprin, dance is life.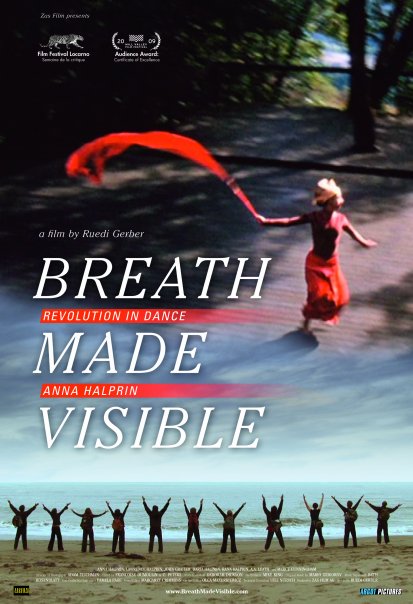 Poster art for Breath Made Visible

As Halprin (who has created 150 full-length dance theater works that are extensively documented in photographs, books, and on film) explains:
"I have an enduring love for dance and its power to teach, inspire, heal, and transform. I've spent a lifetime of passion and devotion probing the nature of dance and asking why it is so important as a life force. I find great excitement in sharing my deep love of dance with ordinary and diverse people. Their unique creativity inspires me to make dances that grow out of our lives. I want to integrate life and art so that as our art expands, our life deepens -- and as our life deepens, our art expands.

I continue to believe in the shining potential set forth by all of this work -- in its evolution from rebellion to expansion to community to healing and back again to the natural world. I believe if more of us could contact the natural world in a directly experiential way, this would alter the way we treat our environment, ourselves, and one another."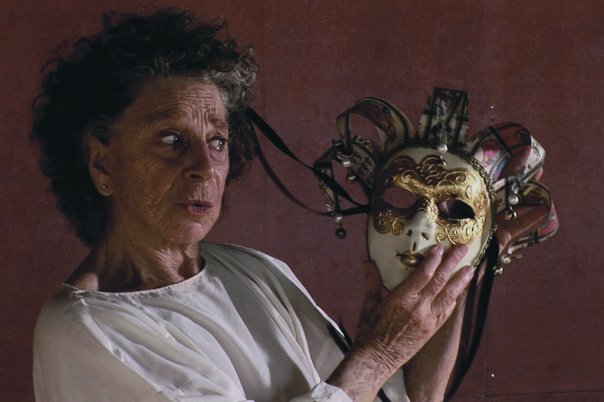 Anna Halprin, still going strong in her eighties

"Aging is like enlightenment at gunpoint. Before I had cancer, I lived my life for my art. After I had cancer, I lived my art for my life. I've always said dance is the breath made visible. That covers about everything because once you stop breathing and the breath is no longer visible, you stop moving."
While numerous dance documentaries are available on DVD, few cast off the toe shoes and dig their feet into the soil with quite the earthiness of Gerber's film. Stunningly candid, Breath Made Visible takes audiences into the heart and mind of a woman who has never stopped using dance as a means of communication -- or as a method of teaching people of all ages how to get in touch with their bodies.
Back in 1955, Halprin established the world-famous San Francisco Dancers Workshop, which included John Graham and A.A. Leath. The group caused a major controversy in Sweden (and a scandal in the United States) with their use of full nudity in certain performance pieces. Halprin broke down interracial barriers in the 1960s by founding the first multicultural dance company in the wake of the Watts riots in Los Angeles.
Halprin's pioneering work in using the expressive arts as a healing tool has led her to work with cancer patients, AIDS patients, and the elderly to guide them through the use of dance as a method of healing and becoming whole. Her grief over her husband's physical deterioration led to the creation of a powerful performance piece entitled Intensive Care: Reflections on Death and Dying which can be viewed in its entirety in the following video clip:
Throughout her long career, Halprin has worked hard to foster the integration of arts and education throughout life. As one watches Breath Made Visible, one becomes acutely aware of the tragic repercussions of eliminating arts programs from so many schools throughout America. As Gerber explains:
"This project is not a dance film, but a film about what is important in life and how we can cope with it. It is ultimately about our values and how we can stay authentic to ourselves and experience life in the 21st century. This film shows not only how Anna's unique story unfolds from her ground breaking performances of the 1950s and 1960s to her solo performances today, but also how her life and work illustrate the true meaning of dance and its power to not only help us cope with our lives, but to transform them as well and remain truthful to ourselves."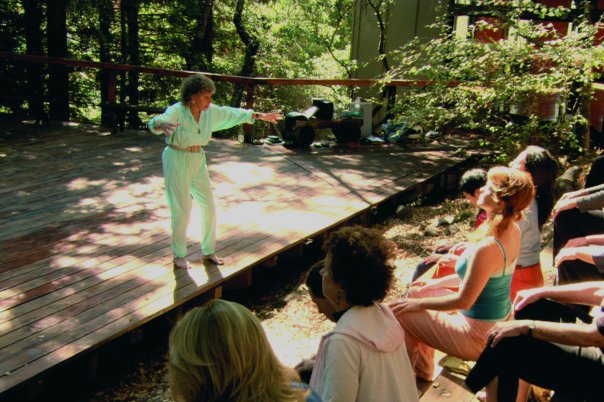 Anna Halprin teaching a class on her deck in Marin

"When I met Anna for the first time in 1982, she was no longer performing publicly. She was in the middle of developing dance as a healing art and inspiring new directions in the art and dance therapy world. At the time, I was working as a professional stage actor in German state theaters. I saw her as a performance artist who, through movement, was researching the intersection of theater and dance with real life."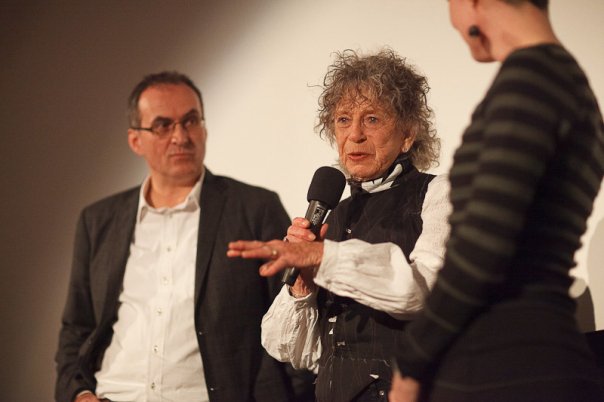 Ruedi Gerber and Anna Halprin at the Swiss premiere of Breath Made Visible

"Although some of my friends in the 1980s labeled her as 'New Age,' it struck me how she was constantly pushing the limits of theater and life and that she was way ahead of her time, constantly instigating creativity in others. Over the next twenty years, Anna and I only had sporadic contact until February 2002, when I caught her at the Joyce Theater.

I was so happy and surprised to see her in the headlines of The New York Times! I could not believe that she was in her 80s and was coming full circle and returning to the stage! As the piece developed, I noticed that many people in the audience had tears streaming down their faces. And I, too, suddenly felt myself deeply moved by this 82 year-young woman. In a world of poseurs and surface-level stylistic directions, it was a great relief to find myself in the presence of someone whom I believed to be absolutely authentic and whose message was so universal.

I wondered why more people outside the dance performance and art therapy community didn't know about her. This show made me want to create a film that would affect an audience the way Anna's performances do. In 2005, Anna asked me if I wanted to collaborate with her on a film called Seniors Rocking, a dance piece she choreographed to empower the elderly and to break down the stereotypes of aging. The performance included 50 participants between the ages of 65 and 100 performing in rocking chairs next to a lagoon."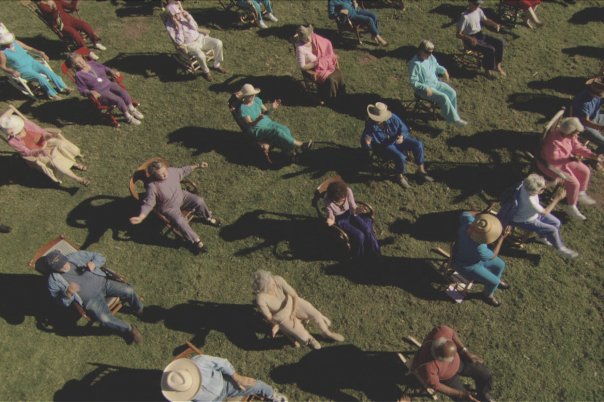 An aerial shot of Seniors Rocking

"Her concept for the film was to expand the performance to include the participants' personal histories and, through these stories, explore the question: 'What is the most important thing in life?' She was searching for stories from the heart and messages that the participants might leave behind as a legacy for their children, grandchildren, and friends."
Breath Made Visible is a remarkable experience, made all the more powerful by Mario Grigorov's stunning musical score. It offers audiences a master class in how to make art personal to one's life while embracing the life process (as well as the process of dying) through the lens of a passionate artist. You can't watch this film without feeling inspired. Here's the trailer:
REAL LIFE. REAL NEWS. REAL VOICES.
Help us tell more of the stories that matter from voices that too often remain unheard.