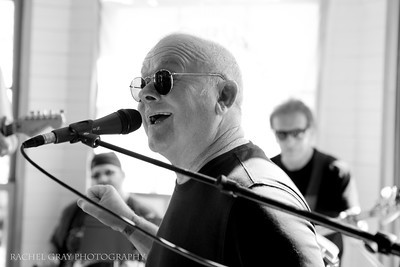 Lenny Goldsmith, 68, was the lead singer with Tower of Power for two years and other notable bands during the '80s, before hanging up his microphone for 25 years to help raise his two sons from his fourth marriage. Those two sons, Taylor and Griffin Goldsmith, went on to form the band Dawes and have enjoyed enormous success including tours with Jackson Browne and Bob Dylan.
Seeing his two youngest boys making music inspired Goldsmith to start singing, writing and recording songs again. He formed a band, The New Old, that includes other top musicians who are also close to 70.
"When you get married and raise kids, your dreams get put aside," said Goldsmith. Music had always been a big part of my life and I missed it. Since I started playing again, the hole that was missing in me has filled up. I am at peace and I'm happy."
He insists his age hasn't held him back at all and that the 25 years he spent not singing helped rest his voice so he can still hit the high notes. He also stopped smoking, drinking and doing drugs.
Goldsmith lost a lot of friends to drugs and alcohol. "It's still a daily struggle for me, but that part of my life is over. Drinking just elicits bad behavior, shame and guilt. The liver eventually goes when you drink too much. I've been lucky. I'm really healthy. I walk a lot and I'm active."
Goldsmith concedes it's vital to get your wife on board if you want to start a band in your late 60s. His wife, Kathy, five children and three grandchildren love the new Lenny Goldsmith.
It took six months to get his vocal chops back, but he never lost the technique and talent. When he started rehearsing in early 2014, he could only sing hard for about 45 minutes and wouldn't be able to talk the following day, but now he routinely performs two-and-a-half hour sets. And we're not talking ballads at cocktail-bar volume. Much of it is high-energy soul and rock.
"I don't warm up and I don't warm down. There are certain songs I can't start the evening with, but smoking didn't impact my voice. Old is what impacts your voice. Those 25 years off from singing did my voice so much good. There are guys my age who can't sing any of their songs in the old keys any more because they never rested their vocal chords."
Goldsmith knows people in their 60s who have given in to their age. "Nobody's perfect, but we're still here. You had a dream once, what happened to that? If you always had a desire to paint, start now. Hopefully, you have a little money and can afford to live that dream or take up a new hobby. Start by turning off the TV and get up off the couch."
Calling all HuffPost superfans!
Sign up for membership to become a founding member and help shape HuffPost's next chapter