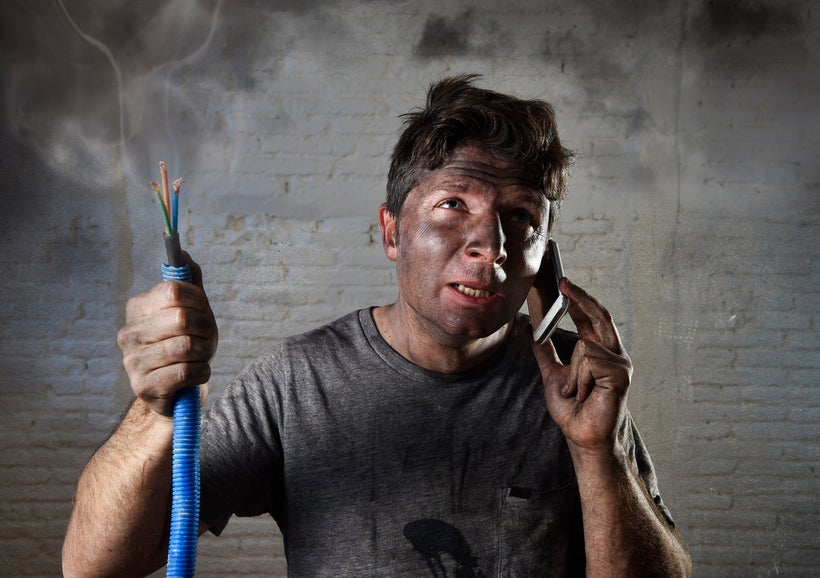 It was a sad day in our family room, at least for me, when the plasma display I've owned since 2006 stopped turning on. Plasmas have been discontinued for a while now, replaced by the brighter and lighter, better for the environment LCD flat panel displays. But plasmas delivered these rich colors contrasted by beautiful deep blacks that LCDs, in my opinion, have yet to match. The question in this disposable electronics age is, "Do I repair it or replace it?" My techno-freak friends and I have our preferences and opinions on the subject, but this isn't a consumer electronics review. I want to switch channels and talk about something with eternal implications, one thing in particular that can't be repaired.
Our heart is unfixable. It may be hard to accept, but you don't have enough intelligence or skills for this job. Education is valuable, but even the most educated and advanced people in the world have committed heinous crimes against humanity. Our heart—who we really are at the core—is defective. The only solution is revealed in the Book of Ezekiel, likely written between 593 and 565 B.C. during the Babylonian captivity of the Jews. It exposes a systemic problem and reveals the drastic measures required to fix it.
Ezekiel was probably in his thirties when God sent him as a prophet to his people—people who were in God's own words obstinate and stubborn (Ezekiel 2:3-6). They were a "rebellious house." Ezekiel's book paints a disturbing portrait of the disparity between what God had intended for his people and what they had become. This disparity, as always, produced a deep despair.
What was true then is true now. The real problems aren't racism, murder, adultery or an endless list of social injustices. Addressing these issues is important and necessary, and we must be passionate and tireless in our efforts to stand against them, but behavior modification would only be a Band-Aid. These are the weeds, symptoms of a deeper problem that can't be fixed with new legislation. By all means, keep cutting the weeds, but while we do we've got to attack the root.
We have a heart of stone. That was the diagnosis delivered by Ezekiel. When you have a heart of stone there's no need to ask, "How long do I have to live?" because you're dead already! Ezekiel's contemporary, Jeremiah concurred and proclaimed, "The heart is deceitful above all things and beyond cure. Who can understand it?" (Jeremiah 17:9) The prognosis: Everything that flows from a heart like this will be infected and polluted. Now, if there's pollution downstream, you can keep treating the water, but it would be smart to go upstream and eliminate the source.
We must understand that a heart of stone can't be patched up and repaired. It must be removed and replaced. That was the plan—the New Covenant—delivered by Ezekiel:
"I will give you a new heart and put a new spirit in you; I will remove from you your heart of stone and give you a heart of flesh." (Ezekiel 36:26)
This is the most outrageous act in history. The cost is absolutely unaffordable. No one has enough money or influence or resources they can leverage to pay for it. But the good news is that the cost of a new heart has been provided by grace and can only be acquired through faith. It has been completely covered by the blood of Jesus.
"For it is by grace you have been saved, through faith—and this is not from yourselves, it is the gift of God—not by works, so that no one can boast." (Ephesians 2:8-9)
Do you have a new heart? I received mine when I was nineteen. In my short lifetime I had logged an impressive track record of religious involvement followed by a brief but dark detour driven by self-destructive experimentation. My heart of stone was infecting everything from the inside out. I investigated the claims of Jesus and discovered so much more than a religious fix or moral course correction. I saw evidence of Jesus in those who truly followed him. I believed in him and received his grace. I didn't repair myself, and God didn't patch up my old heart. He replaced my heart of stone with a new heart.
"Yet to all who did receive him, to those who believed in his name, he gave the right to become children of God—children born not of natural descent, nor of human decision or a husband's will, but born of God." (John 1:12-13)
This new identity doesn't exempt us from standing in the trenches against social injustices and providing help for a fractured world. We don't hide out in some moral or religious bubble. If we are following Jesus closely, we actually get out more and get more involved! We fight harder, but we fight with a broader eternal perspective. We work to understand the reality of what is and dream of what could be. We re-calibrate to what God intended for us and fight the good fight of faith with a new heart.
Tierce Green is an author and consultant who travels extensively speaking for various events each year. He is seen co-presenting in the wildly successful 33 THE SERIES containing 6 volumes of content that is helping men around the world experience biblical manhood as modeled by Jesus in his 33 years on earth. Tierce lives in The Woodlands, Texas where he is one of the pastors at Church Project and the founder of Authentic Manhood Houston. He and his wife Dana have been married for 29 years. Their 12-year old daughter Anna, loves school and loves to dance. Tierce will grill just about anything that is edible and loves landscaping except when the Dallas Cowboys are playing. Meet Tierce at his Website, Facebook, & Twitter.
REAL LIFE. REAL NEWS. REAL VOICES.
Help us tell more of the stories that matter from voices that too often remain unheard.
This post was published on the now-closed HuffPost Contributor platform. Contributors control their own work and posted freely to our site. If you need to flag this entry as abusive,
send us an email
.