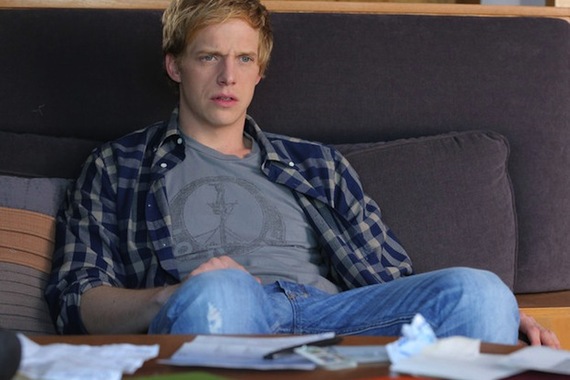 When I am a horrible, no good, very bad person -- to paraphrase "Alexander" of the famed Judith Viorst's classic, I sit and stew. I've written apology notes, sent gifts and flowers and become irksomely repetitive with sorries. I've made a royal ass of myself trying to undo misdeeds, when these past actions cannot really be redeemed. Alas, no producer will be making a sitcom about me and my nail-biting, neurotic, oh-so-cliched Jewish guilt. You see, unlike my favorite TV characters, I cannot handle the fact that I've acted any less than a perfectly decent human being. There will be no scene in which I apologize to the Instagram star whose grammar and spelling I corrected. (I'm TRULY SORRY dear girl, if you are reading. My mood was no excuse.) I can hardly be proud of some past actions, yet there are times when I have zero regrets over otherwise remorse-inducing behaviors. The thing is: Such recriminatory rumination is not the stuff of good TV. Today we are glued to our screens rooting for the self-assuredly unapologetic, brash and blunt protagonist. We cheer the girl who is against conventions and pretenses. Today's hero isn't hiding the fact that psychotropics make him or her feel better, or that they refuse to take those pills for fear of losing "edge". The titles of two of my favorite shows, one a cult hit on FXX and the other a Hulu original beloved by the masses, attest to the relatability of being "the worst" and being "difficult" (You're the Worst on FXX and Difficult People on Hulu). More generally, they speak to not meeting society's behavioral expectations.
You're the Worst, which returns with Season 3 this August, should be known as "the best of the worst," for while I do love Difficult People starring Julie Klausner and Billy Eichner (also of Billy on the Street), YTW has a plot twist in Season 2 that resonated with me personally. The show, which seemed like a happy-go-lucky, silly comedy about atrocious human beings, poised to make you laugh through your sugar high (or other high of choice), suddenly went Gray in Season 2. Rather than call YTW a "Black Comedy", it deserves its own category and color and so I have given it this term, a "Gray Comedy." Without giving too much away, I'll quote my sister, Playwright and Off Broadway Director Aliza Shane: "it gets dark."
While I loved this after living with way too cheerful roommates in my 20s who confounded me ("Is this place Sesame Street all the time?!" a friend once remarked), Chris Geere, the show's star, says there was negative feedback after going in this direction. So as not to spoil too much, the psychological is explored in Season 2 and I am always one to appreciate a script that does not ignore the diathesis of dysfunctional behavior. YTW maintains a comic undercurrent while its characters cry or go on destructive binges. The bad behaviors (which range from outrageous uncensored remarks to cocaine-related chaos) are not really celebrated. Rather, they are raised red flags. The underlying message viewers take away: Don't try this at home, but if you already have, you're not alone. We'll get you through it.
"I am too polite to say things like Jimmy -- my character -- says to his girlfriend Gretchen (Aya Cash)" Geere explains, "Jimmy's 'the voice of unreason' -- with outrageous remarks. It's quite liberating because in this role I am a lot more honest about my opinions, explaining the issues people really do have in this world."
In Season 1, Jimmy is at his ex's wedding when he meets Gretchen, best friend of the bride's sister Lindsay (Kether Donohue). Gretchen tries to take a souvenir home with her, one of the bride's wrapped gifts which she believes (incorrectly) to be a food processor. After a blowup with the bridal party, Jimmy storms out and informs Gretchen, who is also ditching the affair, that her "food processor" is in fact a "blender." Gretchen tosses the package and the two embark on a one night stand, one that isn't necessarily so enjoyable, yet it's evident that Gretchen and Jimmy are so uniquely and deeply flawed, they couldn't find a better match than each other. As a 42 year old, it feels like research for me as I compare these two self-absorbed millennials to people in the real world. Both do not want to conform and be like the conventional couples around them. They claim not to do relationships and of course, accidentally fall into one. As Gretchen's best friend, Lindsay makes perfect sense: She is married to an unbelievable dweeb and is clearly miserable in a loveless marriage, but is in this predicament because she wanted to beat her older sister to the altar.
Viewers will fall in love with Lindsay (a high-pitched talker with an excellent singing voice and the best barbs of any supporting character) as well as with Jimmy's roommate Edgar (Desmin Borges), a former military man who suffers from PTSD. Edgar seems to be the odd man out in this clique, a shockingly nice, caring guy who puts up with all the crap around him.
As the show explores the relationship of two screwed up 30somethings who are not relationship material but have a relationship, "you learn there is a reason these people are who they are," says Geere. That discovery begins with Gretchen's character in Season 2 when her history is revealed. Geere relates that the season ahead is "the best yet" because it is filled with mind-blowing surprises -- ones that amazed him as he read the script. Viewers will learn about Jimmy this season and what makes Jimmy tick.
If YTW is food, it is an old-fashioned candy straw. Kids are ingesting the sugar, possibly snorting it while they sit atop a picnic table and riff on one another. This is not a scene from the show, just a metaphor in my mind.
Geere relates how he loves the balance of the slapstick humor and the "Gray":
"In one (past) scene, we were all sitting in a restaurant with people we didn't know deliberately seated right next to us. This is how the restaurant works. Our characters don't know the people next to them but they call them out on their behaviors. I could never do this in real life and it would be so much fun, but of course we present edited versions of ourselves when we're not these characters."
With regard to the more morose exploration of Gretchen's inner emotions, he adds "This is real life and this is what happens to people. If you want a studio sitcom format, this may not be the show for you. If you want real life, then comedy and tragedy are very closely tied. We have to explore these areas. In the mornings when we are filming (Season 3), we do Slapstick comedy type things, and in the afternoon, Jimmy and Gretchen are crying. We left off (end of Season 2) with Jimmy and Gretchen saying 'I love you.' This makes them 'family' and viewers will now get to see how that complicated dynamic works and what the next stage after 'I love you' is, what it's like to be this 'family'."
YTW is really the easiest show to binge on Hulu or Amazon because each 25 minute episode goes (sugar-high) quickly. The first season has 10 episodes and the second is comprised of 13.
In relationships, says Geere, who is married with a child in real life, "We are continually learning things about one another and you will see that with Gretchen and Jimmy." He gives just one hint for the upcoming season: "There's something hygiene-related pertaining to one of our characters -- The other has to reflect: 'Now that I know this and we both said 'I love you,' what do we do now?' It's hilarious and so true to life."
While I highly recommend watching this show now (I truly accidentally fell in love with it in the same manner that Jimmy and Gretchen accidentally end up together), you should also pay close attention to Chris Geere. He has an adorable Manchester accent and is a classically trained Shakespearean, British actor who worked with Dame Judi Dench. Another little factoid: He is schooled in Dr. Who. Fans (to verify legitimacy, ask them to spell "TARDIS") agree, he would make an excellent Doctor on the series.
BBC, feel free to call me and I'll happily put you in touch.
Season 3 of FXX's You're the Worst premieres on August 31st.
REAL LIFE. REAL NEWS. REAL VOICES.
Help us tell more of the stories that matter from voices that too often remain unheard.