This past week, President Obama headlined an event to herald the continuing work and progress being made on his America's Great Outdoors Initiative, which aims to get more Americans outside while allocating additional federal funds toward land and water conservation.
While the America's Great Outdoors Initiative (AGO) targets all Americans, getting young people outside and enthusiastic about the outdoors is a major priority of the initiative that deserves elevated attention. For instance, one study has indicated that today young people spend half as much time outside as their parents did. Childhood obesity rates have also tripled in the past 30 years. This information suggests that while getting young people outdoors will have its challenges, it will also come with great benefits.
Last week, a report was released that details the findings of an expansive AGO listening tour. Across the nation, over 2,000 young people provided feedback in 21 different listening sessions. They talked about their connections to nature as well as the barriers that can keep them from getting outside.
As a staff member of The Corps Network, I was lucky to hear Secretary of the Interior Ken Salazar and other leaders of America's public land agencies discuss the detailed findings of their report and their plan for action at our annual Corps Forum last week.
Here are some of the highlights of what young people had to say around the nation:
There is no "one-size-fits-all" approach for making America's Great Outdoors relevant to young peoples' lives.
Government websites are not engaging and user-friendly. The government must use social media and modern technology better to appeal to youth and encourage them to get outside.
Barriers to young people getting outside include a lack of transportation, the cost of outdoor equipment, "fear of the unknown," safety concerns, packed schedules, concern about pollution, and a lack of interest because of poorly maintained facilities.
It is hard time to find and get federal jobs with land management agencies -- making it challenging for some young people to consider outdoor careers.
There needs to be more diversity in the kind of young people working on public lands.
Environmental education is a field of study that should receive a greater emphasis in school curricula.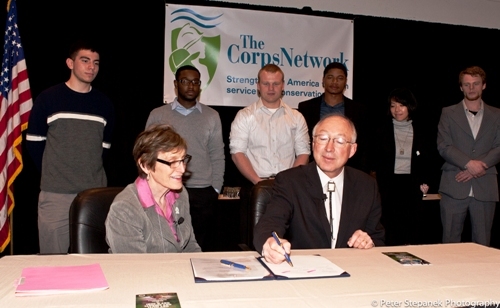 Given these key findings, I am impressed by some of the actions that AGO's leaders are taking to get moving on these suggestions as soon as possible.
One of the specific improvements that they shared with us is a new web portal that they think will appeal more to youth. Called YouthGo.gov, the website allows for young people to learn more about events taking place on public lands near to them. Environmental education materials are being posted, and for those interested in careers, current job openings are now highlighted on a homepage.
If you are wondering what the connection is between the America's Great Outdoors Initiative and The Corps Network, the Service and Conservation Corps that The Corps Network represents are the modern legacy-bearers of the legendary CCC. We do the same kind of community-based work and service that made the CCC famous, but in modern times. While many of our Service and Conservation Corps are known locally and regionally, the America's Great Outdoors Initiative and the 21st Century Conservation Corps program will help make them more widely known nationally while facilitating a movement to improve and further conserve America's beloved public lands. It will also be a means to get young people further involved.
According to the Department of Labor's Bureau of Labor Statistics, in July 2010 only 48.9% of young people were employed. This percentage is the lowest since record-keeping began in 1948. The take-home point: jobs on federal lands and the 21st Century Conservation Corps can serve as a means for some of these young people to get work and receive valuable training while enjoying and protecting our national treasures.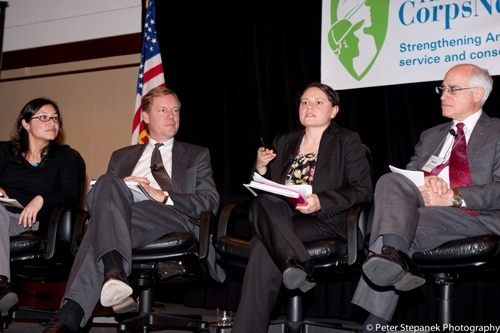 While detailed plans about how recommendations from young people will be implemented as part of the initiative are not yet clear, I think things are off to a good start. In keeping with the spirit of listening, how do you think the leaders of the America's Great Outdoors initiative might continue charting their course from conversation to action? Thanks for your input and for also helping to encourage young people to get outdoors.