Young people are the most vulnerable and underrepresented victims of war-zone rape. They continuously face the threat of sexual violence and experience the unimaginable consequences of war. Yet our voices are routinely excluded from peace processes and post-war reconstruction. We, who are making crucial contributions to peace and represent those most affected by this scourge, are fighting to be heard. To realize peace, governments must work to support an inclusive solution that empowers young people to fulfill their potential as agents of change.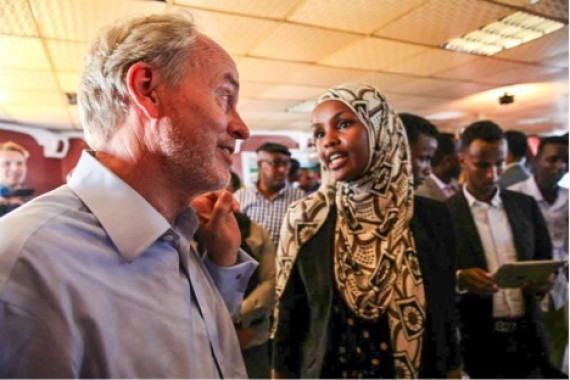 Photo: UN Mission to Somalia, Youth Ambassador for Somalia meets with Secretary General's Special Representative
In so many conflicts across the globe, children's bodies are quickly becoming sites of violence, where rape is used to terrorize and degrade entire communities. Children make up more than half of all war rape victims. In post-conflict Sierra Leone, more than 70 percent of the sexual violence cases seen by the International Rescue Committee (IRC) involved girls under 18 -- more than one fifth of those were under 11. In Democratic Republic of the Congo, 15,352 incidences of sexual violence were recorded in 2013. Half of those raped were young girls.
Youth to End Sexual Violence is one example of how youth-led organizations around the world are standing together in solidarity -- demanding a seat at the discussion table for youth survivors, activists, and leaders. It's young people like us who are providing the most inclusive leadership. Young people are challenging entrenched social and political norms with powerful protests and campaigns. We are overcoming the stigma of sexual violence by designing and directing our own programming to address community needs. We are also using media and technology to share the global call to prevent, protect, and prosecute, and working with governments and civil society organizations to report on how young people are affected by warzone rape.
The transformative power of young people can no longer be ignored. One need only remember the powerful youth-led activism in Tahrir Square to imagine what a committed army of empowered young people can accomplish in the struggle to end sexual violence in conflict. However, we can't win this battle alone.
We are educated and assertive, but in areas of conflict, we are not protected. We need sustained commitment from governments to create meaningful spaces where the voices of youth survivors can be heard. We need unfettered access to comprehensive sexuality education, and we need to be included and treated as partners in the fight to end sexual violence in conflict. Youth have capacity and tools to change mindsets -- more so than any generation before us. When governments stand in solidarity with young people, they support the creation of a stronger community to build sustainable peace. It's time for all of our voices to be included at the discussion table, and it's time for the recommendations of my fellow youth leaders, survivors, and activists to be taken seriously.
"There's really no such thing as the 'voiceless.' There are only the deliberately silenced, or the preferably unheard." - Arundhati Roy
This post is part of a series produced by The Huffington Post and the International Campaign to Stop Rape & Gender Violence in Conflict in conjunction with 16 Days of Activism Against Gender Violence. To learn more about global activism to end sexual violence in conflict, visit here. To read all posts in the series, visit here.
Related
Popular in the Community