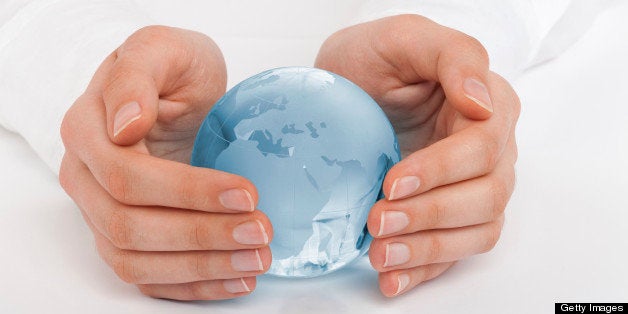 As Earth Day has arrived, increased attention is given to the environment. We celebrate our planet's beauty and lament its destruction in hopes that our society gains a deeper appreciation for our dependence on Mother Earth as well as develop a sense of urgency that serious work needs to be done to build a sustainable future.
A group of passionate young people from New York City, Washington, D.C., New Orleans, and West Virginia are already keenly aware of the impact of environmental degradation and climate change; they are organizing a call to action. They have felt the effects of Hurricanes Katrina and Sandy, lived in areas where toxins flow in local rivers and burden their communities, and have had their lives threatened when speaking out against mountaintop coal mining that has poisoned the health of their community members. They love our world, our humanity, and our basic human rights. They are concerned and want their voices heard.
Global Kids (www.globalkids.org) is proud to be one of three youth leadership nonprofits participating in the National Youth Climate Exchange, which convened these youth.

NYCE is a network of youth organizations that support environmental action and leadership. Each organization carefully selected several rising youth climate and/or environmental activists from their organizations.

NYCE recently brought the teens together for a four-day retreat in Pennsylvania; eight of the youth crafted the following statement, or, "manifesto," as they call it. Another eight youth created an action plan to reach elected officials and people of influence, as well as their peers, with the goal of using their voice and vision to demand immediate action on climate change. Their work will continue back in their communities, and they will continue to build support for their action plan as a group, with the addition of new partners.
Please read the manifesto and think about what it means to you and our world:
Youth Climate Activist Manifesto and Call to Leaders, April 6, 2013

We are the National Youth Climate Exchange. We are composed of kids who have a voice -- we want it to be heard. We are teenagers in high school; a small snippet of the population that cares about and is affected by climate change. We come from D.C., New York, Southern West Virginia and New Orleans. Not only do we represent the United States of America, but we also represent Bangladesh, Eritrea, Trinidad & Tobago, Sierra Leon, El Salvador, Honduras and Mexico. We are poor kids, working-class and middle-class kids. We are a multiracial group of kids, with different religions, accents and cultures. We also represent LGBQT kids and undocumented kids. Some of us have been directly impacted by climate change and some of our communities are being torn apart because of coal and energy production. We are daughters, sons, students, neighbors and friends that aim to protect Mother Nature. We are the change and the future fighting for a better planet starting with clean air, water, environmental justice, and green jobs in our local communities. We are the change we want to see in the world.


The environment does not belong to a specific company, gender, age, country or race. It is all of our responsibility to take care of Mother Earth. Two of the biggest problems that we face in our communities are environmental and climate injustice. We believe that as advanced and powerful as the United States is, there is no excuse for the environmentally risky way that we lead our nation. There is no need to continue our reliance on non-renewable energy or fossil fuels. There is no need for government officials to doubt the existence of climate change. We shouldn't have to wait until another Hurricane Sandy or Katrina to take action. We need to step back from the naive attitude of, "we'll cross that bridge when we get to it", which is how our leaders address climate change now. We are already there and, guess what, we have already crossed the bridge. Ninety-nice percent of scientists agree that climate change is real and that we need to act now.


We visualize a world with: solar panel fields or wind turbines in every community. Zero to minimal fossil fuels. Endangered animals are protected. More consistent, stable, and predictable weather is the norm. Eco-friendly transportation is available to all. Trash is reduced through composting and better recycling programs. Green jobs stimulate and help run a strong economy and kids like us have a range of green jobs available in our communities. Lower rates of pollution-caused illnesses such as asthma and cancer are achieved. The food we eat is local, healthier and tastes yummy. Every kid learns about climate change and disaster preparedness.



Mother Nature has given us natural disasters, but never like this. From droughts, to hurricanes and super storms to weird changes in the temperature, Mother Nature is telling us that the time to act is now. We need to stabilize the climate. We have the tools and technology. Our leaders lack determination and are in love with fossil fuels and outdated thinking.


A world where humans can co-exist with the environment is not so hard to achieve. We can still turn the climate around, however we need to take the following steps.

We need to educate children, our future lawmakers, presidents and leaders about the reality of climate change and the role of fossil fuels in hurting the climate. Implement a national climate education curriculum.
Create greener schools, with gardens and green roofs that grow food and produce energy with out dirty oil. Food in our cafeterias that is local and healthy. This will help us kids, but it will help the present generation have green jobs that helps communities thrive.
Roll out energy efficiency in homes and businesses throughout the U.S.. This will reduce the hunger for fossil fuels and increase the demand for alternative and renewable resources.
End mountain top removal and create renewable energy jobs in what is now coal country.
Preserve natural landscapes such as rivers, valleys, forests and wetlands.
Implement a carbon tax as a first step to help the government invest in renewable energy technology.
Create a national grow local food program as the best way to fight obesity and other health problems. It is a shame that junk food is cheaper than healthy, pesticide-free food in a country with obesity problems.

Our vision is more tangible than you might think. The people are on our side, the climate's side. We have the support from a wide variety of groups from the Pope to Desmond Tutu to Al Gore to everyday people. Our President and Congress have the power and influence. If they work hard enough, they can make changes happen, even if some must be forced to come along, just like JFK did to advance civil rights. Hope is stronger than fear.
Calling all HuffPost superfans!
Sign up for membership to become a founding member and help shape HuffPost's next chapter