WASHINGTON — Back home in Hawaii, Journey Zephier is a vocal opponent of the genetically modified crop industry and its extensive use of toxic pesticides. But today, the 17-year-old activist finds himself at the center of a much larger fight: climate change. 
Zephier, a member of the Yankton Sioux Tribe, is among 21 children and young adults from around the country involved in a landmark lawsuit that accuses the federal government of violating their constitutional rights to life, liberty and property by promoting fossil fuel production and by failing to take action to combat climate change.
On Thursday, Zephier and roughly a dozen other plaintiffs, joined by their attorneys and several Democratic senators, brought their call for a healthy environment to the steps of the U.S. Supreme Court, which could ultimately hear their case. 
"It's time to stop talking about the problem" and figure out a way to stop it, Zephier told HuffPost. 
Kelsey Juliana, a 21-year-old activist from Oregon and the lead plaintiff in the case, told roughly 100 people gathered in front of the Supreme Court that the lawsuit is not about money, but rather about forcing the government to implement a  science-based climate recovery plan.
"We are suing because none of us and none of you have time to wait," she said. 
Plaintiff Xiuhtezcatl Martinez, a 16-year-old climate activist from Colorado, said it's easy for young people to feel alone, given the weight of the climate crisis and the Trump administration's environmental policies. But the lawsuit has brought together a community of young people who will not stand idly by, he said.
"We stand united. We stand at a time when the world critically needs a voice that is championing for the voice of the unheard, the marginalized, people across the nation that are facing the impacts of climate change immediately," Martinez said. "We are that voice, as a younger generation that is standing in our streets and now in our courts to demand justice for our generation and every generation to follow."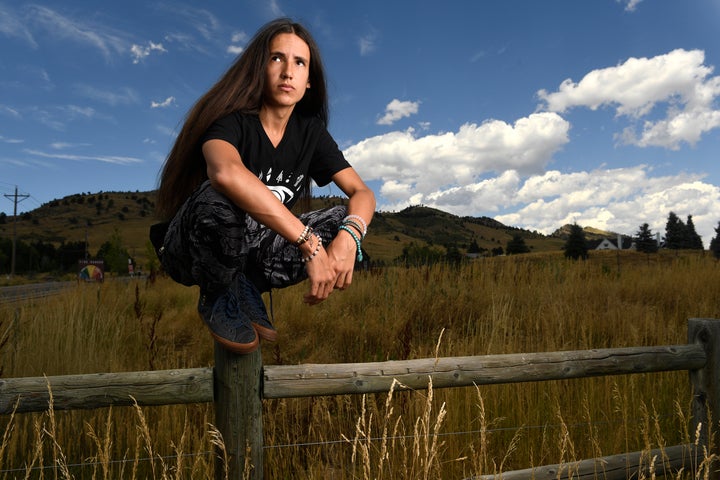 The plaintiffs, who now range in age from 9 to 21, had an important victory in November when U.S. District Judge Ann Aiken of Oregon rejected the government's request for the case to be dismissed.
"Exercising my 'reasoned judgment,' I have no doubt that the right to a climate system capable of sustaining human life is fundamental to a free and ordered society," Aiken wrote in her decision. "Just as marriage is the 'foundation of the family,' a stable climate system is quite literally the foundation of society, without which there would be neither civilization nor progress."
The Trump administration has since filed an appeal of Aiken's ruling, as The Washington Post reported.
Whitehouse said the fossil fuel industry has constructed "a barricade of lies and dark money" in Congress.
"That's why this lawsuit is so important; because when you get to court, facts matter," Whitehouse said. "When you get to court, witnesses must tell the truth or they can be punished. When you get to the court, lawyers even have to tell the truth, at least to the court. When you get to court, spin and industry nonsense can be cross-examined."
The courts, he added, "will surface the truth from the swamp of lies and calculated misinformation in which the fossil fuel industry traffics." 
Gregory said he's never been so proud to represent a group of clients, whom he called "unlikely heroes." 
"This is not about us; this is about our country," Gregory said. "This is about the science and the epic battle between youth versus government. This will be the trial of the century. Our future is at stake."
On Saturday, the plaintiffs are scheduled to participate in the People's Climate March, a demonstration against Trump's environmental policies that is expected to draw thousands to the nation's capital. 
Calling all HuffPost superfans!
Sign up for membership to become a founding member and help shape HuffPost's next chapter
BEFORE YOU GO
PHOTO GALLERY
Climate Visuals For The Climate Change Denier In Your Life