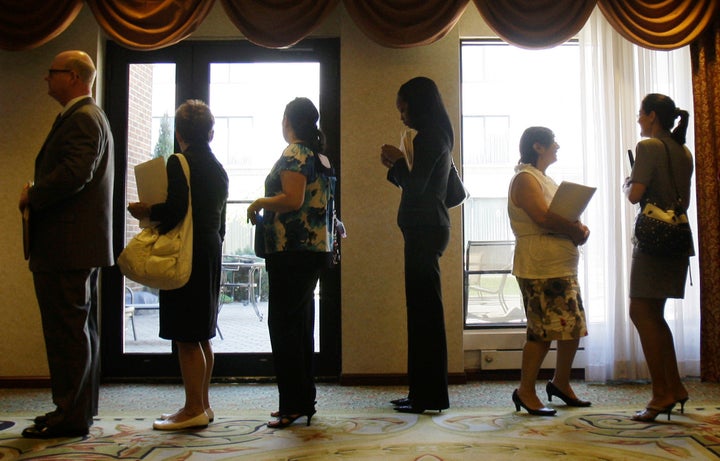 NEW YORK -- After graduating from the University of Wisconsin-Madison in May, Emma Goldstein moved back in with her parents and quickly learned to adjust her expectations.
Goldstein returned home to Encino, Calif. still desperate to find work, even though she had been searching for a job since the previous September.
"Reverting back to your teenage self and living in a bedroom you haven't occupied since you were 17 wasn't exactly what I had planned on doing," said Goldstein, 21, who also faces the pressure of paying back nearly $30,000 in student loans. "After you graduate from college, moving back home really takes away that sense of accomplishment."
Over the course of the summer, Goldstein remained persistent in her job hunt by relentlessly networking, scouring the web and trying to remain positive.
Earlier this month, her unflagging perseverance finally paid off. She recently accepted an offer to work as a marketing assistant at a small music label in Los Angeles.
Though it isn't exactly the type of job she expected to get, it's somewhat related to her desired fields -- the entertainment or media industries. She knows that part of the reason she landed the job is because she stayed optimistic.
"Something about having high aspirations and certainty helps you to be resilient -- especially when economic times are tough," said Jeylan Mortimer, a professor of sociology at the University of Minnesota and co-author of the study.
The team of sociologists uncovered three psychological factors that can influence employment success during the transition from college to young adulthood: educational aspirations, career goal certainty and job search activities.
"We're not arguing for rigidity, but rather flexibility," said Mortimer. "We found that confidence, focusing on a goal and striving to achieve it produces great gains that younger workers would do well to emulate, especially during the current Great Recession."
The researchers used data from the Youth Development Study, an ongoing longitudinal study that started tracking a group of ninth-graders from St. Paul, Minn. public schools in 1988. The original cohort included more than 1,000 adolescents, and between 650 to 700 continue to respond each year. The National Institute For Child Health and Human Development supports their research; this year's survey is the last in their current funding cycle.
In addition to maintaining clear goals, Mortimer and her colleagues, Mike Vuolo from Purdue University and Jeremy Staff from Pennsylvania State University, found that those who fared best tended to avoid getting caught up in negative thought patterns -- even when they faced obstacles that were beyond their control.
Respondents who had worked as teenagers also proved to be more successful later in life. Early work experience appears to supply workers with skills that are key to successfully navigating periods of economic decline, the researchers found.
Mortimer said that she does not encourage young workers to become inflexible; rather, they should remain malleable, given their likely array of shifting interests.
"We realize most youths change their goals. We're not saying that at 18 if you decide to become a pharmacist that you necessarily have to stick with it forever," said Mortimer. "But as people grow up and explore the labor market, if they do select something else, and if they have this confidence that they'll achieve their goals, we find that it's often very helpful."