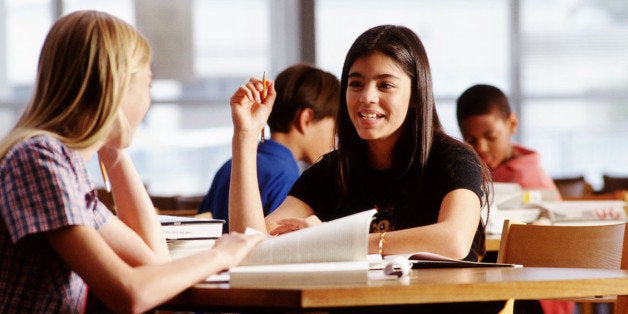 American youth have unfailingly been involved in making organizational and civic changes on their own behalf -- from lowering the U.S. voting age from 21 to 18 in 1971, to campaigns involving substance abuse, seat-belt awareness, stopping texting-while-driving, anti-bullying messages and more. In each of these cases, youth have helped lead the way.

GENYOUth, the organization I'm proud to lead, believes that students' involvement in advocating for healthy eating and physical activity environments and practices is in the same tradition as these other social movements -- and is integral to solving the childhood obesity epidemic. Our just-released Report, "Empowering Youth: Students as Change Agents for Wellness in Schools and Communities," documents our commitment to -- and our learnings on -- this issue.

Perhaps it's because I'm the mother of four that I have always had such trust in the wisdom of children to shape their own futures. I have observed -- both with my own children and with students in the 73,000 schools enrolled nationwide in Fuel Up to Play 60, our flagship program, the nation's largest school nutrition and physical activity program -- that providing youth with the tools and information they need, and then setting them free to make decisions and solve problems, works. I see it every day.

Whether it's in their roles as responsible Student Ambassadors; as vocal participants along with corporate CEOs in high-level national Leadership Roundtables; as fully funded "AdVenture Capital" social entrepreneurs; as youth advisors at White House meetings on school wellness; or as insightful panelists at Town Halls held in cities coast to coast; we recognize students as equals among our network of thought leaders and decision makers.

We also know that empowering youth can be as simple as listening to them. And when youth are actively engaged in a problem that concerns them, outcomes are better.

Through consistent dialogue with students, we learn every day about how best to enable them when they seek out opportunities for development and leadership in our programs and beyond. Ours is an ongoing quest to understand more about how and why students want and need to "create and build demand" for wellness in schools; the roles that mentorship, training and team building play in their efforts; the correlation between student involvement and sustainable change in school buildings; and the impact that active and early involvement can ultimately make on students' maturity and career success.

We know that it motivates students to know that adults in their lives care about them, and believe that they have the potential and capability to lead. And it is our collective responsibility to give students the power to make the decisions and solve problems that directly affect them. By elevating youth voice, we can, and will, embolden a generation of social entrepreneurs and change agents.
When it comes to youth advocating for their own health and wellness, we are at a moment of both urgency and opportunity. The costs of obesity remain almost inestimable on every level to society. If the trend persists, the projected costs of obesity to society is expected to exceed $350 billion annually by 2030 (http://obesitycampaign.org/obesity_facts.asp). The implications are far reaching for schools, families, communities, the healthcare system, unemployment, job growth, government services and productivity overall. If we don't invest in youth -- our future workforce, the people who are in many ways already at the forefront of epic change -- we risk so much more than the continued decline of scores in international education rankings like PISA.
This is important. It's not just the impact a parent, adult leader or advocate has on a child's health that matters, but the "other way around": the positive impact youth can have on the family, community and the business world when given the resources and tools to educate and influence others.
The reality is we all enjoy benefits when we hand the reins to students and provide them the scaffolding they need to help them create and build a culture of health and wellness with their ideas and energy. As for our organization, students have informed the trajectory of GENYOUth, even to the point of evolving our organizational mission to be more focused on efforts to empower them.
I challenge everyone who believes in the power and potential of students to find ways to uplift them, and make them the agents of change, they are so capable of being. What could be more important to their future, and our nation's?
Alexis Glick is the CEO of GENYOUth. Founded through an unprecedented public-private partnership with National Dairy Council (NDC) and the National Football League (NFL), and committed to child health and wellness, GENYOUth brings leaders in health, education, government and business together in a movement to help America's youth achieve a healthier future.
Calling all HuffPost superfans!
Sign up for membership to become a founding member and help shape HuffPost's next chapter