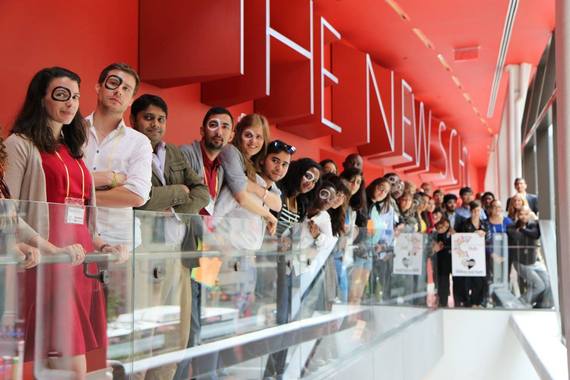 Members of the United Nations Major Group for Children and Youth at The New School in NYC.

A peculiar mix of people sat in an overcrowded lecture room at The New School this past weekend to participate in an Urban Lab, hosted by the United Nations Major Group for Children and Youth, that was part of the NYC Urban Thinkers Campus. Among those in attendance were youth activists, concerned community members and organizers of all ages, international professionals in the fields of architecture and planning, and researchers from the esteemed Earth Institute at Columbia University. They were there to participate in an Urban Lab that I had the opportunity to facilitate, titled "Strengthening Participatory Mechanisms in Urban Governance and Development", that is part of the stakeholder engagement process leading towards the UN Conference on Housing and Sustainable Urban Development (Habitat III) in Quito, Ecuador, in October 2016.
NYC's Urban Thinkers Campus is one of 28 Urban Thinkers Campuses selected to take place up to February 2016. The Urban Thinkers Campus is an initiative of UN-Habitat's World Urban Campaign, conceived as an open space for critical exchange between urban actors who believe that urbanization is an opportunity and can lead to positive urban transformations. It is also intended to serve as a platform to build consensus among partners engaged in addressing urbanization challenges and proposing solutions to urban futures. The Urban Thinkers Campuses are part of a larger concept on how UN-Habitat partners can engage and contribute towards the New Urban Agenda - by redefining The City We Need.
The Urban Lab that I facilitated in NYC had the specific purpose of sharing and highlighting youth priorities as they relate to the New Urban Agenda and provided participants with an intimate setting to articulate how urban participatory mechanisms and structures can be more inclusive, democratic, and accountable. Emerging from this session was the need for local avenues of governance to enable meaningful citizen engagement within participatory planning and decision-making processes in urban areas, with attention made to ensure diverse make-up that represents individual constituent communities. While this need is nothing new, this session reconfirms common recognition that existing platforms and systems of meaningful representation are lacking, especially for young people. A participant from Lebanon shared that youth activists in her country manifest themselves in the form of "guerrillas" and underground networks due to political realities, and it is because of stories like this that global conversations on participatory mechanisms within are cities are long overdue.
Although young people have historically been drivers and catalysts for important institutional changes and continue to be so in the modern era, their influence in daily decisions affecting their lives has been more often nonexistent. Their leadership is rarely recognized by a public that sees them as being beneficiaries of government programs and interventions, rather than as agents of change. Simultaneously, the media casts children and youth as apathetic, entitled, and disruptive, while ignoring the fact that disruption has historically been a prerequisite for liberation from oppressive regimes.
The United States had Susan B. Anthony, who collected anti-slavery votes at the age of 17, and Dorothy Day, who was imprisoned at the age of 20 for women's suffrage. Later in the 20th century, we see a young Claudette Colvin who, at the age of 15, was arrested for refusing to give her seat in a Montgomery bus just nine months before Rosa Parks. In more recent years, courageous young Americans championed LGBTQ and immigration reforms; meanwhile, other youth around the world has risen to up challenge the status quo, from the Arab spring to elections in Cambodia, and to the global Occupy movement protesting the grotesque wealth inequality. It is because of the power young people weld in creating change that this session sought to address challenges and opportunities of participatory urban governance, in order to help amplify and extend the impacts of young people around the world.
While many government authorities around the world have been slow in integrating youth in their decision-making processes, the United Nations has taken a more proactive role, with a leading example being the Youth 21 initiative launched by UN-Habitat addressing the need for permanent mechanisms for youth participation in the UN system. This year, the newly established Office of the UN Secretary General´s Special Envoy on Youth will soon launch the UN-Youth Global Development Gateway, a "pioneering digital interactive platform to mobilize young people globally for SDG [sustainable development goals] implementation". Additionally, nearly 93,000 young people from around the world voted in the recent election for the new UN-Habitat Youth Advisory Board. These examples and so many others highlighting the UN's leadership, innovation, and achievements in sustainable development have been largely ignored by the uninformed public due to high-profile international conflict resolution headlines.
The youth population is rising quickly in urban areas around the world while challenges relating to climate change and sustainability are augmenting at equally unprecedented rate. Given the tremendous task the international community has in achieving the Sustainable Development Goals and the New Urban Agenda, governments will have no choice but to see young people as assets, not as liabilities, and include them along the way in meaningful and productive capacities.
Related
Popular in the Community