I arrived in Beijing this past Thanksgiving to visit our NFTE program partner, Bright China Foundation (BCF), and its General Secretary, Henry To. In December of 2010, more than a quarter of a billion viewers tuned in to watch the Beijing Civil Affairs Bureau and Capital Philanthropy Federation's Awards Show, which, with 500,000 online votes, gave its "People's Choice Award" for Best Charity in China to NFTE-BCF.
NFTE began its partnership with BCF eight years ago. There are now programs in 10 provinces, including many major cities. Last year, almost 23,000 students completed the entrepreneurship program and presented their individual business plans. The students started small businesses in such diverse areas as handcrafted goods, used cell phone resale, computer repair, recycling, restaurants, and farming.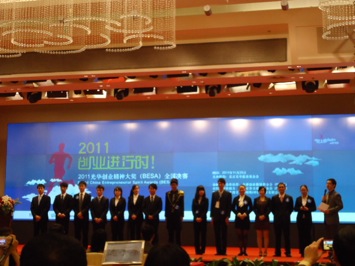 2011 BESA Finalists
I was accompanied to China by four of our top NFTE graduates from the U.S.; a NFTE teacher, Jessica Cohen; our director of communications; and a NFTE executive Deidre Lee. After several days of sightseeing -- including the Great Wall, the Summer Palace, Tiananmen Square, and the Forbidden City -- we met the top fourteen young NFTE entrepreneurs in China who were to participate in the business plan competition. They didn't speak English so we were accompanied by several translators.
They were the same as young people are everywhere: they had hopes and dreams, the desire to succeed, a great curiosity about other people and places, and a great eagerness to make friends, particularly people from other cities and provinces and, of course, other countries. In addition, they all had unique knowledge of the wants and needs of their communities and the opportunities that could turn these into entrepreneurial ventures.
We also had a two-hour meeting with the top fifteen NFTE/Bright China teachers. Again, although we didn't speak the same language, the similarities they had with teachers everywhere struck me. They were eager to share ideas on how to impart vision and determination to their students, both in general and professionally. They had questions for me and Jessica on ROI, branding, how to teach selling, and of course how to teach the economics of one unit.
The next day the national competition began, and I was delighted to see how well the Chinese students did -- in front of an audience of over 300 Bright China NFTE student and teachers. That evening, there was a wonderful award ceremony in a glittering hotel where round after round of applause greeted the top young entrepreneurs of China. The winner of the competition was Chen Panpam, the founder of TaoMingXuan, a tea company in her hometown. The college winner was Wen Yunfei who had a magic business where he performed for others. His business was called Magic Pavillion. Someday, I hope NFTE will have an international business plan competition so the top young entrepreneurs and there teachers can meet each other.
Typically, these young people would most likely end up as low-income workers in factories. Through the NFTE/Bright China program, they were inspired to start their own businesses. In order to provide continuous support to more than 80,000 alumni, BCF established a micro-loan center to grant low-interest loans to graduates who finished their business plans and have been approved by a committee of business advisors. Students can borrow loans up to $4,600 from Bright China. The loan payback rate is higher than 95%.
China has been developing rapidly since the Reform and Open Up Policy was implemented 30 years ago, and there are still many opportunities for young entrepreneurs to develop business ideas to help their families and communities.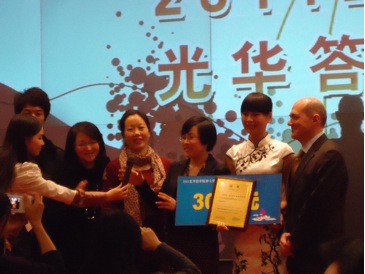 Steve Mariotti & the 2011 BESA winners
REAL LIFE. REAL NEWS. REAL VOICES.
Help us tell more of the stories that matter from voices that too often remain unheard.