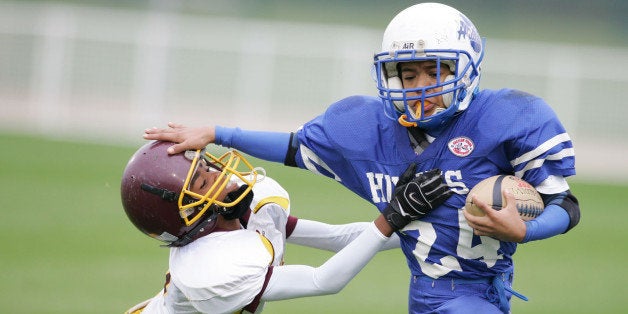 NFL fans have been occupied with deflated footballs, Marshawn Lynch quotables and Russell Wilson interceptions over the past couple of weeks. So it's excusable if they overlooked a study published last week that suggested a link between youth football and the deteriorating minds of former NFL players.
The study, conducted by researchers at the Boston University School of Medicine and published in the peer-reviewed medical journal Neurology, tested 42 former NFL players who had complained of "cognitive, behavioral, and mood symptoms" within the past six months. Half had started playing tackle football before age 12; half began at age 12 or older.
The researchers found that those who had played football before age 12 performed "significantly worse" on tests of decision-making, problem-solving, memory and verbal IQ.
"They were worse on all the tests we looked at," Dr. Robert Stern, the senior author of the study and a professor of neurology and neurosurgery, told ESPN. "They had problems learning and remembering lists of words. They had problems with being flexible in their decision-making and problem-solving."
Other research has suggested that the effects of concussions last longer in young teens than they do in young adults. Yet children under the age of 14 constitute roughly 70 percent of all football players in the country, and children between the ages of 9 and 12 who play tackle football experience an average of 240 hits to the head during a typical season, according to previous research cited in the new study.
Because the Boston University study focused only on former NFL players, the authors cautioned against applying its conclusions to the population at large. But they did urge additional research into the effect of youth football on all who play it, not just those who go on to have professional careers.
"It does make sense that children whose brains are rapidly developing should not be banging their head again and again," said Julie Stamm, a Ph.D. candidate in neurobiology and another author of the new study.
Pop Warner, the largest youth football program in the country, states on its website that its injury rate is "one-third the injury rate in high school football (AND) less than one-fifth the injury rate in college football (AND) less than one-ninth the injury rate in professional football."
In a statement provided to The Huffington Post, Pop Warner Executive Director Jon Butler emphasized that the nonprofit organization has improved its safety guidelines as the long-term effects of concussion-related injuries have become more clear.
"Over the last five years, Pop Warner has established protocols and rule changes aimed at improving coaching education, limiting contact and requiring a player who suffers a potential head injury to see a medical professional before returning to play," he said. "We will continue to work with medical professionals and researchers to identify safety approaches that allow players to enjoy the game."
The NFL did not immediately return a request for comment from HuffPost.
Speaking to ESPN's "Outside the Lines," Dr. Julian Bailes, Pop Warner Football's top medical officer, argued that the new study was "flawed" because of its small sample size. He additionally said that "cumulative exposure" over time is more likely than the age of first exposure to tackle football to explain some NFL players' cognitive issues.
Stern, the study's senior author, pushed back against Bailes' criticism in the ESPN article, saying that the men in the two groups of NFL players studied had suffered similar numbers of concussions and spent similar numbers of years playing tackle football.
The authors of the study told HuffPost that the point was not to discourage children from playing sports, but to question some of the ways in which they play it.
"One thing I really want to emphasize is that we really have great hope for youth sports," Stamm told HuffPost. "We really think it's important for kids to participate in youth sports." But she added, "We just want these children to play these sports safely."
The former NFL players in the study were between the ages of 40 and 69. All had played a minimum of two years in the NFL and 12 years of organized football. The survey was funded by the National Institutes of Health. Participants' travel was paid for by JetBlue Airlines, the NFL and the NFL Players Association.