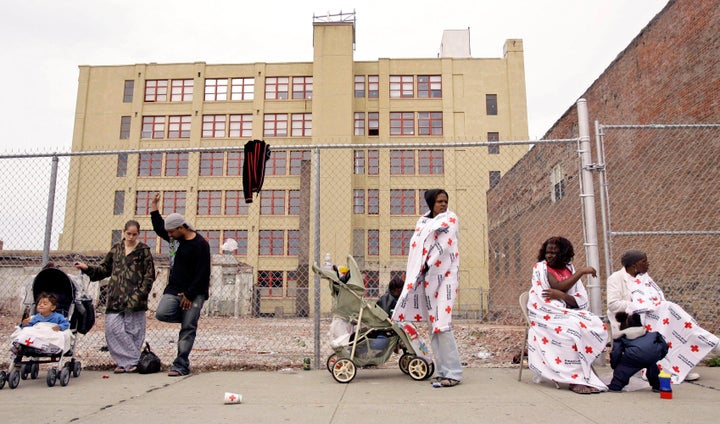 When I am not writing the occasional column for the Huffington Post, my regular job is executive director at Spectrum Youth and Family Services in Burlington, Vermont. Burlington is the state's largest city, and Spectrum is the largest provider of services to homeless and at-risk teenagers and young adults. Much of our work is actually what I regard as the prevention of homelessness. We have staff who work with scores of teenagers who suffer from mental illness, helping them to find employment, complete their education and learn independent living skills. Other staff counsel hundreds of youth each year who are addicted to drugs and alcohol, helping them to develop the skills to live a life of sobriety. When I think about the heroic work our staff are performing, I view it as helping young people with whatever difficulties they face so that they do not end up sleeping on park benches or parking garages.
But try as we might, that is inevitably what happens for a certain percentage of young adults. They become homeless. And we are there for them too. It's why we have an eight-bed shelter, and a nine-unit transitional living residence, and why we are currently building another eight-unit residence which is scheduled to open this June. (Thank you Doris Buffett, Warren's sister, and her Sunshine Lady Foundation, as well as others who contributed.)
Like many other nonprofits, we are always scrambling to try and raise funds to make up for the ever-shrinking support from government sources, so we've held bike rides, dances and dinners, but recently we tried something very different. We organized the Spectrum Sleep Out, putting out a call for business and community leaders to sleep outside, in the cold, as a way to raise awareness about the reality of teenage homelessness and to raise funds to support our work. When we came up with the idea, I hoped we could convince 20 leaders to do this; instead we had 44 people out there that night. I was one of them.
The Unitarian Universalist church across the street from Spectrum was kind enough to let us sleep on their lawn. We told participants to bring a sleeping bag and warm clothes and nothing else; we specifically asked that no one bring a tent (as I have rarely met a homeless teen who had one) and we gave each person a cardboard box to place underneath their sleeping bag. We did rent a large canopy under which people could position themselves, in case it rained or snowed. (It snowed for a bit in the beginning, so that was a wise decision.)
It proved to be an eye-opening, if not life-changing, experience for everyone there, including myself. I've been working with homeless and at-risk teens for 30 years, and this was my first time actually sleeping out as they do, or at least coming close to it. The temperature that night was 34 degrees, although with the wind chill it hovered in the mid-20s. As I prepared for the night, I kept thinking, "If I have a low-temperature-rated sleeping bag and put on enough layers to beat the cold, I will be fine, I will sleep." Wrong. I found out that the frigid temperatures are only half the battle to getting a decent night's sleep if you are homeless. First, there were the lights. Burlington is a city, a small city, but any city is lit up, and I found it very difficult to keep out of the glare. Then there was the noise; there seemed to be countless ambulances, police cars, and fire engines speeding by us throughout the night. And when the downtown bars started to empty out around midnight, there was a steady chorus of shouting and laughter for at least the next two hours. I think I finally fell asleep around 3am, but was woken up at 4 by a clanging sound coming down the street, "boom... boom... boom... " each time getting louder as it got closer. (I found out later from another Sleep Out participant that it was a homeless person pushing a shopping cart down the sidewalk, looking for empty bottles.) And a final challenge, in addition to the light and the noise, was this looming feeling of vulnerability. Even though I knew staff from Spectrum were taking turns staying awake and keeping watch by us, and that the Burlington police knew what we were doing and could be there in seconds if called, somehow none of that mattered. I could not shake this sense that something harmful could happen at any time to me or to the others out there by my side, making sleep very difficult.
Even though I'd only nodded off for one hour, I knew I could not get back to sleep, so I got up, as did most of the others, in fact some were already ahead of me and in Spectrum's drop-in center having coffee and breakfast. I had expected that most people would quickly depart and head home or to work, but I was wrong, most stayed and talked about their experience that night. The majority issued the same report: the lights, the noise, and the uneasy feeling of vulnerability had kept them awake for almost the entire night.
All of us now have a very different view of what life must be like for a homeless person. And personally, it reinforced for me why I, my co-workers at Spectrum, and our board of directors must work harder than ever to prevent teenage homelessness, as well as make sure we are there for those who, for whatever reason, do end up living on the streets. We cannot let them down.

REAL LIFE. REAL NEWS. REAL VOICES.
Help us tell more of the stories that matter from voices that too often remain unheard.