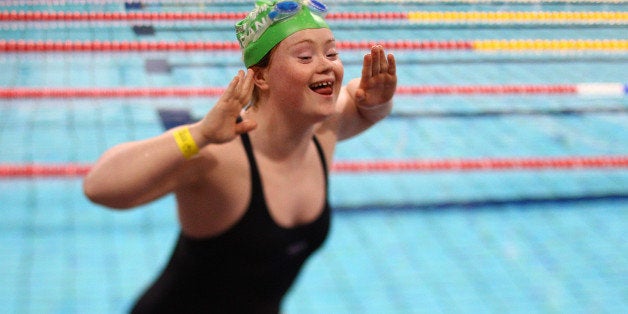 Whether it's playing on a team or watching from the couch, athletic competition is an inescapable part of American culture; 7 out of 10 Americans watched the Super Bowl this year, and 7.7 million high school students played high school sports in 2013. This summer, sports will be used to bring people together, not to divide them into Varsity and JV or first pick and last pick, but rather, in a revolutionary fashion introduced by Eunice Kennedy Shriver in 1968. Starting on June 14, over 3,500 individuals with and without intellectual disabilities will come together on a level playing field at the 2014 Special Olympics USA Games.
In addition to the athletes competing for gold, silver, and bronze medals, over 100 high school students with and without intellectual disabilities will meet at the 2014 Special Olympics USA Games Youth Summit as leaders within Project UNIFY, Special Olympics' education and sports based strategy powered by an engaged youth community that increases athletic and leadership opportunities for students with and without intellectual disabilities, while creating communities of acceptance for all.
The most important message of this summer's Youth Summit is simple -- "Play Unified. Live Unified." Unified is the revolutionary concept -- just as revolutionary as Eunice Kennedy Shriver's pioneering work for social justice -- that young people with and without intellectual disabilities can work together towards a greater victory than either could have reached on his or her own. In this way, Special Olympics is far from being a form of segregation; it's all about inclusion.
Project UNIFY is a youth-led movement, meaning that high school and university-aged students have the unique power to positively impact their school communities by promoting social inclusion. Leaders of this powerful movement are called Inclusive Youth Leaders; "inclusive" because a leader can be anyone of any ability level, "youth" because they have the passion and enthusiasm only a young person can have, and "leaders" because they are the primary agents for positive social change within their communities.
Special Olympics is the quintessential social justice movement. There was a problem -- people with intellectual disabilities were marginalized and treated unfairly -- and now there is a solution. Two summers ago, I had an experience I will never forget that shows the powerful significance of the youth movement within Special Olympics. I was watching the 50m butterfly at my state's Summer Games with a few of my friends. The starting beep went off, and the swimmers began to swim with great speed and dedication. My friends and I were screaming our voices hoarse cheering on the athletes. One athlete, in the lane closest to the bleachers in which we were sitting, was making a surge for the lead going into the second lap. However, after a successful flip turn and effectively taking the lead in the race, she stopped mid-stroke to wave at us! Naturally, we freaked out and were beyond excited -- it's a very similar feeling to catching a foul ball at an MLB game or meeting your favorite celebrity.
Special Olympics transcends mere competition; in that wave, and in countless other incidents, there is something greater: joy. In sharing her gifts and talents with me and my friends, the bronze medal-winning athlete elevated the race from a qualifying heat to an international movement towards inclusion and justice. So often I think about extending myself to make an impact, and in that swimming race, she made the first, most difficult action.
The best way to become an agent of change for inclusion, compassion, teamwork, co-leadership, and enhanced communication is to get involved with Special Olympics. Personally, I have found my roles as youth leader, coach, fan, and athlete to be the highlights of my day time and time again. I've been empowered to co-create positive social change by Special Olympics Project UNIFY, and every person can have experiences equal in substance, but unique in circumstance, to that which I, and millions of others, experience every day by getting involved.
This post is part of a series produced by The Huffington Post and the Special Olympics in conjunction with the 2014 Special Olympics USA Games, hosted in New Jersey from June 14 to 21. Visit here to learn more about the Special Olympics. Read all posts in the series here.
Calling all HuffPost superfans!
Sign up for membership to become a founding member and help shape HuffPost's next chapter