Young people powered President Obama to the White House. Now, they're protesting him outside of it.
This weekend, over 1,000 students and youth will march from Georgetown University to the White House. Over 300 of the participants are expected to risk arrest in a sit-in outside the gates, in what will likely be the largest youth sit-in on the environment in a generation. The events are part of a weekend of action known as XL Dissent.
Many of the young people taking part in the action cast their first votes to help elect President Obama. On Sunday, they'll be put in handcuffs to get him to live up the values that he ran on.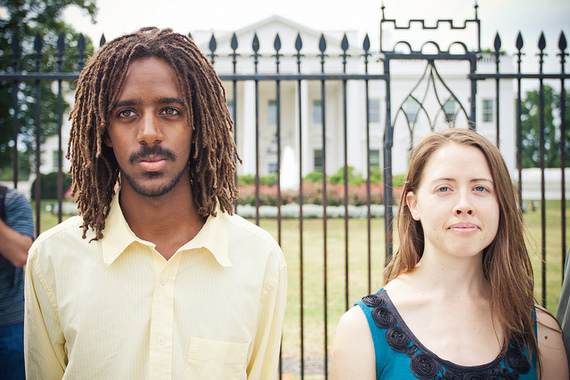 Photo Credit: Josh Lopez

"Obama was the first president I voted for, and I want real climate action and a rejection of the Keystone XL pipeline," said Nick Stracco, a Senior at Tulane University. "The people that voted him into office have made it absolutely clear what we want, and that's to reject Keystone XL."
The protest comes on the heels of two major reports on Keystone XL. First, was the latest State Department environmental impact statement on the Keystone XL pipeline, which despite industry influence, gives President Obama all the reasons he needs to reject the project. Second, was a report by the State Department's Inspector General that admitted that State Department hired a pipeline contractor, ERM, to conduct their review of Keystone XL, but concluded that such dirty dealings were perfectly legal.
Henry David Thoreau once wrote, "If the machine of government is of such a nature that it requires you to be the agent of injustice to another, then, I say, break the law."
The young people getting arrested this weekend refuse to be a part of the government machinery that would allow TransCanada to build a pipeline that unjustly puts rancher's and farmer's land at risk, unjustly allows for the expansion of the tar sands which are poisoning indigenous communities, and unjustly pollutes our atmosphere. Instead of agents of injustice, these students and youth from across the country are choosing to be agents of change.
President Obama, too, promised to bring change to Washington. The decision over Keystone XL will be a true test of that promise. Is this a President who is willing to stand up to the fossil fuel industry and prevent an injustice like Keystone XL occur or is he just another cog in the machinery of our oil-soaked government?
Related
Popular in the Community