WASHINGTON -- A bill in Congress aimed at preventing crime by keeping at-risk youth out of the prison system could get a major boost this year from an unlikely new alliance of progressive Democrats and libertarian-leaning Republicans.
The Youth PROMISE Act, long championed by Virginia Democratic Rep. Bobby Scott, would seek to prevent youth crime by awarding grants to local governments for programs to prevent juvenile delinquency. It would also provide funds to collect more data on which juvenile intervention programs are working and which aren't. According to the bill's current language, money for the act would come out of Justice Department appropriations, and no grant would exceed $10 million per year.
The bill has languished in the House for almost a decade. Since 2007, Scott has introduced the Youth PROMISE Act five times, during each new session of Congress, but so far it has failed to get a vote on the House floor. On Friday, Scott introduced the bill for the fifth time. But new conservative support for the bill and the broader criminal justice reform agenda -- and the backing of a top conservative -- may mean that this fifth time will be the charm.
The bill has traditionally been backed by Democrats and moderate Republicans. But it has a new co-sponsor this year: tea party darling and GOP rising star Rep. Trey Gowdy (S.C.). Since being elected to Congress in 2010, Gowdy, a fiery former prosecutor, has led the House committee investigating the death of Americans in Benghazi, Libya; introduced a bill to allow Congress to sue President Barack Obama; and last month, was photographed posing with an AR-15 assault rifle in the U.S. Capitol.
"As a former federal prosecutor, who saw the immense human toll and suffering at the backend of crime, I am convinced we must be committed to stopping crime before it happens," Gowdy said Friday in a statement about the juvenile justice bill. "I applaud Rep. Bobby Scott's work on this legislation to help us minimize the number of people and families victimized by crime and violence, improve services for at-risk youth, and save taxpayer dollars."
In addition to Scott and Gowdy, Republican Rep. Walter Jones (N.C.) and Democratic Rep. Tony Cardenas (Calif.) were also original co-sponsors of Friday's Youth PROMISE Act. But Gowdy stands out. House Speaker John Boehner (R-Ohio) tapped Gowdy to chair the House Select Committee on Benghazi, a high-profile assignment that has made Gowdy into a champion of the far right. And while he adamantly denies being a "tea party congressman," Gowdy's refusal to fall in line with the GOP establishment, and his willingness to vote against measures like a 2011 deal to raise the debt ceiling, have made him extremely popular with those who support the tea party platform.
Gowdy and Scott are hardly the only political odd couple working on criminal justice reform. In July of last year, Sens. Cory Booker (D-N.J.) and Rand Paul (R-Ky.) introduced a bill called the REDEEM Act, which would help to keep minors and nonviolent offenders out of prison, and seal some criminal records to help offenders find employment without the stigma of a criminal record. Like the Youth PROMISE Act, the REDEEM Act stalled last session, but was reintroduced this spring. And other prominent conservatives, including billionaire Charles Koch, have called for reforms to help lower the number of Americans in prison. Koch, in particular, has emerged as a champion of changing the nation's mandatory minimum sentencing laws.
Support for criminal justice reform from people like Paul and Koch bodes well for the Youth PROMISE Act's chances of passage, according to Christine Leonard, executive director of the Coalition for Public Safety, a new nonprofit that works to enact criminal justice reform by building alliances between left-leaning groups such as the Center for American Progress and traditionally conservative outfits, such as Freedomworks and Americans for Tax Reform.
In November, Scott was elected the top Democrat on the House Education and Workforce Committee, where the Youth PROMISE Act will be put to its first major vote later this year. And even though Democrats are in the minority in both houses, the bill's focus on funding research and evidence-based programs appears in line with House Speaker John Boehner's (R-Ohio) broader plan to address problems facing many at-risk youth.
When the Youth PROMISE Act was first introduced in 2007, "we were in a very different climate, with much less consensus about what works in criminal justice," Leonard said. In the last few years, the climate "has changed dramatically. Now, when we talk to law enforcement and corrections officers, they say, 'You can either pay on the back end [for prisons and police], or you can pay for prevention on the front end.''
New research on incarceration rates and juvenile justice in recent years has helped to change the conversation. In 2014, the National Academy of Sciences released a groundbreaking report on the growth of incarceration in the United States, and recommended that policymakers devise other means to combat crime than imprisonment. Armed with data like this, Leonard said, "we are now poised to make a much stronger argument for reforms and for pursuing what really works."
Paul Larkin, a senior legal research fellow at the conservative Heritage Foundation, agrees. "When you see conservatives who've traditionally been very pro-law enforcement changing their views, and questioning sentencing rates, or the cost of mass incarceration, then you know something's really happening," he said in an interview. "And because conservatives and liberals both agree that sentencing and corrections reform are really pressing issues that deserve our full attention, I think that right now is a unique time for this issue."
With the House of Representatives out on recess, the 2015 Youth PROMISE Act has yet to pick up more co-sponsors, but Leonard said she has high hopes for the bill in the 114th Congress.
Speaking to the press on the day before Scott introduced the Youth PROMISE Act, Boehner stressed the need for a better understanding of what works to combat poverty.
"I think first we should be asking the question, 'What is working and what isn't?'" he said. "And if [social programs] are not working, how can we fix these programs? I think we owe it to every American to take a long hard look at this problem and begin to think of new solutions."
For Leonard, this was a very good sign. "It's so hard to get things done in Washington, and it requires the right attitude, as much as focus," she said. "Hopefully now is the time for some focused consideration of these issues."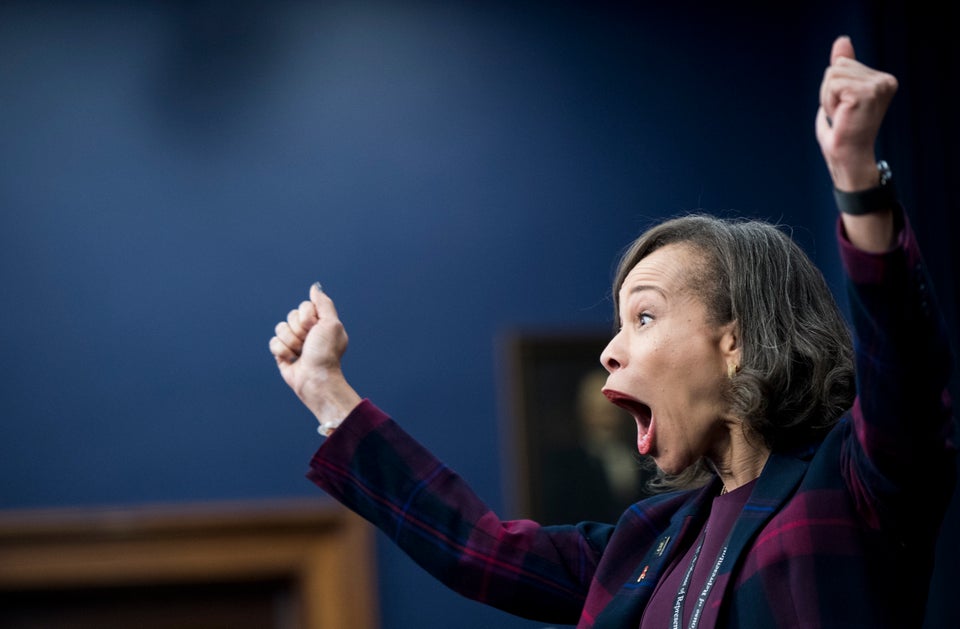 Scenes From 114th Congress And Capitol Hill
Popular in the Community