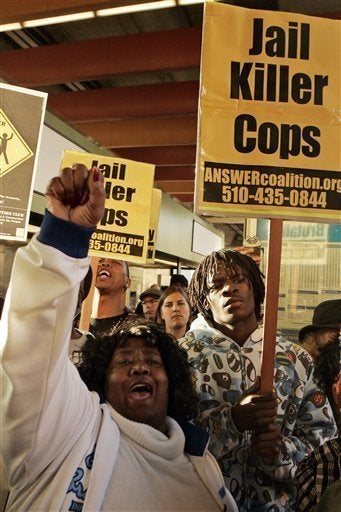 Originally published on Youthradio.org, the premier source for youth generated news throughout the globe.
UPDATE: The officer who shot and killed Oscar Grant was arrested in Nevada on suspicion of murder.
On New Year's Day, 22 year old Oakland resident Oscar Grant was detained and then shot in the back--while held face-down on the ground--by Bay Area Rapid Transit (BART) police. Bystanders recorded the incident using their cell phones, and it's now available to anyone with an Internet connection.
The officer who killed Grant resigned and has refused to speak with BART investigators, who submitted their preliminary report on the case to the Alameda County District Attorney's office on Monday. The DA will determine whether the officer will be criminally prosecuted.
Meanwhile, Oakland residents and others have been protesting the handling of Grant's case and police brutality as a larger issue. Youth Radio--a youth-driven production company headquartered in downtown Oakland--is covering the story as it unfolds, gathering interviews with community leaders and officials, as well as reactions from young people who were on the scene of the shooting and protests, including one of Grant's friends who says he was with him when he was shot.
Here's Youth Radio's video from last week's peaceful protest at the Fruitvale BART station, the site of Grant's shooting.
And here's more Youth Radio footage of the protest after the agitated crowd had been met with police in riot gear. Businesses were vandalized and vehicles burned as hundreds of protestors--many from outside Oakland--took out their frustration with a slow-moving investigation.
Youth Radio's ongoing coverage includes reflections from a young man making sense of the Grant shooting in Obama's "Year of Change," and another who shares why he still feels Oakland pride. Another rally is scheduled for Wednesday, January 14th in downtown Oakland.
Youth Radio/Youth Media International (YMI) is a youth-driven converged media production company that delivers the best youth news, culture and undiscovered talent to a cross section of audiences. To read more youth news from around the globe and explore high quality audio and video features, visit Youthradio.org

Popular in the Community