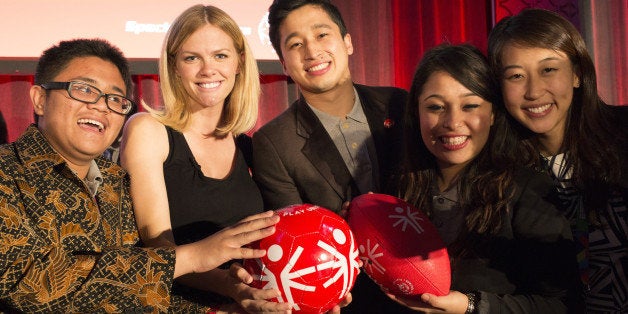 I had the pleasure of participating in Special Olympics' GenUin Youth Summit Pitch Pit on Sunday, July 26 and was moved by what I experienced. While I only was able to observe five of the dozens of projects developed by young people, what I did see was an overwhelming indicator that the future of people with intellectual disabilities (IDs) looks bright.
One hundred and twenty young leaders from around the globe traveled to Los Angeles to take part in GenUin, a week-long summit to brainstorm, conceptualize, and present viable solutions to unify and improve lives. This unified theme was prevalent throughout the entire summit. The teams of young people who represented the community as a whole (both those with and without IDs), the solutions and programs they developed engaged the unified community and the audience at the Pitch Pit, applauding with a standing ovation, representing our entire global community. Inequality for those with ID isn't only a slight against them, but a disservice to everyone and a loss of human potential. Equality of opportunity was a consistent mission throughout the presentations.
The presentations I observed were well thought out and filled with enthusiasm. They addressed a laundry list of issues that our community faces from vision and parental relations, to unification and eliminating stigmas about disabilities. These young leaders created forward thinking and engaging programs to solve these problems, for example, a family street fair with interactive games that rely on vision located next to professionals offering screenings and glasses for those in need.
In a format, reminiscent of popular TV shows The Voice and Shark Tank, my illustrious fellow judges (Special Olympics Chairman Tim Shriver, Coca-Cola CEO Muhtar Kent, singer and actress Vanessa Williams, Special Olympics International Board of Directors member Loretta Claiborne, and former basketball player and philanthropist Dikembe Mutombo) and I had some fierce competition for an opportunity to mentor the young leaders. Though there was some slight ribbing, and both a Billboard chart hit and a role in a feature film were offered as bribes, every judge gave positive feedback and made a promise to push these presentations forward.
I was moved watching a video produced by youth leaders Jenish and Kanchan Amatya from Nepal addressing how those with intellectual disabilities are the first to be ignored when a disaster strikes, like it did with the earthquake in their country in April 2015. Jenish and Kanchan discussed how many children with ID were orphaned and left to fend for themselves after the earthquake, in a situation where scarce resources were in increased jeopardy. This brother and sister pair not only addressed this conundrum, but they offered solutions -- building and staffing an orphanage and providing support desperately needed by the community. After already raising $30,000 the Amatyas are trying to fundraise even more with the generous support of Special Olympics. I was excited that they chose me to mentor them, so expect me to see me posting about their progress.
Though competition amongst judges and youth leaders was an aspect of the program, in the end no one lost... we all won. Every youth leader left with new skills to mobilize their immediate community. Every team left with financial support from Special Olympics and the infrastructure set in place to help propel their ideas forward, and every judge was touched by the dedication and ingenuity of the new generation of youth leaders. Our community, a unified community, was given potential solutions. It is all of our responsibility to make sure these solutions come to fruition.
Calling all HuffPost superfans!
Sign up for membership to become a founding member and help shape HuffPost's next chapter