As the sun rises over the ocean coast of Peru, small waves roll in, hitting the shores of Chorrillos, a district within Lima, Peru. Behind Chorrillos -- up on what appears to be a shantytown on a sand dune -- 20 children, 8 to 15 years old, are soon getting ready to surf.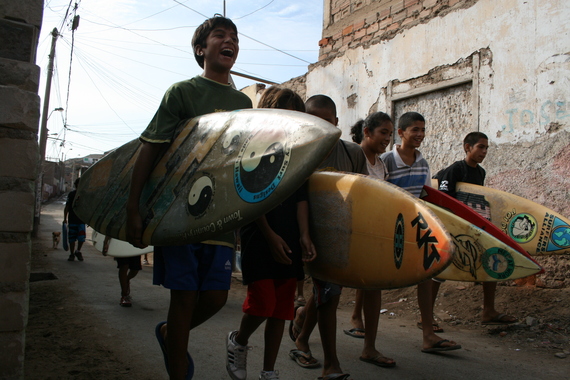 Alto Peru participants walk with their surfboards while participating in the Alto Peru summer program. Photos courtesy of Alto Peru.
These children reside is Alto Peru, an extremely poor barrio behind the modern highrises facing the Pacific Coast of Lima.
Some of these children don't have parents, some are sniffing glue or living in crack houses, some were born into homes where physical abuse and drugs are common, some don't have homes, several of them are robbing on the beaches with their older siblings at night -- and the list goes on.
More than four million laborers now live in the slums of Lima. Most of them came in search of environmental equities, but today they continue to live in poverty with more scarcity and a government unable to come up with solutions.
Peru has 30 million citizens and Lima is home for approximately 40 percent of those residents. Many of the population arrived from rural mountainous regions of Peru. This mass immigration to the capital began in the 1960s, when less than two million people lived in Lima, and has steadily continued. In most cases, this immigration has been a letdown for the migrants.
Luckily for the children in Alto Peru, not everyone has turned a blind eye to them. The organization Alto Peru (named after the shantytown in Lima), founded by Diego Villaran, seeks to create sporting and cultural opportunities for these children, usually in the times most needed, such as summer.
Alto Peru started in 2008 with free surf lessons for the needy and gradually has become more diversified in terms of the needs they have identified from the children and their families. Along the way, the organization has also picked up major sponsors such as Movistar, a principle mobile phone operator in Latin America. Since, the organization has added Batucada, longboarding, Muay Thai, breakdancing and Capoeira classes for the children. At the end of each summer, Alto Peru holds the Alto Peru Cultural Festival, which is held in the barrio with the same name. The public is invited, and thousands attend.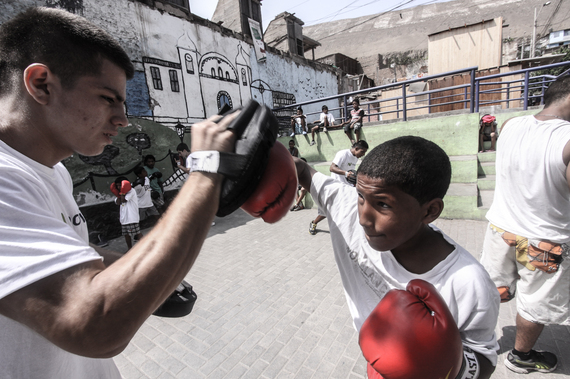 Youths take part in Alto Peru's Muay Thai summer program in Lima, Peru. Photos courtesy of Alto Peru
"We are working on two sides," says Alto Peru psychologist Matias Ballón, 26. "We want to help the kids, but we also want to make the wealthy look and see the poverty around them."
"The wealthy only have windows facing the ocean, and behind them is Alto Peru," said Roberto Zamalloa, 33, Alto Peru photographer.
At the Cultural Festival it is easy to see the socioeconomic diversity of people attending. Some of the people are wearing designer clothing and nice watches, have slick haircuts and arrive in fancy cars, while the homes within Alto Peru don't have running water and the children who attend the Alto Peru program wear the clothes of their older siblings.
After school children can do lots of things, Ballón explained, as school is only so many hours long. In Lima, if a child's family has money, he or she can surf or take tennis lessons, among various other activities. If a family is poor, there is nothing to do.
This boredom creates many of the problems and can lead to dark influences, Zamalloa added.
"These kids don't have time to be kids, because at 10 to 12 years old, they must be tough. Their faces change at this age, and they become angry with society because they weren't given opportunities," Zamalloa said.
Aside from the children's own shortcomings, they receive pressure from older kids in the neighborhood or siblings to rob at night. Many times the youths, as young as 8 years old, show up to surf in the morning and mention they had been out until 3 a.m. with their older brothers the night before.
"The children rob on the beach," Ballón said. "If you see a big guy on the beach at night, you will be scared, so the older guys in the area just use the children to rob, because children are not intimidating."
Although several of the children involved in Alto Peru come from good homes with parents, Ballón mentioned that as soon as they leave home, they are no longer safe.
"Even if they go to school, their school is not a safe place," Ballón said. "The public system in Peru is poor. They aren't safe among students or teachers."
Alto Peru is not the only organization to use boards in the fight for peace and against crime, drugs and the education deficit. Skateistan in Afghanistan and Cambodia, The Wahine Project in California, Skatejam (which has projects in South America, Africa, the Middle East and Oceania), and Longboarding for Peace and Surfing for Peace in Palestine and Israel are just a few other organizations out their offering similar programs.
At the moment, 60 children are active in the Alto Peru project, and the City Hall of Alto Peru noted that crime has dropped in the area over the past two years, which have been Alto Peru's most active years. In addition, many of the youth compete in the national surfing circuit competitions and go on to higher educations and to pursue a sweeter life.
More information regarding Alto Peru and their various projects can be found at www.altoperu.org.
REAL LIFE. REAL NEWS. REAL VOICES.
Help us tell more of the stories that matter from voices that too often remain unheard.