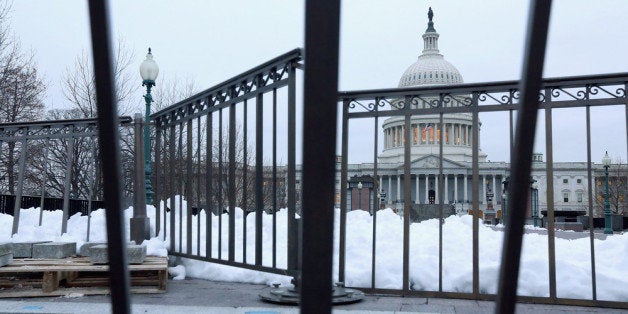 Fewer than a quarter of adults under 30 are sure they'll vote this November, according to a new poll from the Harvard Institute of Politics.
The low number isn't in itself surprising: Turnout among young voters regularly drops in midterm elections. The latest numbers suggest, however, youth turnout could dip below the level of 2010, when 31 percent said in February of that year they'd definitely vote, and about 23 percent actually made it to the polls.
In 2010, Republicans retook the House. And this year, the potential drop-off is troubling for Democrats, who worry that the failure of young adults and others in their party's base to vote in November could cost the party the Senate.
The new poll found young Democrats to be especially unmotivated: Those who voted for Barack Obama in 2012 were 9 percentage points less likely than those who voted for Mitt Romney to say they're definitely voting this time.
"Young people need to feel like they're able to make a difference in order to be engaged," said John Della Volpe, polling director for the Harvard Institute of Politics. "Frankly, I don't think that either the Republicans or the Democrats have really tried to inspire and engage people like they have in the past."
The survey found that adults under 30, especially Democrats, consider income inequality a major issue and that 63 percent of Democrats believe raising the minimum wage would be effective in reducing the wealth gap. Party leaders hope a focus on the minimum wage will drive their voters to the polls, although in a recent New Republic article looking at Democratic strategy, journalist Sasha Issenberg points to some research that finds such messaging "does little to influence a person's likelihood of actually voting."
If it's hard to predict what exactly would persuade young Americans to turn out, it's also uncertain how accurate they are in assessing their own chances of voting. Americans are not particularly good at predicting whether they will vote.
The survey's results on possible turnout, however, point to a sense of disaffection among young adults that's borne out elsewhere in the poll. Trust in institutions, including the president, Congress and the Supreme Court, is at a low ebb. Compared with 2010, young adults are somewhat more likely to feel that people like them don't have a say in the government's actions and that political involvement rarely yields tangible results. Fifty-eight percent said elected officials don't share their priorities, up from 51 percent in 2010.
The Harvard poll surveyed 3,058 Americans ages 18 to 29 between March 22 and April 4. The poll recruited participants by phone and mail, and then surveyed them online.
REAL LIFE. REAL NEWS. REAL VOICES.
Help us tell more of the stories that matter from voices that too often remain unheard.
BEFORE YOU GO
PHOTO GALLERY
Shirtless Politicians