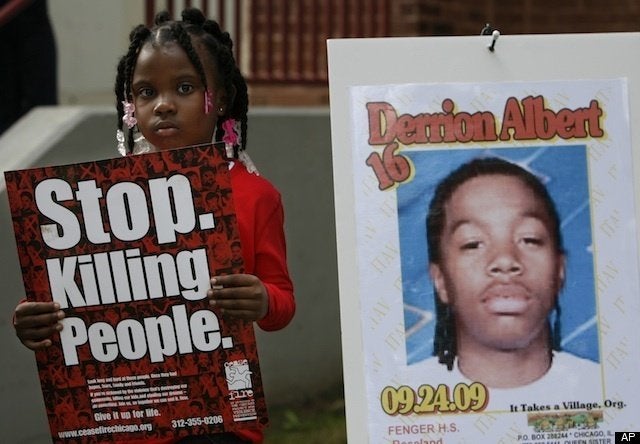 Two members of President Obama's cabinet met with Chicago mayor Richard Daley and school officials today, as well as parents and students from the neighborhood where 16-year-old Derrion Albert was beaten to death last month.
Attorney General Eric H. Holder Jr. and Education Secretary Arne Duncan spoke of how much of the responsibility lies with adults and parenting, calling for a return to positive values and standards. The two pledged a "sustained national effort" to reduce and prevent youth violence, emphasizing that it was not just a Chicago issue and that money alone would not solve the problem. However, the Education Department will be sending an emergency grant of approximately $500,000 to stabilize Christian Fenger Academy High School, which is near the site of Albert's death, and feeder schools.
The brawl that led to September 24 killing of Albert, captured on a cell phone, was, as Holder described, "a stark wake-up call" to every American who saw or heard about it.
What can be done to stop this senseless violence? Police report that more than 40 children younger than 18 have been murdered in Chicago this year, and at least 298 students enrolled in Chicago public schools have been shot since September 2008. Critics of Renaissance 2010, a plan to invigorate and improve education in Chicago, attribute the increase in violence to the closing of dozens of schools since 2005, which reassigned thousands of students to other campuses.
•CeaseFire is a public health campaign to reduce shootings and killing that works with community-based organizations. Its focus is on street-level outreach and conflict mediation with the help of outreach workers and violence interrupters and faith leaders, as well as police participation. You can donate here.
•The CDC has compiled a section on youth violence: understanding and preventing it, along with state and national statistics.
Related
Popular in the Community