President Barack Obama can attribute his reelection to capturing the youth vote in four crucial swing states, and to millennials' staunchly progressive opinions on several major issues, according to a new Pew Research Center report.
In Ohio, Florida, Pennsylvania and Virginia, 61 to 66 percent of young adults voted for Obama. In each of those states, Mitt Romney captured voters aged 30 and older by 1 to 5 points. The largest generation gap was in Florida -- which has a significant elderly population -- where Obama won young people 66-32 percent, compared to 47-52 precent of voters 30 and older.
"It is because [Romney] lost the youth vote pretty decisively that he will not be the next president of the United States," CIRCLE's director, Peter Levine, said at the time.
Part of Obama's success among youth voters was due to his campaign's efforts to mobilize college students. The Obama team made sure to host events on or close to college campuses and bussed college students to early-voting polls in crucial swing states like Ohio. The campaign then tried to get those same students to volunteer in the week before Election Day, according to Boston Globe reporter Matt Viser. When the Romney campaign was asked whether it was doing anything similar, a spokesman told Viser "the juice on that is not worth the squeeze."
However, as Rock the Vote President Heather Smith points out, the millennial generation has been participating at a much higher rate in presidential elections. In 2004, 2008 and 2012, around half of all eligible young voters cast a ballot. "There is a defined pattern where these young people are participating at a much higher rate than their older sisters and brothers," Smith told The Huffington Post.
Young voters belong to an increasingly less-white generation, a demographic trend that is not expected to peak until 2020, when 90 million millennials will be of voting age.
Among 18- to 29-year-olds, Obama was able to win Hispanics, blacks and women by double-digit margins, similar to his margin of victory in those groups for all ages. The only sub-demographic group of 18- to 29-year-olds that Romney won was whites, with 51 percent, Pew found. That group went for Obama 54 to 44 percent in 2008.
Smith said those numbers prove it would be a "catastrophic mistake" for the Republican Party to ignore young people. She noted that the generation of young people voting in the 1980s went for Ronald Reagan, and those same voters still generally vote Republican.
"They're older but they kind of carried their partisanship with them," Smith said.
Romney's emphasis on employment for young people was a good message, Smith said, but he didn't reach out effectively. "What he didn't do is spend a lot of time targeting them with that message," she said. "He wasn't on the college campuses, he didn't go to high schools, he didn't go on the TV shows young people watch."
There's more to worry about for the GOP: Not only did this election carry the largest generational gap since 1972, second to 2008, the Pew report finds Americans aged 18 to 29 are at odds with the Republican party platform on several major issues.
By significant margins, young adults believe the government should do more, abortion should be legal in all or most cases, states should recognize same-sex marriages and undocumented immigrants should be given the chance to gain legals status. Adults under 30 are more likely to favor expanding health care reform and to believe the U.S. economic system "generally favors the wealthy."
Yet that doesn't mean they consider themselves liberals. Forty-four percent of 18- to 29-year-olds identify as Democrats, while just 26 percent identify as Republicans. But 41 percent of young adults describe their political views as "moderate," and only 33 percent self-define as liberal. Only 26 percent of millennials say they are conservative, compared to 35 percent of all Americans.
"They've got a problem," Paul Beck, a professor at The Ohio State University, said of the Republican Party in a recent interview with HuffPost. Beck pointed to the party platform and a "cadre of elected officials" who have made controversial statements about Hispanics, women and college students.
Beck said the GOP needs to figure out "how they can both change the rhetoric and the symbolism of that rhetoric, but still appeal to their principles."
Check out the Pew Research Center's findings on the 2012 youth vote below: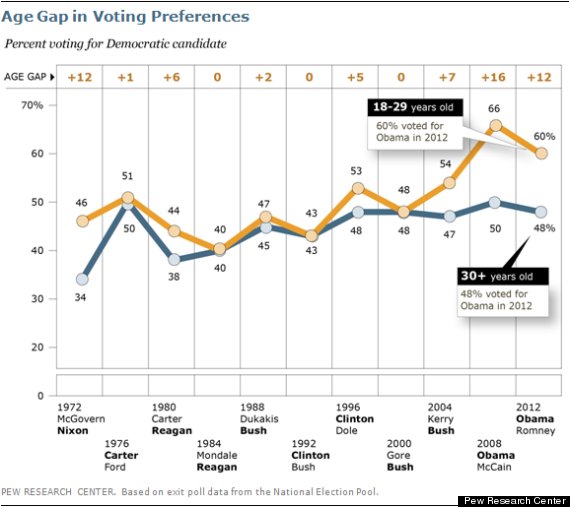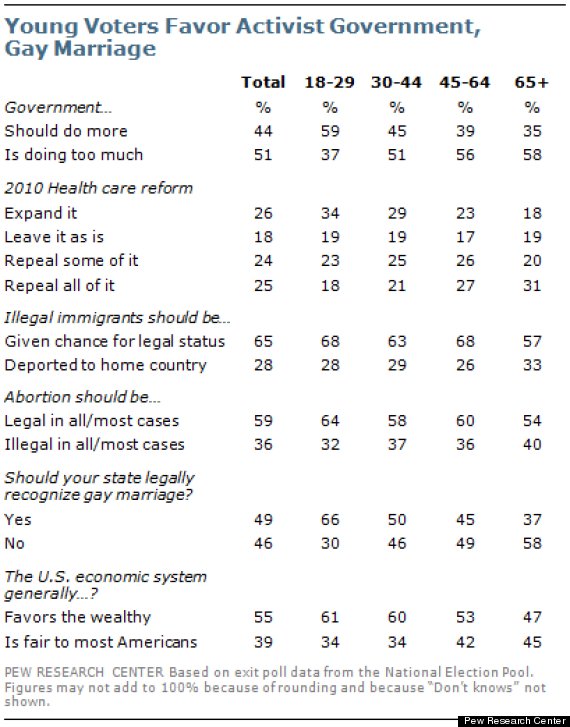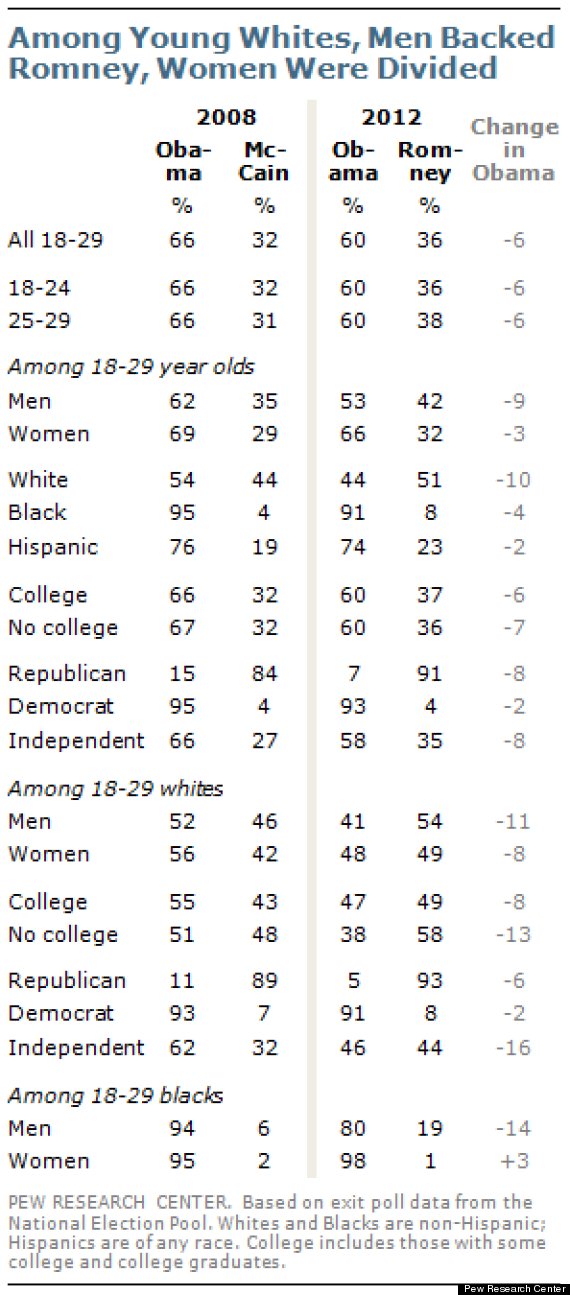 Calling all HuffPost superfans!
Sign up for membership to become a founding member and help shape HuffPost's next chapter
BEFORE YOU GO
PHOTO GALLERY
100 Years Of Election Night Losers