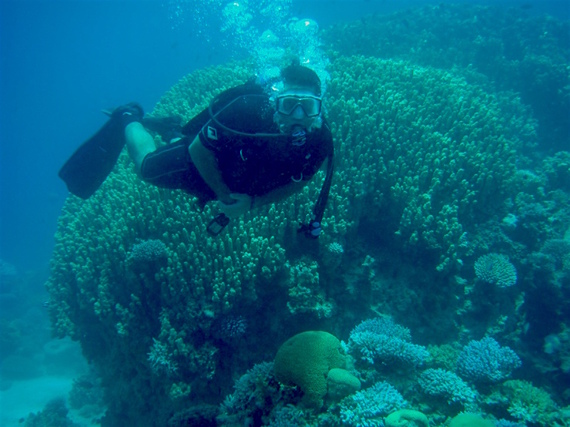 Sebastian Nicholls diving above a coral reef near Aqaba, Jordan. The Kingdom protects 7 km of its 27 km of marine coastline in the Aqaba Marine Park.
Millions of people saw Rio de Janeiro for the first time last month while watching the summer Olympics. Daily, they saw beautiful shots of the city--the glistening beaches and blue sea reflecting Brazil's crimson sunsets. Buildings dot the city's slopes, but a dense layer of vegetation lingers over the hills. Bright-billed toucans turn the dark quiet of the rainforest into a cacophony at daybreak. I lived there for two years, and Rio's natural beauty filled me with awe.
I felt the same sense of wonder when I saw a coral reef for the first time in the Islas del Rosario near Cartagena, Colombia. I didn't know then that the coral was dying--that overfishing, climate change, acidification, and pollution are rapidly choking the life out of tropical seas. Those same man-made problems also threaten kelp forests, mangroves and other magnificent ocean ecosystems that have existed for millennia.
Our ocean is not just beautiful, but also essential for life. It provides half the oxygen we breathe, regulates climate, and feeds millions. The next generation's future depends on it.
Beyond the stunning shots of whitecaps and shimmering carioca sunsets, the sea is in deep trouble--and the symptoms are visible at the surface. Driving out of the airport, views of Guanabara Bay revealed floating trash and thick layers of black mud where the pollution was worst. Thousands of dolphins used to live in Guanabara Bay , and it was a breeding ground for whales. Now, only 34 dolphins remain and the population is rapidly declining.
Yet Rio's story, like young idealistic eyes, also glimmers with hope. The Tijuca forest at the heart of the city is now among the largest urban forests in the world, but in the 19th century, the area had been cleared for coffee farming. In 1861, Dom Pedro II, Brazil's emperor, expressed concerns about deforestation and native plants were reintroduced. Now, it's a vibrant rainforest in a concrete jungle.
Youth, like Dom Pedro, can combine hopeful eyes with a vision, and create a better future for all. When I learned about the degenerating health of our ocean, I didn't know what I could do but despair. Yet we can reclaim the ocean, just as Dom Pedro revived the Tijuca forest, so that it can provide for generations to come.

Policy has started shifting towards improved stewardship, states are discussing protection of the High Seas , and nations are creating new and larger marine reserves every year . The Our Ocean Summit, a meeting of the world's ocean ministers convened by U.S. Secretary of State John Kerry, provides a venue for announcing ever-greater commitments on ocean stewardship. Most importantly, leaders--including environmentalist actor Adrian Genier, who will speak at the summit--are recognizing that youth should take ownership of our ocean and our future. Millennials are eager to make a difference, and the rest of the ocean conservation movement is beginning to take note.
My friend Daniela Fernandez founded the Sustainable Oceans Alliance, (SOA) in 2014. She had attended a UN meeting about ocean sustainability and returned to Georgetown University with a vision for mobilizing the next generation of ocean advocates. I heard her idea and I was in.
With guidance from an advisory board that believes in SOA and a team of hardworking students, we built a movement from scratch. Our plans came to life in less than a year: SOA's inaugural summit brought together some of the most influential figures in marine conservation, including Under Secretary of State Cathy Novelli, National Geographic Explorer Sylvia Earle, Director of Oceans at The Nature Conservancy Maria Damanaki, and National Geographic CEO Gary Knell.
At the summit, young participants will have the opportunity to become protagonists in the fight to save our ocean. From committing to coral restoration, to introducing marine environmental science into school curricula , action pledges submitted by summit participants can effect change on a large scale. In aggregate, these actions will improve ocean health.
Philippe Cousteau wrote recently that youth are the hope for our ocean. We need to show Millennials that the horizon of possibilities is as vast as their vision is bold.
The Sustainable Oceans Alliance, which started as a small group of committed students, has launched petitions that were delivered to the White House and the UN. They helped expand the Pacific Remote Islands National Monument and establish a Sustainable Development Goal on oceans. In Barbados, a four-person team took the initiative to create a new Marine Protected Area. One of the team members is only 19.
Empowering more young voices can guarantee the protection of our ocean, and ensure that the wealth of resources and ecosystem services it provides continue to inspire and sustain generations to come. We can restore the ocean so that its beauty on the surface is matched by abundance below. To paraphrase the great conservation advocate Margaret Meade, we should never doubt that a small group of thoughtful, committed citizens--regardless of their age--have the power to change the world.
This post is part of a series produced by The Huffington Post in partnership with Secretary of State John Kerry's Our Ocean conference and Ocean Unite, an initiative to unite and activate powerful voices for ocean-conservation action. The series is being produced to coincide with the Our Ocean Conference (September 15th, 16th) as part of HuffPost's "What's Working" initiative, putting a spotlight on initiatives around the world that are solutions oriented. To read all the posts in the series, read here. The State Department does not endorse the content of this blog. Follow the conversation on Twitter with the hashtag #OurOcean #MakeASplash.
REAL LIFE. REAL NEWS. REAL VOICES.
Help us tell more of the stories that matter from voices that too often remain unheard.