Four people are injured after a woman opened fire at YouTube headquarters on Tuesday afternoon.

Police identified the suspect as Nasim Aghdam, 39, of San Diego. She died of a self-inflicted gunshot wound.

Police said Aghdam was "upset with YouTube," and she had expressed frustrations with the company in the months before the shooting.
A woman opened fire at the YouTube headquarters in San Bruno, California, on Tuesday afternoon, injuring several people with a handgun before killing herself, authorities said.
Police identified the shooter as 39-year-old Nasim Aghdam, a resident of San Diego. She appears to have died from a self-inflicted gunshot wound, San Bruno Police Chief Ed Barberini said during a news conference.
Four others were injured, officials said. Three victims sustained gunshot wounds and one apparently injured an ankle while fleeing the attack.
"At this time there is no evidence that the shooter knew the victims of this shooting or that individuals were specifically targeted," the San Bruno Police Department said in a statement.
Dr. Andre Cambpell, a trauma surgeon at San Francisco General, said all the patients were awake and aware of what happened.
"Once again we are confronted with the specter of a mass casualty situation in the city of San Francisco, where we now have three victims that we have taken care of," Campbell said. "This is unfortunate and continues. To think that after we've seen Las Vegas, Parkland, the Pulse nightclub shooting, that we would see an end to this, but we have not."
Aghdam was a prolific social media user and had several YouTube channels in multiple languages, including English, Farsi and Turkish. Her videos often showed her dancing or cooking vegan recipes, and her Instagram account had more than 55,000 followers.
All of Aghdam's YouTube and Instagram accounts were shut down on Tuesday evening.
In recent months, Aghdam was openly critical of YouTube's policies and even accused the company of intentionally restricting her channel's growth, according to a website apparently created by her.
"There is no equal growth opportunity on YOUTUBE or any other video sharing site," Aghdam wrote. "Your channel will grow if they want to!!!!!"
"We know she was upset with YouTube," Barberini told reporters Wednesday. "That's the motive we've identified."
In February 2017, Aghdam posted a photo on Facebook of her holding a sign that accuses YouTube of discriminating against its users and censoring its users' content. A page appearing to be Aghdam's personal website also listed her frustrations with YouTube, saying, "there is no free speech in real world & you will be suppressed for telling the truth that is not supported by the system."
Aghdam's family told reporters on Tuesday night that they feared she might try to target the company.
"She was always complaining that YouTube ruined her life," her brother, Shahran Aghdam, told The Mercury News from the family's home in Menifee, California. 
The Aghdam family said they felt "shock" and "can't make sense of what happened yesterday" in a statement provided Wednesday to Jason Martinez, a local ABC reporter, and Craig Fiegener, a reporter for local radio station KNX 1070.
"We are praying for speedy recovery of the injured and ask God to bestow patience upon all persons hurt in this horrific senseless act," the statement read.
The shooter's father, Ismail Aghdam, said he reported his daughter missing on Monday after family members were unable to contact her and that he told police he suspected she might be going to YouTube. Police in Mountain View ― about 30 miles from the YouTube campus ― said they had found Aghdam sleeping in her car around 2 a.m. Tuesday. 
Aghdan went to a local gun range later that morning, police said Wednesday. They did not identify which range she went to. Hours later, police would discover Aghdam's body inside the YouTube office following the shooting.

Graeme MacDonald, a 41-year-old product manager for Walmart eCommerce, watched the scene unfold from the fifth floor of his office building, roughly 1,000 feet away from YouTube HQ.
"I had come back from lunch and there were a couple people running in to get on the elevators," MacDonald told HuffPost. "They were visibly shaken. They had heard gunshots."
MacDonald said he saw an estimated 20 people evacuate YouTube with their hands over their heads around 1 p.m. local time.
"They looked scared," he said. "There are helicopters are going by overhead. Evacuees were brought over behind our building. They've been telling us to stay away from the windows. ... It's Silicon Valley. It's a high-stress sort of area, but it still shocks me because there's not a gun culture here at all."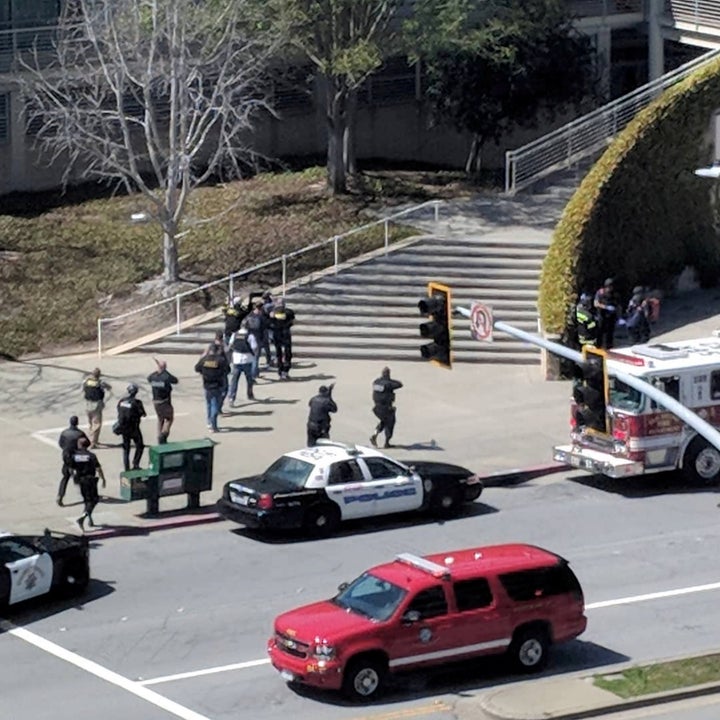 Law enforcement officials received numerous 911 calls around 12:45 p.m. local time reporting gunshots at the YouTube offices. Upon arrival, officers discovered a "very chaotic" scene as numerous employees fled the building.
"One person had a gunshot wound as we arrived," Barberini said. "Several minutes later, while conducting a search of the premises, officers encountered a second individual with a gunshot wound that may have been self-inflicted. We are still working on confirming that. Two additional victims were located several minutes later at an adjacent business."  
The active shooter situation was resolved by 2:20 p.m. local time, San Bruno City Manager Connie Jackson told HuffPost. "The situation is safe, although the public has been asked to stay away."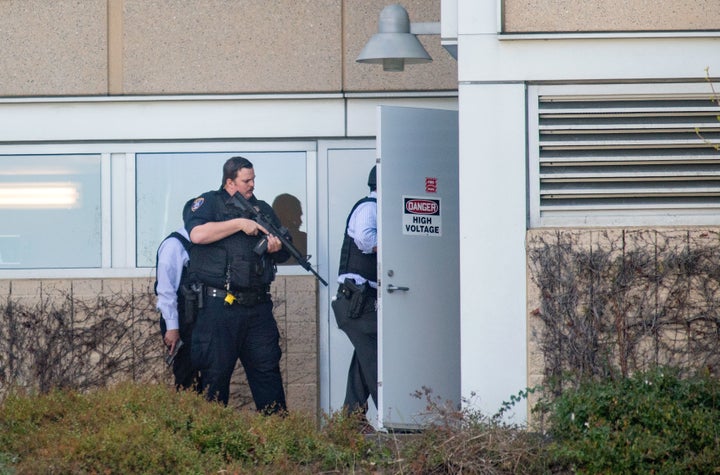 Vadim Lavrusik, a product manager for YouTube Live, and Dan Afergan, a software engineer for the company, both tweeted about the shooting on their campus.
Lavrusik said he heard shots and was barricaded inside of a room with his co-workers. Less than 20 minutes later, Lavrusik said he had been safely evacuated from the building.
Google, which owns YouTube, said it was working with authorities. There are about 1,700 people who work in the YouTube office, according to ABC 7 San Francisco.
Security at the Google office in Mountain View, California, 30 minutes south of YouTube's headquarters, is typically strict. Employees who bring in guests are required to sign them in before entering the building.
At YouTube's San Bruno office, people can freely enter the reception area, but need to be signed in before entering employee areas.
In a series of tweets, Todd Sherman, a product manager for YouTube, said he was in a meeting when he heard people running in the offices.
He said he first thought it was an earthquake, then he saw more people running.
"We headed towards the exit and then saw more people and someone said that there was a person with a gun," Sherman wrote.
"At that point, every new person I saw was a potential shooter," he added. "Someone else said that the person shot out the back doors and then shot themselves."
While heading toward the building's exit, Sherman said he saw "blood drips on the floor and stairs."
Outside, he said, police officers had hopped out of their cruisers with rifles ready.
"I told them where the situation was as I headed down the street to meet up with a couple team members," Sherman said. 
YouTube CEO Susa Wojcicki thanked first responders and law enforcement for reacting quickly to the shooting in a tweet shared hours after the shooting.
"There are no words to describe how horrible it was to have an active shooter at YouTube today," Wojcicki wrote. "Our hearts go out to all those injured and impacted today. We will come together to heal as a family."
Sundar Pichai, the CEO of Google, which owns YouTube, released a statement Tuesday to employees, thanking first responders and the company's security team for their quick actions that helped to keep people safe.
"I know a lot of you are in shock right now," Pichai's statement said. "Over the coming days, we will continue to provide support to help everyone in our Google family heal from this unimaginable tragedy."  
Rep. Jackie Speier (D-Calif.), whose district includes the YouTube headquarters, said she was "shocked and saddened to hear about another mass shooting."
"We must take action and #EndGunViolence," she tweeted.
President Donald Trump tweeted his "thoughts and prayers" to everyone involved.
This article has been updated with the shooter's identity as announced by law enforcement and her suspected motive, along with a family statement.
Doha Madani, Sebastian Murdock and Sara Boboltz contributed to this report.
Calling all HuffPost superfans!
Sign up for membership to become a founding member and help shape HuffPost's next chapter