A video peddling a conspiracy theory that Stoneman Douglas High School student David Hogg is an actor reached No. 1 on YouTube's trending page Wednesday morning before the company ultimately removed it.
The video itself was real ― a reuploaded version of a 2017 news clip by CBS Los Angeles in which one of Hogg's friends gets into a verbal altercation with a lifeguard, which Hogg recorded and uploaded at the time. The reuploaded video also used the same title as the CBS affiliate: "Confrontation Between Lifeguard, Bodysurfer Caught On Camera In Redondo Beach Goes Viral."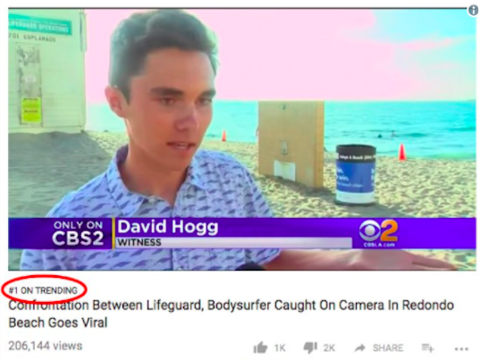 The difference came in the new video's description, where the uploader, who identified himself as "mike m" wrote, "DAVID HOGG THE ACTOR...."
Hogg, 17, has become the focus of a growing number of conspiracy theories in response to his media appearances following an attack at his Parkland, Florida, school that left 17 dead last week. He is among a number of Stoneman Douglas students calling for the government to act on gun control.
Some of the theories surrounding the student are a result of Hogg saying his father was an FBI agent; some began because people believe he and others have been coached by gun control advocates; and some are a result of people believing the students are paid "crisis actors."
It's the last of the three that the trending YouTube video played into, apparently to the delight of many of the video's commenters.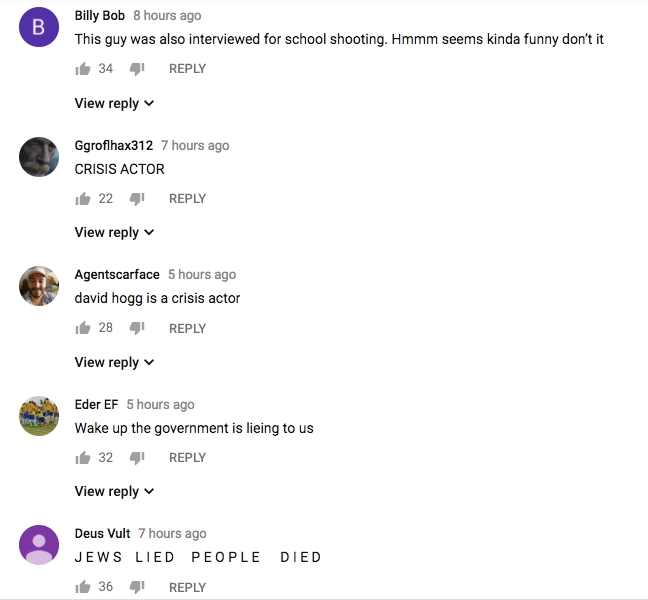 YouTube eventually removed the video, but not before it had been viewed more than 200,000 times and reached No. 1 on the company's trending page, where the most popular videos at any moment are on view.
The company said in a statement that its system "misclassified" the video because it "contained footage from an authoritative news source."
"This video should never have appeared in Trending," a YouTube spokesperson told HuffPost.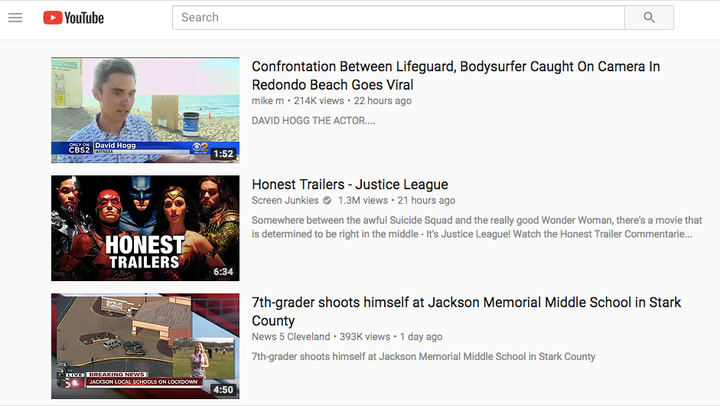 "mike m," the YouTube user who uploaded the video, has a penchant for conspiracy theories, based on his video page. Of the 10 videos he has uploaded, three have to do with Stoneman Douglas, including "David Hogg Can't Remember His Lines When Interviewed for Florida school shooting." Another video is titled "BREAKING Disclosure! First Govt NASA Close up UFO Video! They ARE HERE!!!" Others focused on chemtrails, a conspiracy theory favorite of InfoWars creator Alex Jones.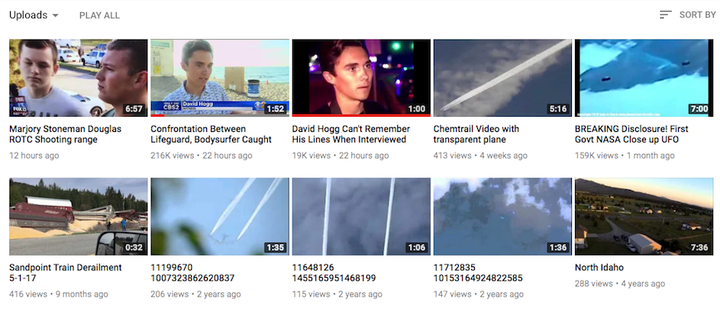 "As soon as we became aware of the video, we removed it from Trending and from YouTube for violating our policies," the YouTube spokesperson confirmed. "We are working to improve our systems moving forward."
But the system clearly still has cracks that YouTube is having difficulty filling. At publication time, the top three search results for "David Hogg" on the video sharing site weren't related to the student speaking up to combat mass shootings. They dealt in Hogg-related conspiracy theories.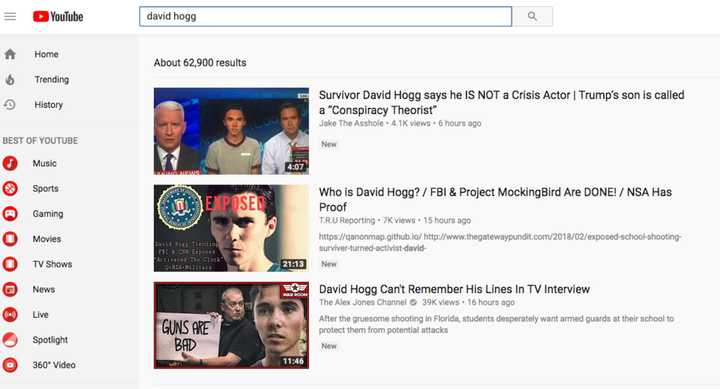 Support HuffPost
The Stakes Have Never Been Higher
Related
Popular in the Community