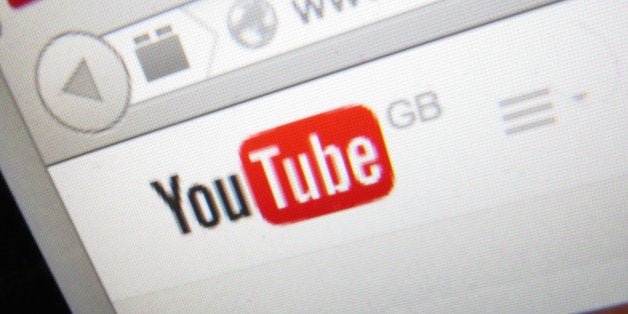 Wondering why that YouTube video isn't loading? Blame your Internet service provider.
At least that's what YouTube is saying in a relatively new feature that ranks ISPs based on how easily they stream videos on the site.
Some YouTube users are seeing a blue bar reading "Experiencing interruptions? Find out why," under choppy, buffering or fuzzy-looking videos, Quartz reported this weekend. The bar links to Google's Video Quality Report, a feature that ranks various ISPs by their video streaming performance.
The blue bar began appearing at the end of May, at the same time Google's Video Quality Report launched, YouTube spokesman Matt McLernon told The Huffington Post.
"You may be prompted to view the report if you're experiencing poor playback on your computer (such as frequent rebuffering or fuzzy video)," a Google Help page for the Video Quality Report explains.

This is the bar you might see under a fuzzy video.
If you click through to the report, you'll find ISPs in your area ranked into three categories. "YouTube HD Verified" providers offer the best video service, followed by "Standard Definition" ISPs, which offer smooth playback for standard-definition YouTube videos. The most shameful designation is "Lower Definition," which is reserved for providers that can't even offer reliable streaming for standard YouTube videos.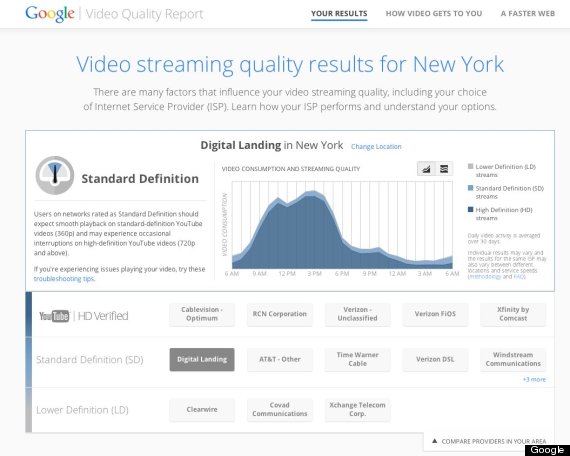 With this new feature, Google, which owns YouTube, appears to be wielding its might to influence the debate over the future of net neutrality. Providers like Verizon and Comcast have fought to force companies like Netflix and YouTube, which require extra bandwidth to host and stream videos, to pay higher fees for Internet "fast lanes" that make smooth playback possible. Defenders of net neutrality argue that all companies should be entitled to the same level of service, regardless of bandwidth.
But YouTube insists its Video Quality report is not about "blaming and shaming" ISPs at all. It's simply about helping users "understand the video quality you should expect from your Internet service provider," YouTube spokesman McLernon said.
While YouTube's language is more subtle, a video explainer for the report seems to take aim at ISPs that can't handle higher streaming speeds:
"Delivering on our goal of letting you watch YouTube in HD from anywhere, anytime is a shared effort among YouTube, your Internet service provider and you," McLernon said. "YouTube innovates in software like VP9 and invests in networking infrastructure, ISPs invest in their infrastructure, and you the viewer can use simple tips and tricks to get the best quality possible."
Related