Berlin Philharmonic Horn Player Sarah Willis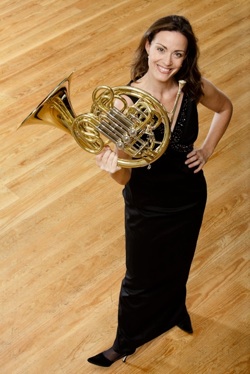 Photo courtesy Peter Adamik
I met Sarah Willis recently at Berlin's famed Philharmonie, home of the Berlin Philharmonic Orchestra -- arguably the world's greatest orchestra. Sarah has the remarkable distinction of being the first (but, as she quickly states, not the last!) woman to be a member of the Berlin Philharmonic's brass section. The reason I was in Berlin was to hear my client, Alan Gilbert, music director of the New York Philharmonic, conduct the BPO in a program of Berg, Mozart and Stravinsky (the concert, which was a huge success with the audience as well as the critics, can be viewed now online at the orchestra's Digital Concert Hall).
I had heard about Sarah from some of my colleagues, who had met the American-born horn player in Sydney, Australia a few weeks ago. She was there to be a mentor to the young musicians of the brass section of the YouTube Symphony Orchestra 2011, an ensemble featuring musicians who had obtained their positions via video auditions on YouTube, and who were brought together under the direction of conductor Michael Tilson Thomas for a week of study, mentoring and performance. Tilson Thomas conducted the first YouTube Symphony Orchestra at New York's Carnegie Hall two seasons ago, and my colleague Jessica Lustig had once again been brought on -- this time as artistic director -- to help produce a week of concerts and special events that culminated on March 20 with a live webcast from Sydney that reached an audience of more than 33 million online viewers (30.8 million through live streaming and "rotation" streams made available through March 20, and 2.6 million via mobile phones). This was the biggest audience for a classical music concert and a record for YouTube (the previous record was held by the mega-band U2, which drew roughly 10 million viewers). A few days before the Grand Finale concert in Sydney, Sarah was also asked to host the event's intermission feature, which she did -- no pressure -- live!
Sarah -- a beautiful and charismatic woman who gives off some of the most positive energy of anyone I've met in the music business -- was clearly moved by what she had experienced in Sydney, and while she began to tell me her story, I asked her if I could do a proper interview with her for my HP blog when I got back to New York. She agreed, and after a long and exciting Skype chat, I put together the Q & A that follows.
AI: I'm told you're American, but you sound very British!
SW: I was in fact born in Maryland, but grew up in Japan, Boston, Moscow and then London. I have dual U.S. and UK nationality, but speak totally British!
AI: Why did you move around so much?
SW: My dad was a political journalist. He started off with the Christian Science Monitor and moved to the BBC. We finally moved to England when I was 13 and my mom said, "No more moving!" So he traveled and we stayed home. The upside of all this moving around is that it made it possible for me to make the jump to Berlin. As you may know, we Brits often don't like to leave home!
AI: Being the first woman horn player to play in the Berlin Philharmonic is quite an amazing achievement. When did you start with the orchestra?

SW: I have been with Berlin Phil since 2001, but I still feel like the new girl here. It was such a dream come true that it still hasn't totally sunk in, even ten years later! I was at the Staatsoper Berlin under Barenboim before that. It was a fascinating time in Berlin -- just after the Wall came down. I was the first Westerner in the orchestra and I adored learning all those operas!
AI: Besides your role as a musician, do you have other special duties associated with your work in the orchestra?

SW: I am involved in Zukunft@BerlinPhil, the Berlin Phil's Education Project, and love to work with kids and present children's concerts. I do a lot of the interval interviews for the Digital Concert Hall (DCH) -- also something I love doing. My dad was a journalist so I must have inherited this desire to find out about other people from him. I am very proud that my orchestra took this brave step of putting themselves out there online. It's sometimes stressful enough to play these big concerts, but to know it is going out live all over the world every week is quite something else. But it is the only way to go these days, and our DCH team is doing a fabulous job. My other roles in the orchestra include organizing the Christmas party and cleaning up after my horn colleagues in our horn room.
AI: What are some of your favorite horn solos in the orchestral works you play?

SW: My job in the Berlin Phil is low horn, not principal horn, so to be honest, if solos come up in the orchestra, they are usually cause for concern as we low horn players don't have solos so often! But if they go well then they are fun. Beethoven's Ninth is one I look forward to!
AI: What are you playing tonight?

SW: We are doing Mahler 5 and Purcell's Funeral Music for Queen Mary.
AI: I love both of those works, but the pairing of Mahler and Purcell sure is unusual.

SW: Simon Rattle does a great job in programming things that people wouldn't hear together otherwise.
AI: For someone who just got back from Sydney, Australia, a short time ago, you don't look at all tired!

SW: It was a long flight, to be sure, but I am very charged up from what I experienced there with the YouTube Symphony Orchestra. I've been no less than 200% converted to the whole digital era of classical music!
AI: When you were first invited to participate in the YouTube Symphony Orchestra (YTSO), did you have any reservations?

SW: Absolutely. I've seen through our experience with our Digital Concert Hall (DCH) that taking the orchestra online is a necessary step, and I really admire what the DCH has done making it happen. But it's not easy to push and grow an audience for it, even with a big established orchestra like the Berlin Philharmonic. I had listened to the recoding of the first YTSO concert and thought, "Interesting," but I think that the orchestra for the second one was even better. When I saw the list of the mentors for the first concert, it piqued my interest. With my background, I've always been fascinated by people from different cultures and countries, so that made the thought of becoming a mentor for YTSO2 very compelling. But I couldn't imagine how difficult it would be for mentors. We had five days to whip people into shape!
AI: What were the challenges you faced?

SW: All the mentors responsible for a particular section of the orchestra had the challenge of taking the very different musical cultures of the constituent players and trying to create a unified sound. The styles of playing vary greatly from country to country, and we had very little time to bring it all together. In the end, I was extremely proud of the quality of the final concert, and of how many people watched it, but I was proudest of how my brass section did that night. My other personal challenge was standing with a microphone in my hand instead of a horn and hosting for the first time live!
AI: How did you bring your section together?

SW: I wasn't really prepared for what I faced. We had six players from four different countries, and even the three Americans played in very different styles. In the first rehearsal I thought, "What on earth am I going to do," because they are all good players, but it didn't fit together at all. It wasn't a question of teaching them to play -- they could do that. It was more about teaching them how to open their ears and listen. I had to convince people to try things differently. I had to come up with ways to help them do that, to provide them with technical and other ideas. It was a challenge. But on the night of the final concert it was a great section.
AI: How did you respond when you heard that more than 33 million viewers had watched the Sydney concert?

SW: Personally, I thought, "Thank God they didn't tell me this before it went out live!" I'm used to playing the horn in front of big audiences, but not standing with a microphone! As to the huge numbers of people who watched, nothing could be better proof that if you package classical music correctly, and make it interesting for people of all ages, there's no reason why it shouldn't continue to grow rather than go into decline. Classical music owes a thank you to Google and YouTube. This is a seasoned professional who has been in the business for 20 years saying this! I was happily surprised how well this came off, and how good it felt to be part of. And it's not just me -- mentors with big-time names, such as Andrew Marriner from the London Symphony Orchestra, Ian Bousfield of the Vienna Philharmonic and Eugene Izotov of the Chicago Symphony, felt similarly.
AI: Was this the first time that you had met these colleagues before?

SW: Yes, most of them. When I got the list of whom else was going as a mentor I was in awe!
AI: I love that idea of people coming from so many different places to make music. It reminds me of a Messiaen work where you get a chance to hear birds from different continents sing together -- well, musical instruments playing the composer's transcriptions of birdsongs -- although you could never hear them sing together that way in the wild.

SW: That's a wonderful analogy! Let's face it: you can't create an orchestra of tradition in a week. But all the mentors had the same goal: to bring their experience and ideas about sound to the YTSO members. Our common goal was to make it sound as good as possible. We couldn't change how people played, but we could give them as much help as we could and share our musical ideas. That's all we can do. Music is so great because there is no one correct way of expressing it. But there are basics like intonation, rhythm, and basic training about listening to your musical neighbors -- these are the things we all had in common and could work on together.
AI: So how has the YTSO experience affected your understanding of how orchestras should be using the Internet?

SW: Nothing beats being in the concert hall for the live experience, but participating in the YTSO project has completely turned around my way of thinking. In the past, people reacted to the music they heard, and discovered the personalities of the performers later. To get audiences today you have to interest people in the personalities of the performers from the beginning. In the digital era, which is all about visual stimulation, people can become interested classical performers the way they do with pop musicians. The bottom line is that we have to get out there and get and keep young people engaged and interested in what we are doing.
AI: Does knowing a performance at the Philharmonie will be simulcast around the world through the Digital Concert Hall have an impact on how the orchestra plays?
SW: I'd love to say that we are such professionals and that we don't notice, but that's not true. But the way we do it, with mini unmanned cameras, has helped us forget. Big cameras can be very distracting. But what we've done is a discreet and good alternative. I don't think the orchestra would accept anything else. I can't speak for my colleagues, but I do "feel" that tonight is a live simulcast. That adds to the stress. But for the Mahler 5 tonight I've offered all of the YTSO orchestra members passes to watch. Many I think will watch. Knowing I'm playing for the hall's audience and people around the world is a fantastic feeling. But it's also scary!
AI: All in all, you sound very excited about the future.

SW: We are all very aware of the problems and challenges that the digital era has brought to our part of the music world, but we can't stand still. I think Mozart would be writing Internet symphonies if he were alive today! If we don't get with it, classical music will die. I refuse to let that happen.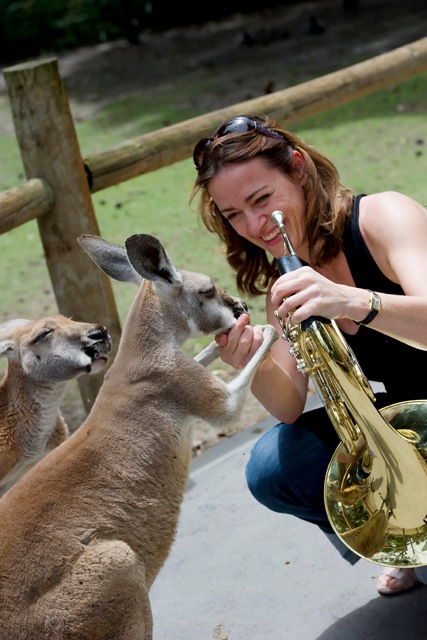 Sarah Willis on tour in Australia with the Berlin Phiharmonic (November 2010)
Photo courtesy Monika Rittershaus
Related
Popular in the Community