The online video sharing platform YouTube attracts more than 1 billion unique users each month. That's almost half the people on the Internet. Viewers watch more than 6 billion hours of video every month from more than 60 different countries on hundreds of millions of devices. It's safe to say that YouTube is more than a digital trend.

For those living in isolated places, away from the hustle and bustle of innovation hubs, it's easy to feel left behind fast-paced digital trends -- Hawaii included.

Bing Chen, global creator development and management lead at YouTube, feels otherwise. "On YouTube, no one is on an island," he says. He means that anyone can grow on YouTube, from anywhere.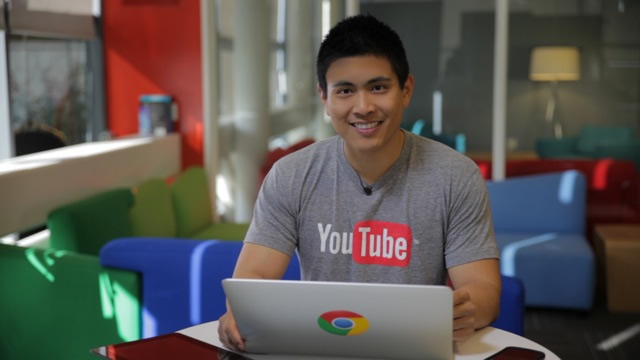 Chen, a self-proclaimed "huge carnivore" from the South (Tennessee, to be exact) loves Hawaiian BBQ and is attending the Hawaii International Film Festival (HIFF) this month to share his YouTube knowledge with local content creators and businesses. His keynote speech is on October 11 at The Modern Hotel Ballroom A & B and is free to the public.

Chen and I had a nice chat to discuss everything YouTube and learn about his favorite things to do in Hawaii at YouTube's offices in Beverly Hills, Calif., before his flight out to the islands. Check out the interview here:

You have a long, fancy title. Could you describe some of your duties as a Global Creator Development & Management Lead at YouTube?

It's two-fold. I'm responsible for aligning and prioritizing our creator programs globally. This includes collaborating with more than two dozen cross-functional leads around the world to determine what we focus on, who builds what, what gets invested in, etc. I also manage and co-manage a host of creator programs that impact hundreds of millions of creators worldwide, including the global expansion of the Partner Program last year to VidCon. I'm also known as the Benevolent Cat Herder.
[Laughs.] Your job sounds exciting! What do you enjoy about your job?

What's exciting is also what challenges us most. At YouTube, so much of our industry is evolving, which means there are inevitably countless opportunities. So what do you prioritize? What provides the greatest point of leverage for our creator base?
I'm also lucky enough to collaborate with what I'm convinced are the most creative people in the world. The Ryan Higas to the Phil DeFrancos to the Annoying Oranges -- I could go on and on. These creators are redefining genres, production processes, fame, and are building real, thriving businesses on the platform. In fact, thousands of them are making six figure incomes today. I also love the fact that YouTube continues to be a stage for surfacing new voices. The number of breakout successes -- those that exceeded 1 million subscribers -- has quadrupled in the last year.

I think Hawaii's excited to have someone come out to visit from YouTube land. Have you visited Hawaii? If so, what's your favorite thing to do?

Yes, twice. I love Hawaii, actually. My favorite thing to do... it's always been with family so things have been a little vanilla, but I'd say hiking up this Everest-like mountain once on Oahu.
What's the first thing you crave you when get to Hawaii?

Any Hawaiian BBQ. And I'm going to get in trouble for this, but nothing beats Hawaiian BBQ -- and I'm from the South, where BBQ is law.
Speaking of Hawaii, the digital media landscape in Hawaii is still catching up to digital trends on the mainland. With Hawaii being so isolated, do you have any advice for local content creators, businesses, and creative agencies to keep up with digital trends? How do we get involved with YouTube's growth if we're not already?
First off, no one is on an island on YouTube. Every city, country, and region brings its own unique voice and style to the YouTube community--I genuinely believe that. I've seen and spoken with thousands of channels while at YouTube, and new media creativity has come from every corner of the earth -- from Singapore to Lagos to London. Moreover, fans also come in all shapes and sizes to match the palette of creators -- in fact, 80 percent of our total viewership is actually from outside of the United States.

That said, the best thing you can do is to simply start. Mary Anne Evans once said that it's never too late to be who you might have been -- and that's increasingly true in a space as evolving as ours. Take your phone and upload your first video. Watch what people are watching. Connect with us on our Creator Blog and Google+ account.
Next, check out our resources at youtube.com/creators like our Playbook, a definitive guide to YouTube channel growth. There are additional resources like the YouTube Trends Dashboard that can help inspire new, timely creative ideas.
Finally, network with the community. One of my favorite elements of YouTube is the rich, diverse, and passionate community. These people are your mentors, teachers, friends and creative partners.

Approximately 100 hours of content gets uploaded to YouTube every minute. Are there any particular strategies to get "seen" and "go viral" amongst the abundance of video?

I actually don't like the term "viral." The truth is, most "viral" videos come from creators that have consistently uploaded to the platform and invested in building a serious channel. Moreover, most viral videos aren't something arbitrary -- they're often useful videos like "how to tie your shoe."

That said, the most critical factor to audience success on YouTube is to be true to yourself. Authenticity and personality trump production in so many ways on the platform. For some, that means vlogging throughout your day. For others, that means recording a new form of classical music. For still more, that means producing short films. Second, you must be consistent. Audiences are hungry for more content and demand a level of continuity from creators. Finally, take advantage of the vast array of resources and support from us -- and the community.
Quick question that Hawaii and the world consistently asks: What's the future for digital media?

The industry is changing so quickly and is frankly so new that no single entity can realistically have a definitive Magic 8 Ball. But the two areas that most excite me are 1) the proliferation of access and 2) seeing our creators "grow up."
Whether you're a viewer, advertiser or creator, access in many cases is nearing true ubiquity. For viewers, this means you have more access to content that you love -- from mobile phones to smart-connected TVs - -and that experience is consistent across those devices. For advertisers, it means having more meaningful ways to deeply access, engage and measure your target customers. And for creators, it means more ways to hone and broadcast your creativity into a thriving career.
Second, we're also seeing a lot of people grow up. YouTube homegrown talent -- from Phil De Franco to Michelle Phan to Dane Boe [Creator of The Annoying Orange] -- aren't just building powerful channels, they're building thriving businesses. Phil was acquired by and now partnering with Discovery; Michelle just launched a global makeup line with L'Oreal; Dane's creating even more shows for his YouTube channel while his TV show and merchandise provide legitimate, additional revenue streams. I still remember the first time I met all of them -- it was just three years ago. And look at them now!
Anything else you'd like to share about Hawaii or digital media?

Don't think that by being on an island, that you're somehow limited. No one is on an island; when you come to YouTube, you come to the world's stage.

Catch Bing Chen at Hawaii International Film Festival (HIFF) during his keynote speech on October 11th at The Modern Hotel Ballroom A & B and is free to the public. Prepare yourself to get mind blown. I did.
REAL LIFE. REAL NEWS. REAL VOICES.
Help us tell more of the stories that matter from voices that too often remain unheard.