The UK is now a nation that fully embraces the online video revolution. That is the reality portrayed by the UK Online Video Barometer, a survey ran independently by OnePoll. We questioned consumers across the UK to discover more about their online video habits and the results were simply staggering:
YouTubers are trusted above other media
93% of respondents felt positive feelings towards any products or services featured in a video and 89% suggested they were more likely to buy after seeing a good review. That's an incredible amount of trust placed in YouTubers! Moreover, nearly half of respondents would be more likely to investigate a product, brand or service seen in a video with 59% of 35-45 year olds surveyed saying they are either neutral or more likely to investigate what they have seen.
More video is now consumed online in the UK than ever before
Time spent consuming online video rapidly increasing. Nearly a quarter of all respondents (22%) watched between 6 and 10 hours of online video every week, with 37% watching between 2 and 5 hours a week; a high percentage of these users of whom are likely to shift to the 6-10 hour usage levels during 2015.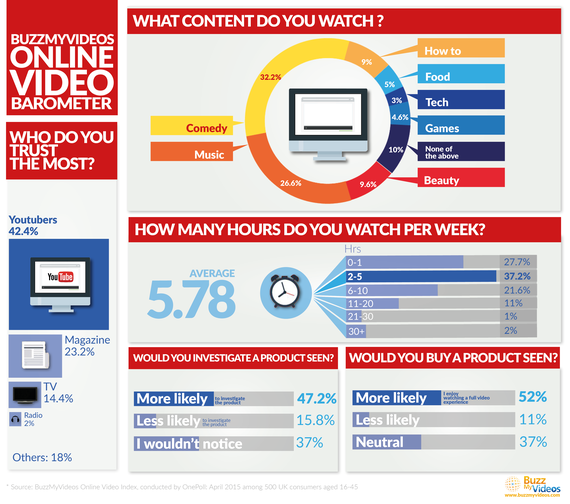 Online video is helping us learn
Respondents were asked how often they used online video for learning how to do something in their daily lives. The results highlight that the learning aspect of online video featured heavily in all age groups' responses, revealing the huge connection and desire to learn consumers have when engaging with video. Over a quarter of all 16-45 year olds said they used online video for working out how to do things a few times every week, with nearly half (41%) in total responding that they check online videos at least once a week (10% daily).
Music and comedy reign supreme
BuzzMyVideos investigated the types of videos we like watch the most and Music and Comedy topped the list in the UK. Comedy garnered almost a third of all responses at 32% followed by music at 27%. And if we're not laughing or singing, we're making life better with 20% of respondents citing beauty and how to videos as their next port of call online. Interestingly, women were more likely to search for music (29%) whereas over a third of men preferred a laugh, opting for comedy (35%). For those interested in regional differences, overwhelmingly the North East of the UK opted for music 44%, but anyone looking for the next rising comedy star should head to the East Midlands where half of all respondents watch comedy videos.
YouTube is still King with Facebook not too far behind
The Online Video Barometer has revealed that an overwhelming 87% of respondents still opt to view their videos on YouTube, despite advances by other platforms for now YouTube remains the dominant force. However Facebook is clearly catching up with consumers; nearly half of all those surveyed (45%) cited the social network as a source for their unabated video appetites with other publishing platforms garnering just 17% of the vote.
These results highlight that the UK is clearly a nation with a massive appetite for online video and usage is growing quickly among all ages, demographics and locations. Here is a list of a recent top 25 Vloggers as highlighted on the Huffington Post UK. Indeed, public perception of online video has evolved very positively alongside a maturing market and there is an incredible level of trust in YouTubers both as entertainers and influencers among the general public. This credibility signifies a clear cultural shift, one which offers hugely significant opportunities for brands in all sectors. Brands who seek rapid and brilliant rewards should incorporate YouTubers into their strategies immediately. 2015 is heating up to be a game changer for the online video industry.
Related
Popular in the Community